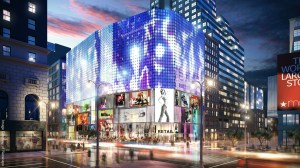 In the pantheon of great New York City squares, Herald Square doesn't rate very highly. Without the international renown of Times Square or the hip, downtown vibe of Union Square, Herald Square has been relegated to Manhattan's mid-market chain shopping district.
And while nearby buildings have attracted some of the trendier bargain retailers, like Uniqlo and H&M, Herald Center at 1293 Broadway has had to content itself with Modell's, Payless Shoes and the New York State DMV. (We're guessing that Imelda Marcos, who once owned the building with her Philippine strongman husband—through front men Joseph and Ralph Bernstein—wouldn't have deigned to buy shoes there.)
But JEMB Realty, which has owned the property since 1986, wants to change that. They've already announced a $50 million overhaul of the square, and just this afternoon they announced that they've tapped Moed de Armas & Shannon architects for the project.
"The stated goal from ownership was to create a three-story retail storefront that's commensurate with the needs of today's retailers," Dan Shannon, a principal at the firm, told The Observer by phone this afternoon, "and transparency is an important part of that." (That is, in addition to the Times Square-like electronic billboards.)
On the first three floors, Mr. Shannon said that "the combination of both the black glass that was put on in the '80s and the various retail storefronts in the base—that'll all be removed."
Mr. Shannon said that the architects planned to transform the three-story base by "putting in insulated glass units, so that it complies with the New York City and state energy codes." He compared the glass to that of 120 West 42nd Street and its Avenue of the Americas retail front, which the firm also worked on. (They also collaborated with Harry Macklowe on the General Motors Building retail makeover that accompanied the construction of Apple's cube.)
Tastes and times have changed since the 1980s, and retailers are no longer fond of the dark, opaque look. In the past, Mr. Shannon said, insulated glass technology didn't allow for the same degree of transparency that retailers demand today.
"Now… not only can it be insulated, but it still has the clarity of traditional storefront glass—that's extremely important. They spend so much time on the quality of their merchandise, and then it's obscured by the glass and it defeats the purpose."
Window shopping!
The bulk of the building is available for new tenants, and Mr. Shannon said the renovation is slated to be completed by May 2014.