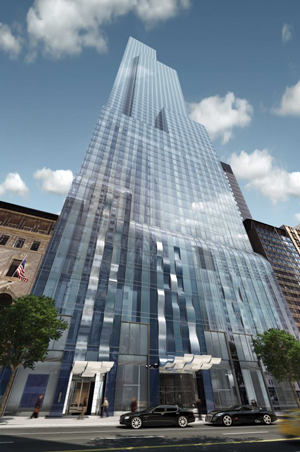 Remember the days when a Barbie Dream House seemed like a splurge?
This week, a Chinese mother paid $6.5 million for a condo in Midtown's One57 for her two-year old daughter to use when she goes to college, according to the Daily News.
As Kevin Brown of Sotheby's international explained in an interview, "She said, well, her daughter was going to go to Columbia, or NYU or maybe Harvard, and so she needed to be in the center of the city and that was why she was picking this one particular apartment." Presumably they'll have ironed out the kinks in the Ivy League bribery market by then.
After inquiring about the age of the future scholar, Mr. Brown was shocked to hear that the prospective inhabitant was only two-years old and wouldn't be inhabiting the apartment until, you know, 2029. Which is totally foolproof, because it's not like the New York real-estate market has changed much in the past sixteen years.
The tallest residential building in the city, One57 will stand 90 stories tall when it reaches completion next year, and has attracted wealthy investors from across the globe, including China, Russia and South Korea. According to Mr. Brown, Chinese buyers make up a quarter of his client base, a number that has grown in recent years (no word on how many of these buyers are old enough to tie their own shoes).
So, in case you needed convincing that the New York real-estate market is completely out of touch with reality, there you have it. While the rest of us steadily employed adults struggle to find rat-free lodging in the wilds of Bushwick, Chinese toddlers are gearing up to be able to throw the sickest house parties imaginable. Woo, Harvard Spring Break 2029!