Morning News Digest: Monday, March 11, 2013
By Matthew Arco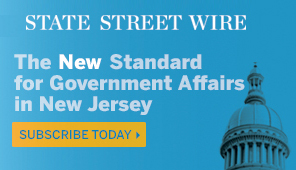 WINNERS and LOSERS: Week of the Hearings
It was another week of chaos disguised as political euphoria.
It's Friday – and we will see you in the Ironbound. (PolitickerNJ)
http://www.politickernj.com/63839/winners-and-losers-week-hearings
FEMA: Consulting with state on debris contract
A Federal Emergency Management Agency spokesman issued a revised statement Friday evening following a joint Legislative hearing the debris removal company contracted by the state following Superstorm Sandy.
The statement comes after Democratic lawmakers confronted AshBritt's CEO about a claim he made earlier in the evening regarding FEMA having "signed off" on the contract process. (Arco/PolitickerNJ)
http://www.politickernj.com/63853/fema-consulting-state-debris-contract
Report disputes AshBritt's claim contract was 'blessed' by FEMA
TRENTON – Federal Emergency Management Agency officials are reportedly disputing claims made by the company contracted by the state for debris removal following Superstorm Sandy that the agency "signed off" on the process, according to reports.
Randy Perkins, CEO of the Florida-based debris removal company AshBritt, told lawmakers Friday FEMA "signed off on the contracting process" and that high-ranking officials, including the agency's head of council, were at the table when New Jersey "piggybacked" off of an out-of-state contract. (Arco/PolitickerNJ)
http://www.politickernj.com/63841/report-disputes-ashbritts-claim-contract-was-blessed-fema
Buono shares heated exchange with AshBritt CEO over "piggybacking" contract
TRENTON – Gov. Chris Christie's likely gubernatorial challenger wasted little time Friday in getting into heated debate with the CEO of the company charged with debris removal in the state following Superstorm Sandy.
Near the onset of a joint legislative oversight hearing called to discuss the state's debris removal contract with the Florida-based AshBritt Inc., Sen. Barbara Buono, (D-18), asked AshBritt CEO Randy Perkins whether he was aware that "piggybacking" the state's cleanup contract off another state's bidding process could jeopardize Federal Emergency Management Agency funding. (Arco/PolitickerNJ)
http://www.politickernj.com/63835/buono-shares-heated-exchange-ashbritt-ceo-over-piggybacking-contract
Gov. Chris Christie set to visit North Brunswick on Monday
Gov. Chris Christie on Monday will tour an agency that serves people with intellectual and developmental disabilities.
Christie, a first-term Republican, will be accompanied by Children and Families Commissioner Dr. Allison Blake at The Arc of Middlesex County, a private nonprofit organization. (Amaral/NJ.com)
http://www.nj.com/middlesex/index.ssf/2013/03/gov_chris_christie_set_to_visi.html
Fracking opponents attempt to hijack Delaware River Basin Commission
A large crowd of environmental activists swarmed into a meeting of the Delaware River Basin Commission here last week and attempted to force the body to halt a pipeline project in northern New Jersey that would move gas from fracking projects in Pennsylvania.
The group claims that as many as 140 anti-fracking protestors jammed the meeting Wednesday, chanted slogans and sang "This land is your land," forcing the board to hold a lengthy public hearing and interfering with regular meeting activity. (Davis/The Times)
http://www.nj.com/mercer/index.ssf/2013/03/fracking_opponents_attempt_to.html
N.J. First Lady Mary Pat Christie's charity hasn't doled out any money from Superstorm fund
The Sandy relief fund chaired by New Jersey first lady Mary Pat Christie has raised more than $32 million so far. But four months after the superstorm, none of that aid has reached storm victims yet.
In an interview, Mary Pat Christie pointed to the logistical challenge of starting a charity from scratch, the relief fund's focus on addressing long-term recovery needs, instead of short-term relief, and her own "methodical" approach to putting the proper resources and safeguards in place, as reasons for the delay. (AP)
http://www.nj.com/news/index.ssf/2013/03/mary_pat_christies_charity_slu.html
Cory Booker's new website faces difficulty filtering out racist videos
Democratic Newark Mayor Cory Booker's new and much-hyped video-sharing website Waywire bills itself as a more serious and socially conscious version of YouTube, which will help users circumvent "all the junk" posted on crowded sites like YouTube and Vimeo, but one thing the website has not been able to filter out yet is anti-Semitic videos. (Goodman/Washington Free Beacon)
http://freebeacon.com/socially-conscious-anti-semitism/
Election cash pouring into N.J. governor's race
A website threatening to expose "the real" Governor Christie.
Television ads supporting the Republican governor's economic and education policies.
Automated phone calls and mailings criticizing Democratic lawmakers. (Hayes/The Record)
http://www.northjersey.com/news/state/elections/Election_cash_pouring_into_NJ_governors_race.html
Critics cite slow pace on N.J. halfway-house overhaul
Nearly two years after a state audit showed security problems and poor financial oversight at New Jersey's privately operated halfway houses, lawmakers took a first step toward creating a task force to study the reentry centers.
Lawmakers in the New Jersey Senate and Assembly introduced 11 bills in December that would require sweeping changes to the halfway-house system: more visits and reports by state corrections staff, more financial disclosures by halfway-house vendors, and the creation of a task force. (Farrell/Inquirer)
http://www.philly.com/philly/news/196804021.html
Battle within Democratic party proves for fierce primary in Essex County
Liberals in Montclair have a dilemma. So do the Democratic Party faithful in East Orange.
Mark Alexander — a Seton Hall law professor and the son of one of the prime movers of the Civil Rights Act of 1965 — has been immersed in politics almost since he was born, although he has never held elective office. Now he wants to be a state senator. (Friedman/Star-Ledger)
http://www.nj.com/politics/index.ssf/2013/03/battle_within_democratic_party.html#incart_river
Frank Lautenberg misses U.S. Senate votes due to leg pain
Leg pain caused the nation's oldest senator to miss several votes last week.

U.S. Sen. Frank Lautenberg missed voting on the confirmation of John Brennan to become head of the Central Intelligence Agency. (AP)
http://www.nj.com/politics/index.ssf/2013/03/frank_lautenberg_misses_us_sen.html#incart_river
Christie's branding of town hall events costs taxpayers
Every full-scale theatrical production needs props.
That has not been lost on Gov. Chris Christie, a YouTube sensation and Republican poster boy whose popularity was first fueled by elaborate town hall meetings held all over the state. (Portnoy/Star-Ledger)
http://www.nj.com/politics/index.ssf/2013/03/christie_town_hall_costs_taxpa.html#incart_river
2 towns to vote on borrowing to renovate schools
Voters in two North Jersey towns will head to the polls Tuesday to decide whether millions should be borrowed for renovations to schools and for a new all-purpose field.
In North Arlington, voters will be asked to approve $3.4 million in bonds on Tuesday to complete renovations at Rip Collins Athletic Field. In Wallington, a $4.3 million referendum is being held to replace part of the high school roof and upgrade doors and windows throughout the district. (The Record)
http://www.northjersey.com/news/196805531_2_towns_to_vote_on_borrowing_to_renovate_schools.html
From the Back Room
Condolences to Senator Lesniak
PolitickerNJ.com would like to wish condolences to state Sen. Ray Lesniak (D-20), who lost his sister this week.
Mary "Marge" Devanney died on Tuesday at Morristown Medical Center. (PolitickerNJ)
http://www.politickernj.com/back_room/condolences-senator-lesniak
ELEC: Buono gets half a million in state matching funds
State Sen. Barbara Buono (D-18) has qualified for state matching funds and this week received a campaign cash infusion of $559,265, according to ELEC.
Buono Campaign Manager Jonathan Ducote issued a statement. (PolitickerNJ)
http://www.politickernj.com/back_room/elec-buono-gets-half-million-state-matching-funds
Opinion
The latest strike at abortion rights: Editorial
If you think the back-alley abortion is a thing of the past, think again. We're closer to it than you think.
States have been whittling away at a woman's constitutional right to an abortion ever since the 1973 Roe v. Wade decision. In 43 states, the law allows institutions to refuse to perform abortions. Poor and on Medicaid? Only 17 states will use their own funds to pay for an abortion; in 32 other states, you're out of luck, unless your life is in danger or the pregnancy is the result of rape or incest. Other states have placed limits on who can perform abortions, and where. (Star-Ledger)
http://blog.nj.com/njv_editorial_page/2013/03/the_latest_strike_at_abortion.html
Opinion: Why America demonizes its teachers
Evaluating teachers on their students' performance has elicited much public comment of late. In essence, this view assumes that if students aren't learning, the fault lies squarely with their teachers. Well, perhaps. But not necessarily. While the logic of this view seems compelling at first, a moment's reflection shows that it ignores several factors over which teachers have no control. (Breslin/Star-Ledger)
http://www.nj.com/times-opinion/index.ssf/2013/03/opinion_why_america_demonizes.html