Morning News Digest: Tuesday, March 12, 2013
By Matthew Arco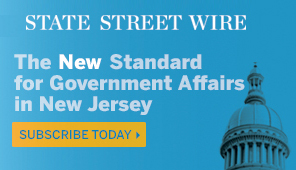 PublicMind Poll: Christie 58%, Buono 22%
Governor Chris Christie maintains solid support among registered New Jersey voters, and most voters approve of his decision to allow the state to receive federal funds for Medicaid expansion, according to this morning's Fairleigh Dickinson University PublicMind Poll.
Sixty-six percent approve of the job Christie is doing as governor. Approval extends to his controversial decision to accept federal funding for the expansion of health care to the state's poor under the Affordable Care Act. (Pizarro/PolitickerNJ)
http://www.politickernj.com/63892/publicmind-poll-christie-58-buono-22
Buono fires back at Christie, accuses him of campaigning at taxpayers' expense
State Sen. Barbara Buono fired back at Gov. Chris Christie Monday evening after the governor accused his likely gubernatorial opponent of campaigning "on the taxpayers' dime."
Buono issued a statement shortly after Christie told reporters that last week's hearing on the Florida-based company hired to do debris removal following Superstorm Sandy amounted to nothing more than political theater. The likely opponent also criticized Christie for holding campaign events of his own at the taxpayers' expense. (Arco/PolitickerNJ)
http://www.politickernj.com/63891/buono-fires-back-christie-accuses-him-campaigning-taxpayers-expense
Possible lottery privatization moving forward, Christie says
NORTH BRUNSWICK – Despite Democratic lawmakers hoping to put the brakes on plans by the governor to privatize the state lottery, the state is moving ahead with the process, Gov. Chris Christie said.
The governor said today his administration is moving forward with plans to follow through with the privatization of the lottery despite objections from some lawmakers. (Arco/PolitickerNJ)
http://www.politickernj.com/63890/possible-lottery-privatization-moving-forward-christie-says
Christie unapologetic about trying to change court
NORTH BRUNSWICK – Senate President Steve Sweeney's apparent refusal to give the governor's nominees to the Supreme Court a confirmation hearing is a "child's playground game," said Gov. Chris Christie.
The governor responded Monday to comments made by Sweeney recently that indicated a confirmation hearing is not around the corner out of fears that Christie would try to "stack the court." (Arco/PolitickerNJ)
http://www.politickernj.com/63888/christie-unapologetic-about-trying-change-court
The Crusades: holy war erupts between JC candidates over church affiliation
Stung by his rival in the Jersey City Ward D Council race, the Rev. Mario Gonzalez, an ally of Jersey City Mayor Jerry Healy, told assemblyman Sean Connors (D-33) that Connors might as well launch a salvo against his own faith if he truly believes in the attack he executed aaginst Gonzalez.
"As Councilman, I will fight for everyone regardless of race, religion, creed or what neighborhood they're from," said Gonzalez, a member of the Assembly of God Church, in response to Connors. (Pizarro/PolitickerNJ)
http://www.politickernj.com/63887/crusades-holy-war-erupts-between-jc-candidates-over-church-affiliation
Dems won't find AshBritt 'smoking gun,' Christie says
NORTH BRUNSWICK – Democratic lawmakers have not found a smoking gun with the company contracted for debris removal, now let's move on.
That's the sentiment of Gov. Chris Christie. (Arco/PolitickerNJ)
http://www.politickernj.com/63886/dems-wont-find-ashbritt-smoking-gun-christie-says
Appointments, nominations announced
TRENTON – Today, Governor Christie filed the following nominations and direct appointments with the State Senate and Secretary of State's Office. The Governor's nominations are subject to the advice and consent of the State Senate. (PolitickerNJ)
http://www.politickernj.com/63884/appointments-nominations-announced
In JC Mayor's race, Connors pounces on Gonzalez's leadership of controversial church

Assemblyman Sean Connors (D-33) had a history of throwing political punches at Downtown Jersey City Councilman Steve Fulop, that is until Fulop made him a part of his team as a candidate for Ward D council.
Now Connors is still throwing punches – just not at Fulop. (Pizarro/PolitickerNJ)
http://www.politickernj.com/63879/jc-mayors-race-connors-pounces-gonzalezs-leadership-controversial-church
Chris Christie praises Sandy relief fund run by wife
NORTH BRUNSWICK, N.J. — New Jersey Gov. Chris Christie is defending the delay in disbursing $32 million in donations from a Superstorm Sandy relief fund headed by his wife.
The Republican governor says the charity being run by Mary Pat Christie was never meant to provide immediate relief to those recovering from the mega-storm, which hit the state last October. (AP)
http://www.politico.com/story/2013/03/chris-christie-praises-sandy-relief-fund-run-by-wife-88712.html
City Leaders Fear Tax Plan
TRENTON—As a bill to overhaul New Jersey's tax-incentive programs rapidly makes its way through the state Legislature, some city leaders and planning groups are raising concerns that the legislation will shift development away from urban centers.
Cities such as Newark and Jersey City have benefited from hundreds of millions of dollars in incentives offered through one of the most generous subsidies in the country. Urban officials now worry they will face more competition from suburban and rural areas under a measure being considered by the Democratically-controlled Legislature. (Haddon/Wall Street Journal)
http://online.wsj.com/article/SB10001424127887324735304578354663396772912.html?KEYWORDS=christie
Lottery hopeful ratchets up lobbying, spending $180,000 and seeking help from Christie allies
The company hoping to take over operation of the New Jersey Lottery has doubled its lobbying expenditures in the state in the last two years, retaining a law firm founded by the chief of Governor Christie's transition team and a public affairs firm headed in the state by Christie's top campaign strategist.
The company, GTECH, based in Rhode Island, partnered with Scientific Games of New York to be the sole bidder on a contract that could yield it millions if Christie follows up on his commitment to turn over the operation to private hands. The move is part of a sweeping initiative to shift various state functions to private companies, which a task force appointed by the governor says could save New Jersey $210 million. (Linhorst/The Record)
http://www.northjersey.com/news/Unions_ad_urges_Christie_to_reject_lottery_privatization.html
Christie: Legislative hearing on Sandy debris removal contract a 'campaign event'
Governor Christie said Monday that last week's hearing where the Legislature questioned the emergency debris removal contract the state awarded to a politically connected disaster recovery firm after superstorm Sandy was "much ado about nothing."
Speaking publicly for the first time since lawmakers grilled two officials from Florida-based AshBritt during a special legislative meeting Friday afternoon, the governor said the hearing was "a campaign event." (Reitmeyer/The Record)
http://www.northjersey.com/news/Christie_Legislative_hearing_on_Sandy_debris_removal_contract_a_campaign_event.html?page=all
Expected Merger of Rutgers' Law Schools, History in the Making
If the enthusiasm of Rutgers University's president, board of trustees, faculty, and students is any indication, Rutgers will soon merge its two law schools into one, while keeping both campuses intact. It will mark the first time in recent history that two accredited law schools broadly housed within one institution will be joined this way.
Separated in 1967, the Newark and Camden schools, which both began as independent institutions in the early 20th century, have operated as distinct colleges ever since. They share part of a name, some funding sources, and the university's highest level of administrative hierarchy, while maintaining different academic programs, alumni networks, faculty hiring procedures, and admissions and graduation requirements. (Nurin/NJSpotlight)
http://www.njspotlight.com/stories/13/03/10/expected-merger-of-rutgers-law-schools-history-in-the-making/
NJ Consumers Could See Small Hike in Electric Bills With Grid Upgrade
With many power plants being shut down because of tougher environmental regulations at the state and federal levels, the operator of the nation's largest power grid is authorizing more than $2.4 billion in new transmission projects in the region, including many in New Jersey.
The retirement of the power plants is not unexpected, given the more stringent rules to control emissions from older, more polluting plants. Also contributing to the phase-out: historically low natural-gas prices, which have made it tougher for coal plants to compete with the cheaper fuel. (Johnson/NJSpotlight)
http://www.njspotlight.com/stories/13/03/10/nj-consumers-could-see-small-hike-in-electric-bills-with-grid-upgrade/
Bill Opens Debate on Ultrasound Scans for Breast Cancer
Should women in New Jersey whose mammograms reveal that they have extremely dense breast tissue follow up with an ultrasound — and should insurers be required to pick up the tab for the additional test?
Those questions — at the heart of a bill being considered by the Assembly — are causing contention among medical specialists and lawmakers. (Kitchenman/NJSpotlight)
http://www.njspotlight.com/stories/13/03/10/bill-opens-debate-on-ultrasound-scans-for-breast-cancer/
Christie proposes to toughen rules on those seeking N.J. unemployment benefits
New Jerseyans hunting for jobs would have to climb an extra hurdle before they can collect weekly unemployment benefits under new regulations being proposed by Gov. Chris Christie's administration.
Jobless residents would have to search for openings online, on a state-run jobs board called Jobs4Jersey.com, every week. The only current requirement is that they check in with state officials by phone, mail, in person or online. (Rizzo/Star-Ledger)
http://www.nj.com/politics/index.ssf/2013/03/christie_proposes_to_toughen_r.html#incart_river
Christie touts funding for people with disabilities as families battle bureaucracy
Gov. Chris Christie Monday praised his administration's financial support for the developmentally disabled, including a "common sense reorganization of government … to serve the needs of individuals."
But some parents say the recent reshuffling of responsibilities among the departments of Human Services and Children and Families is making it more difficult for their children to receive assistance. (Livio/Star-Ledger)
http://www.nj.com/politics/index.ssf/2013/03/christie_touts_nj_budgets_serv.html#incart_river
N.J. Senate panel approves AshBritt-inspired bill to make state bid out emergency contracts
State laws for bidding out contracts during emergencies would be strengthened and expedited under a bill approved by a Senate committee today.
Approval of the bill (S2584) from the State Government, Wagering, Tourism and Historic Preservation committee comes on the heels of numerous reports that Florida-based AshBritt Inc., which stands to receive more than $100 million in post-Hurricane Sandy debris removal work, charged some towns fees that were more than twice as high as what was charged by other firms in towns that didn't use AshBritt under an emergency state contract. (Spoto/Star-Ledger)
http://www.nj.com/politics/index.ssf/2013/03/nj_senate_panel_approves_ashbr.html#incart_river
From the Back Room
Holley goes Hollywood
Roselle Mayor Jamel Holley's brother, former Dallas Cowboy/New England Wide Receiver Jesse Holley, has signed a deal with Sony pictures who will produce a movie titled "Jesse Holley." (PolitickerNJ)
http://www.politickernj.com/back_room/holley-goes-hollywood
Alexander gets Obama love but no Essex organization support
President Obama's Deputy Campaign Manager Julianna Smoot donated to Mark Alexander's LD 34 State Senate campaign, joining a group of former Obama staffers supporting Alexander's effort.
In addition to serving as deputy campaign manager in 2012, Smoot was White House Social Secretary, Deputy Assistant to the President and Chief of Staff to United States Trade Representative Ron Kirk. (PolitickerNJ)
http://www.politickernj.com/back_room/alexander-gets-obama-love-no-essex-organization-support
Opinion
Stile: AshBritt's CEO didn't need to back down from Democrats
Governor Christie didn't need to rely on loyal Republican legislators for damage control on Friday as his decision to award a disputed debris removal contract came under scrutiny.
Randal Perkins, CEO of AshBritt Inc., the Florida-based firm that landed the lucrative, no-bid deal, did just fine keeping the Democrats at bay during a tedious, four-hour legislative oversight hearing.
With a confidence that bordered on swagger, Perkins simultaneously defended the company and Christie's honor. For the most part, he pulled it off. (Stile/The Record)
http://www.northjersey.com/news/opinions/197258711_Stile__AshBritt_s_CEO_didn_t_need_to_back_down_from_Democrats_CEO_can_afford_to_be_cocky.html