Morning News Digest: Thursday, March 14, 2013
By Matthew Arco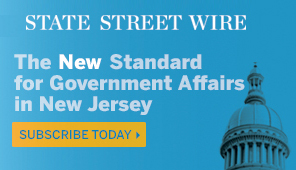 Who will run with Buono? Source says she is likely to choose an African-American
A source close to Democratic gubernatorial candidate state Sen. Barbara Buono (D-18) says the senator is likely to select an African-American running mate, a decision she does not have to make until after the primary season.
African-American voters comprised 18% of all New Jersey general election voters in 2012, a vital part of President Barack Obama's lopsided 58-41 percent victory over Mitt Romney here.
The source said Buono sees the African-American option as the most viable. (Pizarro/PolitickerNJ)
http://www.politickernj.com/63949/who-will-run-buono-source-says-she-likely-choose-african-american
Booker heads to D.C. for April fundraiser
Newark mayor Cory Booker will head to Washington, D.C., next month for a fundraiser to raise money for his U.S. Senate run.
The April 1 event will cost supporters from $500 to $2,600 and will be held at the home of Katherine and David Bradley. Bradley is the owner of Atlantic Media. (Isherwood/PolitickerNJ)
http://www.politickernj.com/63943/booker-heads-dc-april-fundraiser
Disgraced former Hamilton mayor sentenced to 38 months behind bars for bribery
TRENTON – Former Hamilton Mayor John Bencivengo was sentenced Wednesday to serve more than three years behind bars for accepting $12,400 in bribes.
U.S. District Judge Anne Thompson referred to the case as "a tragedy," saying Bencivengo "has thrown away so much for $12,400." However, Thompson agreed with prosecutors who argued Bencivengo violated the public trust. (Arco/PolitickerNJ)
http://www.politickernj.com/63936/disgraced-former-hamilton-mayor-sentenced-38-months-behind-bars-bribery
Christie endorsed by Dem mayor of Chesilhurst
Gov. Chris Christie today collected the endorsement of another Democrat – the mayor of Chesilhurst, Michael Blunt.
Blunt (pictured) joins Harrison Mayor Ray McDonough and Sea Bright Mayor Dina Long as Democrats to date who have formally endorsed the incumbent Republican. (Pizarro/PolitickerNJ)
http://www.politickernj.com/63940/christie-endorsed-dem-mayor-chesilhurst
Campaign money trail takes Christie to Wisconsin and Minnesota on Thursday
Governor Christie will be in Wisconsin on Thursday for another campaign fundraiser, this one hosted by Gov. Scott Walker.
New Jersey's popular Republican governor came to Walker's aid when he was facing a recall election last year, travelling to Wisconsin to raise money and appear at rallies. (Hayes/The Record)
http://www.northjersey.com/news/Campaign_money_trail_takes_Christie_to_to_Wisconsin_and_Minnesota_on_Thursday.html
Sen. Lautenberg sidelined by leg pain
WASHINGTON — Sen. Frank Lautenberg, the nation's oldest senator at 89, has been sidelined in New Jersey with pain and weakness in his legs.
Lautenberg spokesman Caley Gray said Wednesday that the senator's doctor has advised him not to travel. The Democrat has missed several votes in the Senate this week and last. (AP)
http://www.northjersey.com/news/Sen_Lautenberg_sidelined_by_leg_pain.html
Ernst & Young Hires Chris Christie's Brother
Todd Christie, the brother of New Jersey Governor Chris Christie, has joined Ernst & Young as director of the firm's Northeast Practice Market Team, but brings along some baggage, including settled SEC charges.
His responsibilities will include developing new business relationships throughout the New York area, the firm announced Wednesday.
http://www.accountingtoday.com/news/Ernst-Young-Hires-Chris-Christie-Brother-66042-1.html
N.J. appeals decision in federal sports betting case
New Jersey officials Wednesday appealed a federal judge's decision to block legal sports betting in the state, a move that was expected in a high-stakes case that could end up before the nation's highest court.
Gov. Chris Christie, the leaders of both state legislative chambers and the owners of Monmouth Park racetrack filed notices of appeal in U.S. District Court in Trenton. (Hutchins/Star-Ledger)
http://www.nj.com/politics/index.ssf/2013/03/nj_appeals_decision_in_federal.html#incart_river
Once again, Wall Street agency issues warning on Christie's revenue projections
Despite a recent rise in revenue collections, a major credit-rating agency warned today that the economic blueprint outlined in Gov. Chris Christie's $32.9 billion budget was overly optimistic.
In Wall Street's first assessment of the budget Christie unveiled last month, Standard & Poor's said that if his revenue projections failed to materialize, then it might once again downgrade New Jersey's credit rating, already among the worst of all the states. (Renshaw/Star-Ledger)
http://www.nj.com/politics/index.ssf/2013/03/once_again_wall_street_agency.html#incart_river
Elmwood Park Superintendent running for senate seat
Elmwood Park Schools Superintendent Dr. Richard Tomko said he is seeking the Democratic nomination to run against Republican State Sen. Steve Oroho in the 24th District.
Tomko, a Lyndhurst native, has lived in Sparta with his wife and four children for the past eight years. The primarily Republican 24th District includes all of Sussex County, 11 towns in Warren County and Mount Olive in Morris County. Oroho has held the senate seat since 2007. (Milsop/The Record)
http://www.northjersey.com/news/197924371_Elmwood_Park_Superintendent_running_for_senate_seat.html
Revel CEO steps away from gaming floor, will stay on with holding company
Kevin DeSanctis, who successfully opened the Revel casino in Atlantic City after years of delays, is stepping down amid an awaited bankruptcy filing by the $2.4 billion destination resort.
In an announcement, Revel said DeSanctis will stay on with Revel Group, the holding company that developed the casino, in a role that will allow him to work on new amenity projects for the resort. Michael Garrity, Revel's chief investment officer, also will resign from his casino duties, but will stay on with Revel Group. (Arney/NJBIZ)
http://www.njbiz.com/article/20130313/NJBIZ01/130319910/Revel-CEO-steps-away-from-gaming-floor-will-stay-on-with-holding-company
Business groups applaud Christie course on federal Sandy aid
Gov. Chris Christie's plan to spend half a billion dollars of federal Hurricane Sandy aid on small businesses and tourism is gaining wide support from the business community.
Christie late Tuesday released his plan for the first wave of federal Sandy recovery money. The $1.8 billion will come from the U.S. Department of Housing and Urban Development in the form of Community Development Block Grants. (Kaltwasser/NJBIZ)
http://www.njbiz.com/article/20130313/NJBIZ01/130319917/Business-groups-applaud-Christie-course-on-federal-Sandy-aid
Englewood Cliffs Council chooses new councilwoman to fill vacancy
Nora Jobson, who lost an election bid for Borough Council last fall, took a seat by appointment Wednesday night to fill a vacancy.
The Borough Council voted 4-0 to appoint Jobson, an executive at a New York City investment firm, to the seat of Councilman Ilan Plawker, the council's longest-serving member who resigned last month because of health problems and increasing duties as vice president of the state Board of Education. He had spent 18 years on the council and served as police commissioner. His three-year term expires this year. (Baker/The Record)
http://www.northjersey.com/englewoodcliffs/Englewood_Cliffs_seats_new_councilwoman_to_fill_vacancy.html
Anger, confusion over delay in delivery of Bellmawr sample ballots
It seemed simple: Take the sample ballots to the post office in Bellmawr and distribute them throughout the borough, just over three square miles in area.
Instead, the sample ballots for a once-defeated Bellmawr School District referendum began arriving a week later – after a trip to Newark, N.J., 80 miles north and angry phone calls from residents claiming a conspiracy. (Lai/Inquirer)
http://www.philly.com/philly/news/politics/nj/20130313_Anger__confusion_over_delay_in_delivery_of_Bellmawr_sample_ballots.html
Opinion
AshBritt probe: Did NJ pay too much for Sandy cleanup? Editorial
Republicans in Trenton seem to regard questions about the no-bid contract awarded to clean up the Hurricane Sandy mess as evidence of a personal vendetta against the governor.
Here's what Sen. Joe Kyrillos (R-Monmouth) said after Friday's hearing by the joint oversight committee: "There are some who, in their relentless campaign to criticize the governor, will even politicize a natural disaster. That is perhaps the most important lesson from today's political theater, and it is disgraceful." (Star-Ledger)
http://blog.nj.com/njv_editorial_page/2013/03/ashbritt_proble_did_nj_pay_too.html
Opinion: Four Trenton councilwomen could be contenders in 2014 mayoral race
Last fall, I wrote a column in which I listed a series of attributes I believe the next mayor of Trenton should possess: empathy, self-confidence, as well as the ability to work cooperatively, see the big picture, develop a shared vision and recruit a talented team to manage the city's affairs. I then listed five individuals who I thought fit the profile: James Gee, James Golden, Assemblyman Reed Gusciora, Keith Hamilton and Eric Jackson. (Times of Trenton)
http://www.nj.com/times-opinion/index.ssf/2013/03/opinion_trenton_2014_mayoral_r.html