Morning News Digest: Friday, March 15, 2013
By Matthew Arco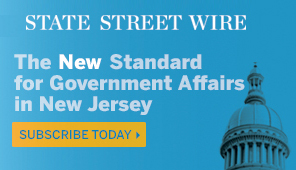 Alonso prevails by 13 votes over Driscoll in GOP LD 38 tilt
HACKENSACK –Fernando Alonso of Oradell won tonight.
He defeated John Driscoll of Paramus, 143-130 a week after the two LD 38 state senate hopefuls tied at 120.
"This was gut-wrenching," said Alonso, who defeated the man whose ticket he ran on two years ago as a candidate for the assembly. (Pizarro/PolitickerNJ)
http://www.politickernj.com/63999/alonso-prevails-gop-ld-38-tilt
GOP Countdown to Mission Gordon in LD 38
HACKENSACK – They filed into Bergen County Republican Organization headquarters, the committee members who were here a week ago – and those who were in mothballs until this week.
A county committee tie at 120 to 120 last Thursday between the two men vying to run for the state senate in LD 38 meant former Freeholder John Driscoll and attorney Fernando Alonso had to come back tonight in hopes of landing more troops to their respective retinues. (Pizarro/PolitickerNJ)
http://www.politickernj.com/63998/gop-countdown-mission-gordon-ld-38
Christie's office responds to Paterson town hall controversy
TRENTON – Gov. Chris Christie's comments at his most recent town hall fall in line with similar statements echoed by members of the African American community in recent years, the governor's office says.
Responding for the first time Thursday to criticism from Democrats that the governor overstepped when speaking at a Paterson town hall, spokesman Michael Drewniak referred reporters to statements made in 2010 by then-Rev. Reginald Jackson, the executive director of the Black Ministers Council. (Arco/PolitickerNJ)
http://www.politickernj.com/63990/christies-office-responds-paterson-town-hall-controversy
Pipe trades association formally backs Christie
The New Jersey State Association of Pipe Trades, representing 10,000 members consisting of Plumbers, Steamfitters, Sprinklerfitters, Pipefitters and HVAC Technicians endorsed Governor Chris Christie for Re-Election today March 14, 2013.
The union released a formal statement. (PolitickerNJ)
http://www.politickernj.com/63986/pipe-trades-association-formally-back-christie
Led by Trunk, LD3 GOP Team formally announces campaign kickoff
Attorney Niki Trunk, Gloucester County Freeholder Larry Wallace and Salem County Freeholder Bob Vanderslice today announced they are running as a team seeking the Republican nominations for State Senate and State Assembly respectively in the 3rd Legislative District.
Personally recruited by Senate Minority Leader Tom Kean (R-21), ex-comptroller's office deputy chief Trunk is going after state Senate President Steve Sweeney (D-3), and she kicked off her campaign with a verbal poke in the senate president's eye. (Pizarro/PolitickerNJ)
http://www.politickernj.com/63979/led-trunk-ld3-gop-team-formally-announces-campaign-kickoff
Jersey City mayoral candidate Jerry Walker: The PolitickerNJ.com Interview
Asked about how much money he has raised or will raise toward his Jersey City mayoral campaign and ex-Seton Hall basketball star Jerry Walker thunders against drugs on the streets, including what he calls the latest worst affliction to local youth called dip: PCP dipped in embalming fluid and smoked.
"It's driving them crazy," said Walker, who founded and runs his own after-school non-profit, Team Walker. "It's turning them into zombies." (Pizarro/PolitickerNJ)
http://www.politickernj.com/63976/jersey-city-mayoral-candidate-jerry-walker-politickernjcom-interview
Christie targeted by hackers publishing celebrities' financial information
New Jersey's governor is reportedly the latest public figure to have his personal financial information hacked by members of a website dedicated to posting sensitive data on well-known individuals.
Gov. Chris Christie joined the ranks of the First Lady of the United States, celebrities and elected officials who have fallen prey to the website Exposed: The Secret Files (exposed.su), which is being investigated by authorities, according to published reports. (Arco/PolitickerNJ)
http://www.politickernj.com/63970/christie-targeted-hackers-publishing-celebrities-financial-information
Grand jury investigating Sen. Robert Menendez (D-N.J.), people familiar with probe say
A federal grand jury in Miami is investigating Sen. Robert Menendez (D-N.J.), examining his role in advocating for the business interests of a wealthy donor and friend, according to three people aware of the probe.
Menendez has intervened in matters affecting the financial interests of Florida ophthalmologist Salomon Melgen, seeking to apply pressure on the Dominican government to honor a contract with Melgen's port-security company, documents and interviews show. Also, Menendez's office has acknowledged he interceded with federal health-care officials after they said that Melgen had overbilled the U.S. government for care at his clinic. (Washington Post)
http://www.washingtonpost.com/politics/grand-jury-investigating-sen-robert-menendez-d-nj-people-familiar-with-probe-say/2013/03/14/2eb4fad4-8b24-11e2-9838-d62f083ba93f_story.html
Rebuild vs. retreat: Christie and Cuomo offer contrasting plans in wake of Sandy
In New Jersey, owners of damaged coastal homes would get cash to stay put and rebuild. In New York, those on the water's edge would get generous incentives to walk away.
It's a difference that could mean divergent futures for both states' shorelines. And the calculus that goes into the two approaches — by Governor Christie in New Jersey and Gov. Andrew Cuomo in New York — has set off a complex debate among environmentalists, planners, economists and government officials about which is a bigger threat: rising sea levels that could pose a future risk to rebuilt communities, or the economic and emotional impact of peeling back development from the coast. (Boburg/The Record)
http://www.northjersey.com/news/Rebuild_vs_Retreat_Christie_and_Cuomo_offer_contrasting_plans_in_wake_of_Sandy.html
N.J. Assembly committee approves bill to help gas stations install generators
In a measure spawned by a severe gasoline shortage after Hurricane Sandy, a state Assembly committee today approved a bill that would create a pilot program to help service station operators wire their facilities for emergency generators.
The bill (A3930), passed by the Homeland Security and State Preparedness Committee, provides interest-free loans of up to $10,000 to gas stations and other motor fuel dealers situated on an evacuation route or within a half-mile of one that are approved by the state Office of Emergency Management. (Spoto/Star-Ledger)
http://www.nj.com/politics/index.ssf/2013/03/assembly_committee_approves_bi_1.html#incart_river
NJ teacher pleads guilty in school sex scandal
A fourth educator pleaded guilty Thursday to charges in the student-teacher sex scandal that riled Triton Regional High School in Runnemede last year.
Nick Martinelli, 28, of Cherry Hill, faces a sentence of probation for his guilty plea to fourth-degree hindering apprehension, the Camden County Prosecutor's Office said. (Gambardelio/Inquirer)
http://www.philly.com/philly/news/new_jersey/20130314_NJ_teacher_pleads_guilty_in_school_sex_scandal.html
Gloucester County votes to ship its prisoners elsewhere
Gloucester County is outsourcing its prisoners. And some residents aren't happy about it.
The Board of Freeholders voted, 6-1, Wednesday to ship the county's 270 male inmates to Cumberland and Salem Counties. Gloucester would become the first county in the state to vacate its jail, if Cumberland and Salem Counties approve. (Seidman/The Inquirer)
http://www.philly.com/philly/news/politics/nj/20130313_Gloucester_County_votes_to_ship_its_prisoners_elsewhere.html
At $200M, Fishermen's Energy Pilot Wind Farm Still Too Pricey for Rate Counsel
It could cost utility customers as much as $200 million to build a pilot project to demonstrate the viability of offshore wind farms along the Jersey coast, according to the New Jersey Division of Rate Counsel.
In an interview on WHYY in Philadelphia on the station's Radio Times show, Stefanie Brand, director of the division, yesterday said the pilot project nearly three miles off Atlantic City, is still opposed by her office. "It's just too expensive,'' she said. (Johnson/NJSpotlight)
http://www.njspotlight.com/stories/13/03/14/at-200m-fishermen-s-energy-pilot-wind-farm-still-too-pricey-for-rate-counsel/
Union Beach Residents Face Limited Options After Sandy
In the self-described blue-collar boro of Union Beach, the frustrated pronouncement, "I'm still waiting for my money," punctuates so many conversations that it's almost a refrain among homeowners who — four months after Sandy — have yet to receive the insurance checks that will help them cover critical home repairs or elevations or both.
Yet despite the prolonged uncertainty and displacement, they are the lucky ones. (Nurin/NJSpotlight)
http://www.njspotlight.com/stories/13/03/13/union-beach-residents-weigh-limited-options-after-sandy/
Graham wishes Christie were invited
Sen. Lindsey Graham told reporters at CPAC on Thursday that he thinks New Jersey Gov. Chris Christie should have been invited, saying that the GOP governor is a "good voice" within the Republican Party. (POLITICO)
http://www.politico.com/blogs/politico-live/2013/03/graham-wishes-christie-was-invited-159341.html
From the Back Room
Condolences to Raj Mukherji and family
The staff at PolitickerNJ.com would like to extend our deepest condolences to the family of Jersey City Deputy Mayor Raj Mukherji and his fiancée – Natasha Alagarasan, an Associate Producer at NY1 News – on the loss of his father, Asim Mukherji, 71, of Lakewood, NJ. Mr. Mukherji died today in his native Calcutta, India following a brainstem stroke. (Isherwood/PolitickerNJ)
http://www.politickernj.com/back_room/condolences-raj-mukherji-and-family
Report: Todd Christie joins Ernst and Young
Todd Christie, the younger brother of Gov. Chris Christie, has joined Ernst & Young as director of the firm's Northeast Practice Market Team, according to a report in Accounting Today.
Todd Christie's responsibilities will include developing new business relationships throughout the New York area, the firm announced Wednesday. (PolitickerNJ)
http://www.politickernj.com/back_room/report-todd-christie-joins-ernst-and-young
Opinion
AshBritt probe: Did N.J. pay too much for Sandy cleanup? Editorial
Republicans in Trenton seem to regard questions about the no-bid contract awarded to clean up the Hurricane Sandy mess as evidence of a personal vendetta against the governor.
Here's what Sen. Joe Kyrillos (R-Monmouth) said after Friday's hearing by the joint oversight committee: http://blog.nj.com/njv_editorial_page/2013/03/ashbritt_proble_did_nj_pay_too.html
"There are some who, in their relentless campaign to criticize the governor, will even politicize a natural disaster. That is perhaps the most important lesson from today's political theater, and it is disgraceful." (Star-Ledger)
http://blog.nj.com/njv_editorial_page/2013/03/ashbritt_proble_did_nj_pay_too.html
Column: Christie tour seeking to blunt criticism
In a little more than one breathless week, Gov. Chris Christie has traveled to three counties to trumpet government programs that aid the state's "most vulnerable citizens."
Spending for health care, aid and housing for the developmentally disabled, and family support were front and center during the Republican governor's visits to Robbinsville, Jersey City and North Brunswick. In addition, he used a town hall meeting in Paterson to detail progress on an education initiative to benefit young students in the city. (Schoonejongen/APP)
http://www.app.com/article/20130313/NJCOLUMNIST25/303130013/Column-Christie-tour-seeking-blunt-criticism?nclick_check=1
Editorial: Trenton's demolition of vacant buildings needs to be first chapter in redevelopment
The inertia that's gripped Trenton for too long is beginning to give way to heavy-duty machines and an even larger purpose.
Workers in the Wilbur section of the city have been knocking down deteriorating and abandoned buildings this week along Walnut Street in a prelude to revitalization efforts. (Times of Trenton)
http://www.nj.com/times-opinion/index.ssf/2013/03/editorial_trentons_demolition.html