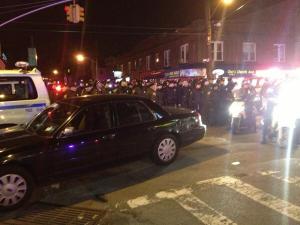 Headline: "Enraged protesters battle cops in Brooklyn streets during third night of rioting after it's revealed that 16-year-old Kimani Gray was shot in the back."
District Leader Marc Landis rolled out an influential Hotel Trades Council endorsement in his bid for outgoing Councilwoman Gale Brewer's seat. "Marc Landis has been a leader on the Upper West Side, standing with restaurant workers to protect their rights and fighting for good jobs," Josh Gold, HTC's political director, said in a statement. "The men and women of the New York Hotel Trades Council are proud to stand with Marc Landis, confident that as a member of the City Council, he will continue to advocate for progressive policies and economic growth that will benefit all New Yorkers."
Councilman Mark Weprin seems to be taking his speakership bid seriously, at least as far as his campaign's generosity is concerned; his committee recently gave $1,000 campaign contributions to seven Council candidates: Vanessa Gibson, Alan Maisel, Micah Kellner, Rafael Espinal, Vinnie Gentile, Costa Constantinides and Mark Levine. The first four are sitting Assembly members, the fifth is a sitting councilman facing a Republican opponent, and the last two are establishment-friendly district leaders. All are early favorites in their races.
Whoever created the spoof site to mock Council Speaker Christine Quinn certainly generated plenty of press, not only on this blog, but the Associated Press, DNAinfo, WNYC, Crain's New York, the New York Daily News, New York Post and Capital New York, among others. Yet no one seemed to get much closer to who was behind the hoax. "We provide anonymous hosting, so our clients are not required to give us any information about who they are," a worker for the Panama-based company hosting the site told DNAinfo.
Joe Lhota pulled in an impressive fundraising haul, including a contribution from Mayor Michael Bloomberg's daughter, Emma Bloomberg. GOP rival John Catsimatidis, as he is wont to do, provided some fun quotes on the matter. "When an insurance company hires you to sell life insurance, you sell it to your families, your parents, and then what do you do next month?" Mr. Catsimatidis argued. While Councilman Eric Ulrich may have indicated his own preferred candidate by labeling Mr. Lhota's numbers as "impressive" in the same piece.
While Comptroller John Liu himself confirmed his Sunday mayoral announcement and expounded at length about his standing in the polls:
[youtube http://www.youtube.com/watch?v=DRzcd-jFOmA]