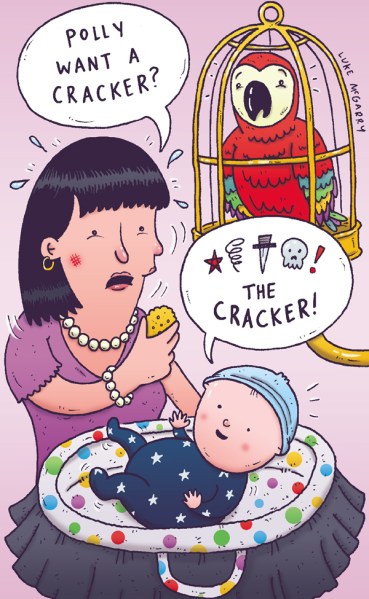 A childhood drawing of mine hangs above my son's changing table. It's a mostly unremarkable work, a giant, floating rectangular head with spiky Bart Simpson hair and a nose that resembles an electrical outlet, rendered in fading green marker on flan-colored paper. And yet it has one feature that distinguishes it from the average preschooler's half-assed artistic endeavor. Emerging from the head is a speech bubble as round and buoyant as a cumulus cloud. And inside the bubble is one word: FUCK.
The story behind the drawing is disappointingly mundane—I was coloring on the floor of my dad's office, overheard him drop an F-bomb, asked him how to spell it and rewarded his honesty with a Take Your Daughter to Work Day souvenir that only Louis CK's refrigerator could love—but hindsight imbues it with profane meaning.
Because some 30 years later, I am still that snub-nosed potty mouth (albeit with a neck and a few more teeth), but now the matriarch of a household in which cursing—or "cussing," if you live in a state that contains a Waffle House franchise—is wholeheartedly embraced.
I am a member of what Tom Wolfe might call the Fuck Patois generation, in which curses have become acceptable replacements for real words in the way that, say, leggings can pass for pants. I enjoy cursing as a noun ("He doesn't give a fuck"), as a verb ("Oh, the 'Fantasy Suite' is just code for The Bachelor fucking the remaining contestants"), as a piece of adverbial flair ("I've been waiting fucking patiently!") and most often as a sort of Hamburger Helper used to enhance otherwise plain adjectives ("These drunken noodles are fucking good").
In addition to enhancing my vocabulary, curse words also give me an outlet for pent-up aggression that might otherwise be directed at my fellow man. "Nice one, jackass," I'll tell the cracked dish drainer as it deposits suds onto my feet. "Why are you being such a dick?" I'll shout at my computer as it struggles to find my wifi network. If someone were to film me during an afternoon spent home alone, it would resemble a very dark episode of Pee-wee's Playhouse.
I can't blame my parents for this. I mean, yes, it is definitely their fault, if you're the type of killjoy who prefers to express your discontent by saying things like "Fiddlesticks!" or "Oh, poop." I've always considered my natural-born blasphemy a delightful quirk, on a par with prominent freckles or elbows that can turn inside-out. My family is not athletically inclined in the traditional sense, but cursing has always been a sport I could take to with gusto.
Until now, that is. Now I have a toddler constantly underfoot and within earshot, a toddler whose capacity for understanding the English language is expanding by the minute. Right now his vocabulary is limited to "dis," "dat," "ball," "apple" and "baby," but it's only a matter of time until he catches on. I know that if I don't rein in my language, soon I'm going to be fielding requests for "dis shitty apple," or "dat fucking ball." And as much as I want my son to cuss with abandon—if he so chooses—when he's older, I'd like to keep his tongue G-rated for as long as possible. I've already caved when it comes to vices like processed sugar and screen time, so I feel like it's the least I can do to prevent his playground patter from sounding too much like a Mamet play.
Not that it's going to be easy, especially since I'm not just policing my own language.
"Where is my butt-fucking phone?" my husband, Jeff, wondered aloud the other day as Sam and I watched Blue's Clues while clapping and slowly being drained of our will to live, respectively.
"Futt-bucking," I hissed through my teeth. "Don't you mean, where is your futt-bucking phone?"
"That is what I meant, you cupid stitch!" Jeff said brightly.