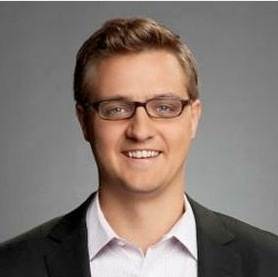 MSNBC anchor Chris Hayes uses racial and gender quotas to make sure that his show Up with Chris Hayes (which he announced he is leaving for primetime earlier this month) is not all just white dudes, reports Columbia Journalism Review. Media Matters published a chart earlier this month that showed that 57 percent of the guests on Mr. Hayes' show were not white men, which makes it the most diverse of any of the Sunday morning talk shows.
How did he get that result in an industry known for its lack of diversity?
"We just would look at the board and say, 'We already have too many white men. We can't have more.' Really, that was it," Mr. Hayes told CJR. "Always, constantly just counting. Monitoring the diversity of the guests along gender lines, and along race and ethnicity lines."
"A general rule is if there are four people sitting at table, only two of them can be white men," he says. "Often it would be less than that," he said.
And Mr. Hayes plans to keep the guidelines in place when he shifts from weekend mornings to primetime on the left-leaning network.
"It's going to be even harder to do at a daily level than it was at two shows a week," he said. "But we're a thousand percent committed to it."