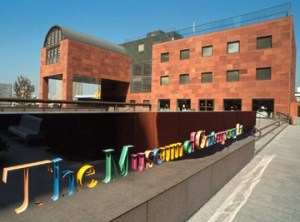 The Art Newspaper has released its closely read annual worldwide museum attendance figures for 2012 and while there is good news for New York, there is some rather bad news for Los Angeles's embattled Museum of Contemporary Art.
The most popular exhibition globally in 2012 was one of Dutch Old Masters that opened in Japan, something the paper points to as evidence that while new art may steal the spotlight, old art still draws crowds. In the major cities, however, modern and contemporary art stayed on top.
In terms of the most popular exhibitions worldwide, a U.S. museum, the National Gallery in Washington, D.C., came fourth, behind institutions in Tokyo, Brasil and Russia, with the exhibition "Colorful Realm: Ito Jakuchu," which saw 7,611 visitors per day. The next U.S. museum on that list is MoMA, at 13th, with its Willem de Kooning retrospective, which saw 6,218 per day, for a total of a whopping 696,362. (MoMA's number is more impressive than the National Gallery's when you factor in that the National Gallery is free of charge, and MoMA charges over $20 admission.) In last year's survey, which measured attendance in 2011, a New York institution, the Met, made fourth place, with its blockbuster exhibition of the late fashion designer Alexander McQueen, which saw 8,025 per day.
But in terms of overall museum attendance, the Met remained in its number two spot worldwide, behind the Louvre, with 6.1 million visitors (versus the Louvre's 9.7 million). The National Gallery came in fifth, at a total of 5.2 million. The Met saw a slight boost in 2012 (6.11 million, up from 6.004 million in 2011) from its newly refurbished Islamic and American art galleries.
As for the top 10 most popular exhibitions in New York, perhaps not surprisingly, MoMA occupies a full seven of those slots, and grabbed the top five, with De Kooning (6,218), Cindy Sherman (5,660),  "Print/Out: Multiplied Art in the Information Era," (5,454), Sanja Ivekovic (5,045) and "Century of the Child: Growing by Design" (4,624). In sixth place is the Guggenheim with its Maurizio Cattelan retrospective (4,415).
For those keeping score, solo shows of women artists did well in 2012. The survey points to MoMA's exhibition of Cindy Sherman, which saw 5,700 visitors a day. A less famous artist showing at MoMA, Sanja Ivekovic, did almost as well at 5,045 per day. Meanwhile, up at the Guggenheim, the retrospective of late photographer Francesca Woodman drew 3,501 per day.
The paper's 2012 attendance survey is especially interesting where Los Angeles institutions are concerned. MOCA's troubles in 2012, including the widely criticized parting of ways with longtime chief curator Paul Schimmel (resulting in the loss of all four artist trustees) were accompanied by a dip in attendance. Overall attendance was 248,615, down almost half from the previous year, and the best-attended exhibition—according to the Art Newspaper's methodology, which ranks exhibitions by average daily attendance—was the two week long "Transmission LA:AV Club," a festival-type event that featured a curator, Mike D., from the band the Beastie Boys. (Due to its short run, "Transmission LA:AV Club" had a high daily average of 2,055. Its total attendance was 30,239. "MOCA Permanent Collection Masterworks 1945-1975," which ran for 174 days, and "Cai Guo-Qiang: Sky Ladder," which ran from April to September, both saw far higher total visitors, with the latter show bringing in a total of 65,000, and its opening, the Cai Guo-Qiang Mystery Circle event, drawing 4,500 visitors in one day, the most visitors to a single event at the museum in 2012. Because those exhibitions' average visitor numbers were lower—459 and 609, respectively—they did not make the paper's list of most popular exhibitions worldwide, which, for reasons of limited space, cuts off at a daily average of 633.) 2011 saw 402,255 total visitors for the museum, a figure that was greatly helped along by director Jeffrey Deitch's popular "Art in the Streets" exhibition. MOCA is now closer to its 2010 figure of 236,104. Happily it is not quite back to the dismal year of 2009, when the museum was in the midst of a financial crisis and saw just 148,616 visitors.
The Los Angeles County Museum of Art (LACMA), meanwhile, is seeing a general upward trend in its visitor numbers. In 2012, total attendance was just under 1.17 million. In 2010, the museum saw just 914,356 visitors, and in 2009 it had only 695,545. The surprising thing for LACMA in 2012, however, is that the museum was down slightly from last year's figure of 1.28 million—surprising because the museum had its Pacific Standard Time exhibitions and a monumental Michael Heizer piece that was installed on the premises, accompanied by much attention in the press. "We were a bit surprised by that," said Javier Pes, deputy editor of The Art Newspaper. "That was Pacific Standard Time and Michael Heizer combined."
Another overall attendance success story in L.A. is the Hammer Museum, which saw 214,500 visitors in 2012, up from 203,000 in 2011. In 2008, 150,000 people came through the doors. Its upward trajectory, Mr. Pes pointed out, is as impressive as LACMA's.
Clarification: March 29, 2013: The following parenthetical clarification has been added regarding attendance of specific exhibitions at MOCA Los Angeles: (Due to its short run, "Transmission LA:AV Club" had a high daily average of 2,055. Its total attendance was 30,239. "MOCA Permanent Collection Masterworks 1945-1975," which ran for 174 days, and "Cai Guo-Qiang: Sky Ladder," which ran from April to September, both saw far higher total visitors, with the latter show bringing in a total of 65,000, and its opening, the Cai Guo-Qiang Mystery Circle event, drawing 4,500 visitors in one day, the most visitors to a single event at the museum in 2012. Because those exhibitions' average visitor numbers were lower—459 and 609, respectively—they did not make the paper's list of most popular exhibitions worldwide, which, for reasons of limited space, cuts off at a daily average of 633.)