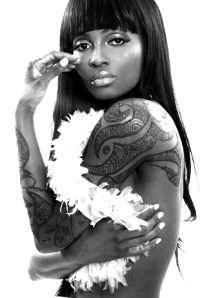 Moving through Midtown Manhattan on a summer afternoon with Maryam Basir was an opportunity to walk a few blocks in someone else's shoes—in this case, peep-toe oxford platforms with five-and-a-half-inch heels. As she passed down 38th Street on the way to a casting call, she carried a rolled-up yoga mat and pulled a small suitcase containing three changes of clothing. Men swiveled their heads for a second look. Women gave her outfit—sheer white long-sleeve blouse, spangled black bow tie, coral shorts—appraising glances. She didn't seem to notice.
"Among young models, Maryam stands out," said Scott Wojcik, a casting director who hired her for DSW's national advertising campaign. "There are two kinds of models, 'relatable' and 'aspirational.' Maryam is both. That's extremely rare."
Her appeal crosses racial lines as well. Ms. Basir does all sorts of modeling, from Nike television ads to Macy's runway work, but her main gig is as one of the house models for two lines of swimwear, XOXO and BabyPhat. "XOXO is mostly for Caucasians," said Juanita Reid, a young Jamaican-American designer. "Baby Phat is for the urban market. Maryam is a rare crossover. She's proportional, but she has a buttocks. That works for both races. And she knows how to wear a garment and make it look right." Those garments are long on style and short on fabric. Maryam Basir is the only Muslim bikini model in the business.
A lot of Muslims regard this as a contradiction. The Koran is clear about the need for female modesty. Sura 24:31 admonishes believing women to "lower their gaze and guard their modesty; that they should not display their beauty and ornaments except what (must ordinarily) appear thereof; that they should draw their veils over their bosoms and not display their beauty." This requirement applies to everyone except close relatives, male servants "free of sexual needs" and small children.
Still, like all scriptural injunctions, it is subject to interpretation. "The Koran doesn't specifically state that you must be covered," said Professor Asma Afsaruddin, an expert on Islamic law at Indiana University. "It talks about modesty. And modesty is a cultural concept. What is considered modest in some Muslim societies is not necessarily what is considered modest in the United States."
In the debate between traditional Muslims and reformers, the covering of women is a central issue. Middle Eastern theocracies like Saudi Arabia and Iran use the power of the state to impose dress codes. In other Muslim countries, modesty is often enforced by male relatives who regard it as a matter of family honor. In the West, though, the hijab is often regarded as a sign of female oppression or a cultural signifier. "Some young women cover as an identity statement, to tell the world they are Muslims," said Professor Afsaruddin. "Others don't feel the need for a statement. Their attitude is, 'I'm confident of who I am as a Muslim, I don't need to wear a hijab to announce it.' Reserving the right to interpret religion is becoming a feature of the Islam of young Muslim Americans."
Imam Isa Abdul Basir begs to differ. "You can't just make up your own rules," he said. "It is un-Islamic for a woman to display her body. That's not debatable." Even if the body in question belongs to his daughter.
"Maryam is a kind, loving girl," he said. "That's important to me as a father. And I appreciate that she went after what she wanted. But I wish that energy had been devoted to the practice of Islam."
Imam Basir was born and raised in Pontiac, Mich. His name back then was Spurgeon Graves. He grew up in the projects, a serious-minded boy who excelled in school and on the baseball diamond and sang in the choir at Trinity Baptist Church. In college he got interested in Islam, converted on his 23rd birthday and became Isa Abdul Basir. He wears a flowing robe and a kufi skullcap, in emulation of the Prophet Mohammed, and is the father of five children; Maryam is his second daughter.
Imam Basir and I were sitting in the living room of his modest co-op just west of Lansing, Mich., an hour's drive from Jackson, where he serves as one of Michigan's two prison imams. "We Muslims bury the afterbirth of our babies," he recalled. "In Maryam's case, her placenta was in the exact shape of a heart."
"Does that have a meaning?" I asked.
"I don't know if it does have a meaning," he said. "But it is something I'll never forget. Maryam was always a beautiful child." He spoke with sorrow. He and his daughter have been estranged since she left for New York and embarked on her modeling career.
African-Americans make up about a third of the overall Muslim population in the United States. "We new Muslims didn't have generations of ancestors to guide us," he said. "I wanted my children to be pious and knowledgeable. But only one of my daughters still wears the hijab. In the end, you meet Allah and you are judged. No one wants to see his child punished. So yes, it hurts my heart to see what Maryam is doing. I fear for her."
Maryam Basir grew up "hijabbed," but she was never cloistered or shy. At Huron High School in Ann Arbor, she was chosen "Most Likely to Be President of the United States." She graduated from the University of Michigan with a degree in communications and moved to New York, where she has family. One day a bank security guard told her that she was pretty enough to be a model. "That sort of put the bug in my head," she said. "I found an agency on the Internet, went to an open call, got hired, and I've been working ever since."
Ms. Basir's modeling colleagues don't see her religion as an issue. Many don't even know she's a Muslim. But religion is a matter of deep importance to her. "I've met models who were raised in Muslim homes, but say they are no longer Muslims," she told me. "That's not who I am. I pray five times a day. I fast on Ramadan and celebrate the holidays. On Fridays I go to the mosque for juma prayers. I give zakat (a required percentage of income to charity). I don't drink alcohol or use drugs. It was important to me to marry a Muslim. And I definitely plan on making a haj, inshallah." She admitted that she is in "a godless business," the influences of which she mitigates with some do-it-yourself rules. "Backstage at fashion shows, models often walk around naked. I cover my body.
"I'm aware that I'm not a perfect Muslim," she said. "But I believe that Allah is not judgmental."
Imam Basir has never visited his daughter's home. "If she invited you, would you go?" I asked him. He paused over the question. "Yes," he said. "But if it was a dinner invitation, I would certainly want to inspect the meat, to make certain that it was slaughtered correctly."
When I related this to Ms. Basir, I expected her to be pleased, but I had missed a coded message of parental disapproval. "Of course the food in my house is halal," she said. "But that's not his point. There is a hadith that if you enter the house of a Muslim, you shouldn't check the meat. You assume that it is halal." She interpreted Imam Basir's answer as a way of saying that he no longer considered her a Muslim. "If Prophet Mohammed, peace be upon him, came to my house, he wouldn't check the meat."
"Maryam Basir represents a normalizing trend in the American Muslim community," said Dr. Mucahit Bilici, a sociologist at John Jay College. "There are some prominent male American Muslim athletes and entertainers, not all of them what you would call pious, and there are a few outspoken feminists, like Irshad Manji. But American Muslim supermodels or sex symbols? That's new. The only ones I know of are Maryam Basir and Rima Fakih," a former Miss USA who was born in Lebanon.
A few years ago, Ms. Basir received a Facebook message from a woman who identified herself as Hadiza. "We are both sisters in Islam," Hadiza wrote. "You are sending the wrong message to young Muslim females, as well as the non-Muslims, all over the world. The youthful Muslim women and non-Muslims admire you because of your position … Why are you lowering yourself, to become famous or selling your body and your soul for worldly gain. Islam is a religion of modesty."
Ms. Basir replied publicly. "What would you want for me sister, to stop modeling and acting, move back to the small town that I grew up in, get married and have kids, pregnant and barefoot, as long as I am covering my hair and not asking questions? If that's what you believe to be right, do it for yourself … I am not one of those people (like so many who I have met) who have abandoned my Islam because of people like you who try to make someone feel as if they are not Muslim enough, or Arab enough…"
She signed the letter, "Maryam Basir (Model Muslim)."
Ms. Basir and her French-born husband, Gee, are expecting their first child, a daughter, in mid-April. Until then, she will be modeling staid maternity clothing for Target, but she is looking forward to getting back to bikinis. First, though, she is planning her akika, the traditional Islamic celebration of a birth, although she will forgo the customary slaughter of a sheep. As usual, she intends to do things her way.
"Maryam upsets conservative Muslims," said Dr. Bilici. "But things will change, that is inevitable, and she is part of the change. Young Muslim women in America have never had a role model like Maryam Basir before."