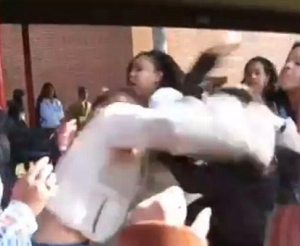 Fourteen years after the movie's release and millenials have already forgot the first rule of Fight Club. The latest blabbermouths to blow their cover hail from Bridgewater-Raritan High School in New Jersey, where students have been posting and promoting their videos in a Facebook (META) group.
Police are investigating a page titled "BRHS School Fights," a two week old group that's garnered more than 1,000 likes. The user-submitted videos posted, which are usually recorded from student's cell phones, include a brutal brawl between two girls pulling each other's hair in a 20-second fight. Another video shows two boys violently beating each other up during a lunch period.
The videos have since been pulled from the page.  However, social media rubberneckers have bombarded the page asking where they can view the videos.
School officials don't "have jurisdiction" over social media and don't know who created the page. So instead, they're calling on the public to apply pressure against the unknown page administrator for it be deleted. A police spokesperson told MyCentralJersey.com it has launched an investigation.
The number of fights at Bridgewater-Raritan High School has spiked to seven in the first two weeks of March, immediately after the Facebook page was created. A school official called it "unusually high" since there have only been five fights recorded since Sept. 2012.
But the police investigation isn't fazing the page's creator. Earlier today, the person posted a status updated proclaiming that they would "rather stay anonymous then be known as the idiot who got caught." A few hours later, the indignant administrator compared the "haters" to the bullies who push kids into killing themselves…or something
To all my haters I didn't get caught and stay off my page if you don't like it. Posting threats and making fun of me makes you just as bad as the bullies that push kids into committing suicide.
Sounds like the Facebook fight page should have some new content coming soon.