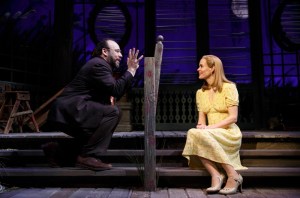 "If everything goes well for me tonight, this should be a waltz—one-two-three, one-two-three—a no-holds-barred romantic story," Danny Burstein, as Matt Friedman, tells his audience soon after he wanders onstage, house lights still up, "and since I'm not a romantic type, I'm going to need the whole valentine here to help me: the woods, the willows, the vines, the moonlight, the band."
Matt, not unlike the narrator in Our Town, is welcoming his audience and setting the stage in Talley's Folly, Lanford Wilson's Pulitzer Prize winner from 1979, which opened last night in a sweet, deceptively slight and remarkably well-acted revival at the Roundabout Theatre Company's Laura Pels Theatre. Soon, the lights will shift and the object of his affection, Sally Talley, played by Sarah Paulson, will appear; Matt's story will begin, and the play will become, if not quite as simple as a waltz, indeed a movingly romantic story.
It is the summer of 1944, America is winning but has not yet won World War II, and Matt, a European-born Jewish accountant from St. Louis, has come to rural Lebanon, Mo., to ask Sally to marry him. There's no reason this match should work: he's a smooth-talking, hardworking immigrant, while she is local gentry, the daughter of a prominent family that co-owns Lebanon's major employer, a garment factory. Matt and Sally met the previous summer, saw each other frequently during a week Matt spent in Lebanon, but in the year since, while he has written every day, Sally has replied only once. Her family is against this interloping Socialist; he's hiding out in a decrepit Victorian boathouse on their property—one of several such "follies" an earlier Talley erected around town—because Sally's brother chased him from the house at gunpoint. But Matt is convinced there's a connection. And he's right.
The director, Michael Wilson, has cast two remarkable performers in these two roles. Mr. Burstein, especially, is fantastic. With a full beard and a hint of Yiddish inflection behind his Midwestern accent, Mr. Burstein's Matt is a charmer, a showman, but one whose constant, chirpy patter masks a wounded, alienated heart. Ms. Paulson is lovely as ever, but with self-protective steel. She has secrets too—but, until she finally reveals them, hers are more carefully buried, further from the surface. Both characters are needy; neither is a pushover. The actors are a pleasure to watch.
To win Sally's love, Matt eventually opens up about his European background, the horrors that befell his family during the previous war and his determination to put that behind him and begin anew in America. Sally, too, has unhappy stories in her past that are eventually revealed, and her ideals are far closer to Matt's than to her family's. (She was fired from Sunday school for teaching Thorsten Veblen instead of the Methodist reader.) Lanford Wilson's play encompasses so much 20th-century history—war, Depression, anti-
Semitism, unionism—but it does it, cleverly and elegantly, within a simple love story that makes a simple point: make the choice to pursue what you want, the one that you want, and you just might be happy.
AS WE ARE CURRENTLY learning, to be an Amy Herzog fan is to have one's heart broken at regular intervals. Often this is because of her heartbreakingly poignant plays, including the fall's moving Great God Pan. But sometimes it is from disappointment, as is the case with the overpraised, flawed Belleville, which opened Sunday at New York Theatre Workshop.
Belleville tells the story of a young married couple, Abby (Maria Dizzia) and Zack (Greg Keller), college sweethearts, he just out of medical school, who have moved to the titular Brooklynish Paris neighborhood. As the play begins, they are seemingly happy, seemingly in love, but seemingly a little tense around each other. There are hints of larger problems—he smokes a lot of pot and is secretly behind on the rent, she is obsessively connected to her father and sister back in the States after the death of her mother several years earlier. As the play progresses, their lives and their marriage unravel, until a final, horrifying conclusion.
Ms. Herzog's dialogue is, as always, spot-on, the recognizable snappy, allusive patois of overeducated Ivy League types everywhere. Anne Kauffman's direction is similarly naturalistic and competent. And Belleville's middle third is outstanding, a finely observed, recognizable and very sad portrait of a couple in love but deeply frustrated with each other, trying to communicate but unable to hear, trying to make the other happy but feeling unable to do so.
But that section is bracketed by a slow opening that takes a good half hour to build any real interest in the characters and a final section of mounting misfortune and revelation that strains credulity and eventually turns Gothic. Ms. Herzog's strength is her subtlety, and in Belleville it has gone missing.
In Rodgers and Hammerstein's Cinderella—the creators' names are part of the title, in the current fashion—love blossoms not just between its lead characters, as is required in any feel-good fairy tale, but also between the audience and the actors playing those leads. Laura Osnes, as Cinderella, and Santino Fontana, as the prince, are perfect in their parts—modern, pretty, sweet but not cloying, ever-so-slightly ironic heroes for this modern, lush, more-than-slightly ironic (the new book is by Douglas Carter Beane) musical. The show is good; Ms. Osnes and Mr. Fontana are spectacular.
This is the Broadway premiere of a TV musical that Richard Rodgers and Oscar Hammerstein wrote in 1957. (It opened Sunday at the Broadway Theatre.) It has a pretty, symphonic score, and, thanks to Mr. Beane's rewrite, quippy one-liners and a plot that makes Cinderella a (successful!) advocate for democratic reform in the kingdom.
But what makes it work, as directed by Mark Brokaw, is precisely its Big Broadway Show-ness: big production numbers, gorgeously silly (and magically transforming) William Ivey Long costumes, and pitch-perfect casting. Victoria Clark is a doting, off-kilter fairy godmother, Ann Harada a goofily sulky evil stepsister, and, most notably, Harriet Harris a sublime evil stepmother, the role she was born to play.
The audience was filled with little girls in tiaras on the night I attended, and they were in thrall. The best news—hear ye, hear ye—is that their parents had every right to be, too.
Midway through the second act of Old Hats, Bill Irwin and David Shiner's new retro-vaudevillian clowning spectacular, in a segment called "New Hats," the singer-songwriter Nellie McKay, who serves as the evening's Paul Shaffer-like bandleader and goofy straight man, convinces the boys that it's time for the heretofore silent performers to open their mouths and sing. Mr. Irwin puts a toe in, scatting while playing ukulele. Mr. Shiner retorts with animal noises, "to be or not to be," and eventually a cavalcade of movie quotations. Mr. Irwin, it turns out, just wants to sing the title number from Oklahoma! Such is the power—on all generations—of Rodgers and Hammerstein.
Old Hats, which opened Monday night at the Signature Center, is a deeply funny, deeply charming, deeply old-fashioned evening, designed for thoroughly grown-up theatergoers.
Mr. Irwin and Mr. Shiner are virtuosic clowns, a delight to watch do their work. Their bits are interspersed with Ms. McKay's numbers, which marry a sultry mid-century nightclub sensibility to a 21st-century lyrical sensibility. (Her spoken lines are delivered in a convincing, though I'm not sure entirely intentional, impersonation of Judy Garland in The Wizard of Oz.) There are nods to the current era, like the opening number of the clowns running and fighting their way through a special-effects backdrop, which comes to a sudden stop and is replaced by a your-app-has-crashed spinning wheel. Later, Mr. Irwin does battle with a smaller version of himself that breaks free from an iPad.
But this is all, ultimately, proudly old-fashioned stuff. And it's a lot of fun.
The Classic Stage Company is, as the name suggests, known for its takes on the classics: lots of Shakespeare and Chekhov and Beckett. But it turns out it's also a swell place to see a musical, especially an intimate, intense one like Stephen Sondheim and James Lapine's Passion, and even more especially in the stripped-down, chamber style of director John Doyle.
Mr. Doyle is best known for his actors-with-instruments revivals of the Sondheim classics Sweeney Todd and Company. At the 199-seat, thrust-stage Classic Stage, where his revival of Messrs. Sondheim and Lapine's musical drama about a homely recluse who falls obsessively in love with a handsome officer opened last week, the cast of 10 is nearly always on the small stage, and the nine-piece orchestra is suspended immediately overhead. It is the most enveloping production of a musical I've seen, and it sounds divine.
Judy Kuhn plays the sick, crazed Fosca with some tenderness and sings her part gorgeously. Melissa Errico is lovely as the officer's pretty, married lover, Clara. That Ryan Silverman is conventionally handsome but not particularly charismatic as the officer, Giorgio, is somewhat problematic; it's tough to credit him as the subject of wild obsession.
But it still works. Mr. Doyle creates some strikingly beautiful moments, and those visuals, with that music, in that intimate space, take your breath away.
For the second time in two seasons, the Social Network star Jesse Eisenberg has written a play for himself to star in at the Rattlestick Playwrights Theater. And for the second time in two seasons, he has created a character so deeply unpleasant—so self-absorbed, so stunted, so simultaneously verbose and uncommunicative—for himself that it's a painful chore to sit through the play.
In The Revisionist, which opened last week in a Rattlestick production at the Cherry Lane Theatre, Mr. Eisensberg plays David, a young stoner from New York who has decamped to a distant cousin's apartment in Poland to complete revisions on his novel. Vanessa Redgrave plays that cousin, Maria, who idolizes her American family and is thrilled to host David. But David is there only because he didn't get into any writers' colonies and needs a place to work; he has no interest in Maria. She makes him a welcome dinner; he won't eat. She plays music; he complains about the noise. He feigns interest in her; he talks about himself. He is insufferable.
In Maria, Mr. Eisenberg has created a fascinating character. She lost her family to the Holocaust, her husband is recently dead, and she focuses on the American relatives, who barely know her and whom she visited only once, as a way to replace her own missing family. Ms. Redgrave gives a rich, nuanced performance in the role, and she credibly, movingly delivers the play's surprising twist, which reveals her to be a revisionist of her own. It is a rare pleasure to watch her work from so close in such a tiny theater.
Unfortunately, Mr. Eisenberg has written a repellent character for himself. And while it is admirable that a major movie actor chooses to craft small Off Broadway plays instead of simply burnishing his bona fides with splashy Broadway star turns, it would be more admirable if those plays were better.
editorial@observer.com