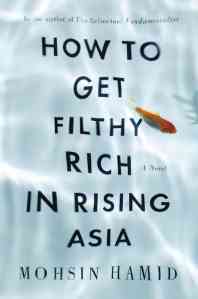 How to Get Filthy Rich in Rising Asia
Mohsin Hamid
(Riverhead Books, 228 pp., $27)
The nearly banal truth that "a self-help book is an oxymoron" is where Mohsin Hamid launches his effervescent third novel, a narrative of individual striving in the subcontinent, gesturing beyond the vagaries of self-betterment to something all-encompassing, at once recalling and making an epithet of America's Horatio Alger.
The chapters, all written in the second person, proceed in mock-advice lockstep: "Move to the City," "Get an Education," "Work for Yourself," and later, "Befriend a Bureaucrat," "Patronize the Artists of War." Contravening expectations, "you" join a bearded and solemn political party in college, lusting for a long-lost village girl-turned-model. Thus "you" messily traverse a landscape of family, politics, business, and the fullness of the human drama that surrounds each. Mr. Hamid's is a narrative of sociopolitical upheaval, endowed with a contemporary musculature, yet arriving at a tortured paean to family and love.
The world's economic fulcrum shuttles eastward, but this work's triumph consists in confronting something very different. The author, once a consultant for McKinsey, renders the vertigo of global capital's frontiers as it's amplified by the myriad egotisms and doubts of the psyche. This is a universal story, wrought in tightly minimal, evocative prose; it signifies something both distant and very near. Mr. Hamid has delivered a payload more nourishing than any self-help book. —Mostafa Heddaya
Rebecca Miller
Farrar, Straus & Giroux, 384 pp., $26
Like Rip Van Winkle rewritten by Franz Kafka, Rebecca Miller's novel Jacob's Folly is about Jacob Cerf, an 18th-century Parisian Jew who awakes one morning 200 years later and finds himself transformed into a fly. Ms. Miller, the daughter of the playwright Arthur Miller, writes her way out of her unbelievable premise with humor and grace: "There was an echoing sound, like huge air bubbles escaping flatulently from an enormous wide-mouthed bottle underwater in a Turkish bath with a domed roof, but there was also a tearing … I now know this was the fabric of time." His transmogrification complete, Jacob must now cope with present-day Long Island.
From there, the story jumps back and forth between the domesticity of the Senzatimore family in Patchogue and the mostly failed existence of Jacob, who died in Paris in 1773. The strength of Ms. Miller's writing keeps the book from being a run-on joke. Jacob falls hopelessly for a young woman named Masha, and Ms. Miller casts the fly's doomed love affair as sincerely tragic: "Strutting back and forth disgustingly on the cracked ledge of her perfect mouth," she writes, "I worried about my quest." —Michael H. Miller