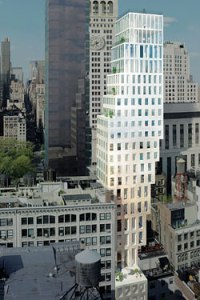 As some of New York's avid construction watchers have noticed, something is afoot at One Madison Park. Specifically, on the 22nd Street side of the site, where Rem Koolhaas and his firm, OMA, were once tapped to build a staircase-like 22-story tower, which was to rise from the townhouse-sized site and cantilever over the building to the east.
That plan is no more, done in by the recession and the original developers' spectacular bankruptcy. Something is, however, now rising from the site, and the neighbors are wondering, what's up?
Curbed published a tip in January suggesting that the building now rising will be six stories, which The Observer has confirmed with an executive from the Related Companies this afternoon. We also learned that the lobby, as the relatively squat structure is being called, will feature two full-floor duplex units, starting on the third floor and rising to the sixth. The architect, however, has not yet been named.
Meanwhile, back at the main tower on 23rd Street, it's been more of the usual weirdness from last cycle's most ostentatious blow-up—a number of in-contract units were taken down from Streeteasy last month, ranging from a $2.26 million one-bedroom on the 19th floor to a $13 million, 3,310-square foot spread on the 57th; two would-be buyers also just now got their deposits back, after nearly five years in escrow.
Still, we're guessing all of this will be forgotten once sales, to be handled in-house by Related, start back up again this spring—just in time to ride the latest condo boom, with two new units to boot.