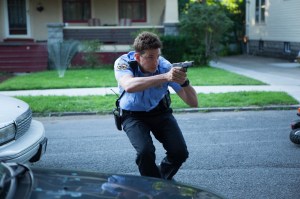 Derek Cianfrance, one of the screen's most gifted and innovative new directors, proved to be a master storyteller with a rare and unflinching emotional directness with Blue Valentine, the hauntingly intimate 2010 dissection of a marriage. Reunited with that movie's star, Ryan Gosling, for another richly detailed and seamlessly calibrated triumph of classical filmmaking called The Place Beyond the Pines, his maturity of vision is repeated and expanded into a broader and more complex tapestry of interconnected family relationships that spans generations and keeps you paralyzed with suspense. Told in a daunting but poetic narrative triptych that pares the film into three sections, the effect is lyrical. I have seen it twice and found new things to admire both times.
I think you'll find it as fresh, original and breathlessly exciting as I did, and you can start with the very first scene: a swung blade slashes the air, the muscles of a naked back rippling, covered with tattoos. The camera follows from behind as the broad shoulders file out of a tractor-trailer dressing room, bleached hair reflecting the lights of a roller coaster and taut muscles stretching the fabric of a skin-tight T-shirt as the body reaches for a leather jacket and mounts a motorcycle. The engine roars, and the camera closes in on the ravaged baby face of Ryan Gosling. It's the greatest entrance of any star I have seen in years. He is Luke, a stunt rider in a crummy traveling carnival who sells cheap thrills for bargain discounts, beds a few girls and heads for the open road before sunrise. Making a stop in Schenectady, Luke decides to look up a one-night stand from a year ago, a poor but honest and hardworking Latina named Romina (Eva Mendes) who works as a waitress in a greasy-spoon café. What he doesn't know is that after their fling, Romina had a baby boy she never told him about. Rough as a corncob but secretly sensitive and needy (similarities to Mr. Gosling's role in the great noir film Drive are unavoidably justified), the revelation brings out a paternal side in Luke he didn't think possible.
Despite the fact that Romina is living with another man, Luke turns from vagabond loner into caring and devoted father, but to provide for his kid, lure his girl away from her new lover and make a home for them both, building cribs and buying ice cream has limitations. With no parenting skills, Luke turns to robbing banks, in another series of dizzying action sequences, including a high-speed chase through a cemetery with a flat tire. Enter Bradley Cooper as Avery Cross, the college dropout and loser son of a New York Supreme Court judge-turned-rookie cop who accidentally brings Luke to a violent, premature date with destiny and takes all of the credit. It's a jarring scene, but in a sense, Mr. Gosling's impact is just beginning, as Mr. Cooper takes up where his unfinished story left off. The middle section of the film is about how Avery becomes both a hero and a pariah, reluctantly shares part of Luke's bank booty with a corrupt cop (Ray Liotta), then turns the tables on his own precinct, resorting to extortion and blackmail in exchange for a promotion to assistant D.A. Fifteen years pass, with Avery's successes and failures all driven by guilt, shame and a search for redemption as he's elected to the exalted position of New York attorney general with a closetful of secrets. The third act then focuses on their children—Luke's son, Jason, and Avery's son, A.J.—who grow up in different worlds but turn into boys with problems of their own. The irony is the way their paths cross as 17-year-old friends and enemies, beginning a new generation of crime and punishment with a surprise around every corner. In the end, it's a human story in which a son's legacy is to search, in myriad ways, for the same purpose and meaning his father sought decades before, in a circle of life that never ends.
It's the old sins-of-our-fathers theme, stretched to ask questions about the truth of what makes a man a man, propelled to new levels of overlapping, multi-generational gaps of fate in "the place beyond the pines," which is a translation of what the Mohawk Indians called their native Schenectady. It's a dysfunctional family saga on a grand scale that could easily become the basis for a prizewinning soap, but Mr. Cianfrance's artistic vision catapults it above the limitations of contrivance and into a realm of constantly evolving shifts of tone and mood. The film is beautifully photographed by British cinematographer Sean Bobbitt (Shame), with exquisitely nuanced performances by Mr. Gosling (who surpasses all expectations) and Mr. Cooper (far superior to his limited role in the overrated Silver Linings Playbook). And Dane DeHaan, as Mr. Gosling's emotionally damaged son, Jason, adds a magnetic younger accent to the already dark landscape of The Place Beyond the Pines.
rreed@observer.com
THE PLACE BEYOND THE PINES
Running Time 140 minutes
Written by Derek Cianfrance, Ben Coccio and Darius Marder
Directed by Derek Cianfrance
Starring Ryan Gosling, Bradley Cooper, Eva Mendes