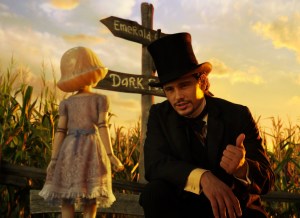 "So much happened before they got there." How I loved that original tag line in the first full-page ad that preceded the Broadway opening of the smash-hit musical Wicked. And it applies again to the 3D Disney extravaganza that serves as a $200 million prequel to one of the greatest MGM musicals of all time, the 1939 classic The Wizard of Oz. Nothing in it comes close to the magic, the originality or the everlasting entertainment value of the original, which only cost $2.777 million and didn't use a single computer-generated graphic. This says more about how much better movies were in 1939 than they are today. Still, I had enough fun to predict that history (or at least a tiny piece of it) seems destined to repeat itself. People just can't get enough of this stuff. To paraphrase Sam Goldwyn, include me in.
It's not the same Oz without Judy Garland, the Cowardly Lion, a dancing Scarecrow who only wants a brain, a Tin Man who needs a lube job "and Toto, too" to boot it forward. But Oz the Great and Powerful is not about how they got there. It's about how the Wizard got there first. In an assembly of passages from the 14 imaginative L. Frank Baum books, the movie, directed by Sam Raimi (Spider-Man) on sound stages in Michigan, traces the origins of the Wizard—a second-rate con man named Oscar Diggs, who is called Oz for short. Don't expect anything like the beloved Frank Morgan. This Oz is played by, of all people, the odd, peripatetic, slightly pretentious James Franco. (Robert Downey Jr. dropped out and Johnny Depp turned it down.) Between writing poetry, editing literary magazines, exhibiting his artwork in trendy galleries, directing gay porno flicks like the forthcoming Interior. Leather Bar. and making dubious history as the worst M.C. in the history of the Academy Awards, he also acts. Miscast in a stovepipe hat and long waistcoat, sporting a turn-of-the-century moustache and carrying his bag of hokum in a strange briefcase, he looks like Jack the Ripper. But cut him some slack. He's supposed to be playing a jerk. And he grows on you.
Like the original, the film begins in a black-and-white prologue, with Oz as an obnoxious egomaniac and fake illusionist in a cheap traveling carnival in 1905 Kansas. One foot ahead of the sheriff, he gets sucked into the funnel of a ferocious cyclone/tornado and, like Dorothy years later, gets transported over the rainbow to the merry old land of Technicolor poppies, flying baboons, 3D butterflies and flowers the size of Volkswagens, but, disappointingly, no ruby red slippers and only a handful of Munchkins, who do not sing "Ding, Dong, the Witch is Dead." (This is not a musical, and the thing I miss most is the score by Harold Arlen and E. Y. Harburg.) I also miss Margaret Hamilton, but there are witches here—three of them, to be exact. Glinda the good witch still travels in a bubble, but instead of Billie Burke, she is now Michelle Williams in a prom dress and a Mae West wig. Glinda believes the amateur magician is the true Wizard, sent according to prophecy to save the good citizens of Oz from the wicked witch Evanora (Rachel Weisz) and her evil sister Theodora (Mila Kunis), who have their doubts about this weirdo Wizard. Oz and his two loyal new companions, a flying monkey named Finley (voiced by Zach Braff, who also plays the Wizard's bumbling assistant back in Kansas) and a tiny broken china doll (voiced by Joey King) that Oz repairs with glue, which hasn't been invented yet in Munchkin Land, chug along a faded, broken yellow brick road that is nothing like the one at MGM and is badly in need of a mason, on their way to the Emerald City, which now looks like a lime Jell-O mold. Oz and his friends face death in their dangerous new surroundings, like the ones in countless Danny Kaye movies. Before it's over, the audience is assaulted by spears, barrels, hot sparks and a whopper of a fireworks show. Children will be delighted, although at two hours and seven minutes, the length alone might land younger toddlers in harm's way from attention deficit.
James Franco is a mixed blessing. In the scenes in which he faces innumerable perils adapting to his new life in Oz, a lighter touch is needed than he is able to provide. As his lumpy, humorless chores as an Oscar host proved, comedy is not his forte. Still, with so much big-budget razzle and dazzle, there is always plenty to look at, another surprise around every corner. I don't think L. Frank Baum is moaning in his grave. Tucked into the screenplay, by Mitchell Kapner and playwright David Lindsay-Abaire, who won the Pulitzer Prize in 2007 for his play Rabbit Hole, there is even a tidy talisman to take home: faith, optimism and courage can conquer the forces of evil if they come from a truly Christmas heart.
rreed@observer.com
OZ THE GREAT AND POWERFUL
Running Time 127 minutes
Written by Mitchell Kapner, David Lindsay-Abaire and L. Frank Baum (novel)
Directed by Sam Raimi
Starring James Franco, Michelle Williams and Rachel Weisz