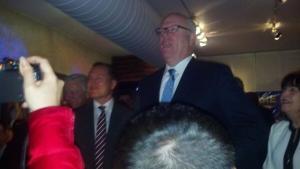 Earlier this evening, outspoken Councilman Peter Vallone officially launched his campaign for campaign for Queens Borough President. And, standing before an incredibly packed Greek restaurant in Astoria, both Mr. Vallone and his supporters made sure everyone was fully aware of the self-described conservative Democrat's independent streak.
"He was able to stand up to the Speaker when she was trying to bully him," said Norman Seabrook, the President of the New York City Correction Officers' Benevolent Association who officially endorsed Mr. Vallone today. "Can you imagine what he would do as borough president when given the opportunity to step forward, not only for the people in this room, but this borough? He is truly a man indicative of being able to become one of the greatest of all time."
For his part, Mr. Vallone touted his "fighter" credentials, comparing himself favorably to Mr. Seabrook and recounting his various political battles, including his high-profile, yet ultimately unsuccessful effort to stop Council Speaker Christine Quinn from renaming the Queensboro Bridge after former Mayor Ed Koch.
"He is a fighter and I am a fighter. I know how Norman fights and I use him as an example when I fight," Mr. Vallone said. "Norman knows who was out there–who was the loudest voice–when Queens didn't have the streets plowed. When we had the blackout of '06. Norman knows who stood up to the Mayor, who stood up to Con Ed. Norman knows who stood up to the Speaker and the Mayor when they took the Queensboro Bridge from us. No one else had the guts to do that."
And even though he is known to ruffle feathers, a bit of the political establishment was also present at today's event. Congressman Joe Crowley, the head of the Queens Democratic Party who has attended the campaign kickoffs of several of Mr. Vallone's rivals, effusively extolled Mr. Vallone while stating his current neutrality in the race.
"The Vallone family tradition goes way way back," Mr. Crowley said, heaping compliments on Mr. Vallone's father, former Council Speaker Peter Vallone, Sr. "Peter Vallone has been an outstanding and great city councilman. We know that there's a future for Peter Vallone in New York City politics. Although I haven't yet made decisions, seeing the presence that's here this evening sends a loud message as well, and I appreciate it. The way I look at it, no matter what I do, I'll make one ingrate and a lot of people mad at me. But that's the nature of politics."
"I've been known to be a pretty good ingrate," Mr. Vallone chimed in. "By the way."