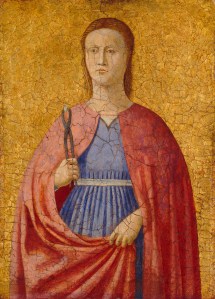 Italian painter Piero della Francesca died the year Columbus sailed for America, but he's only now having his first solo show in the United States. The Frick Collection has four of his paintings, more than any museum outside of Europe, and guest curator Nathaniel Silver borrowed three more. Seven paintings might not sound like a lot, but however small, these are weighty works featuring toothless virgin martyrs, pageboy-bobbed angels and saints in jewel-encrusted robes—there's a lot to see here. Depending on how you slice it, there are five saints, a Madonna and Child, and a Crucifixion; three large (four feet tall) paintings and four smaller ones (each about a foot square); six American pictures and one borrowed from Portugal; six pictures from the same altarpiece and one standalone painting. Taken together, they suggest that the artist was more than a textbook intermediary between Gothic and Renaissance painting, or even between new American money and old European culture; his works deliver us to a moment when painting was as serious as science, as mystical as religion, and above all as philosophical as any book.
Piero loved mathematics. The first art historian, Giorgio Vasari, called him "the greatest geometrician who lived in his times" and praised his knowledge of Euclid as highly as his frescoes and altarpieces. In painting, this meant he was great at fitting real-looking bodies in architectural spaces and painted interiors with an engineer's eye to perspective. His Virgin and Child Enthroned With Four Angels (c. 1460-70), shows the Madonna in a perfectly perspectival room. It's classic Piero: she is massive, larger than anyone else in the scene, holding a flat pink halo of a rose in her right hand and dandling a solemn Christ child on her left knee. She is flanked by four column-straight angels, and all six figures are encased in a garlanded chamber. The colors are those of a box of Ladurée macarons: pale pink marble and flesh with green under-painting, gowns in sugary whites and frosted blues.
But these paintings also capture a certain humanity. Saint Apollonia (1454-69), sheathed in a geometric bluebell of a dress, holds up metal tongs to display a small white object: she was martyred by having her teeth pulled out. She cuts an impassive figure, but there's something very lifelike about her wonky right eye and thin coral lips and the scraggly blond hair framing her face. The austere Saint Monica, from the same years, has cobwebby crow's feet at the corners of her eyes, but her pretty hands and chest suggest an attractive young model disguised as an old woman. The Crucifixion (also 1454-69) is a drama in miniature: three soldiers gamble for Christ's robes at the feet of the Crucifixion. Mary faints, horses rear. Human passions mix with superhuman events.
The four smallest paintings in the show were once part of the same wooden church of Sant'Agostino altarpiece from Piero's hometown, and they all share the same gold-leaf backgrounds. Just as the paintings were split up and sold, around 1555, their gold leaf is now patched and scaled, crinkled with age and damage, split to reveal red and oxidized passages of oil and tempera. Digital reconstructions show their original placement in the peaked altarpiece.
The large Saint Augustine (1454-69) is a tour de force, and the only work borrowed from abroad (it belongs to Lisbon's Museu Nacional de Arte Antiga). He is being shown for the first time in the United States. His cope is decorated in painted biblical passages, a veritable Scrovegni Chapel of a gown. Piero's religion is not austere or ascetic: his religious men, like Augustine, are just short of garish. The crystal staff and gem-encrusted and decorative clothing would suit Liberace. In the early 20th century, Piero was often compared to Paul Cézanne for his convincing depictions of geometric forms in space. This is an apt comparison, but it doesn't account for Piero's opulence.
The knockout painting here is Saint John the Evangelist (1454-69). Also from the same altar as the four small paintings and Saint Augustine, Saint John is a solemn standing figure reading the allegorical book of Revelation, the saint best embodies that weird combination of human and mathematical, observed and spiritual that is Piero's achievement. The formal geometry of the panel is broken by the saint's long, tan toes. A white brachiate beard frames his face and a gold-leaf halo floats above his head as matter-of-factly as a quotation mark. The hems of his sumptuous but simple crimson robe are trimmed with gems, which, according to legend, sprang from the colorfully mottled ground he walked. The painting confidently unites the idiosyncrasies of age and personhood with the mystical quirks of religion and faith.
These paintings played a major role in the fantasies of American nouveau riche dynasties in acquiring the immortality they associated with European culture. Bernard Berenson made Piero famous with a book, and the dealer Joseph Duveen capitalized on that fame. In the 1930s and 1940s, Isabella Stewart Gardner and John D. Rockefeller bought Pieros for record prices of several hundred thousand dollars. After the often-vapid frenzy of the New York contemporary art fairs, it's reassuring to see such a confident American debut of paintings that actually have something to say. (Through May 19)