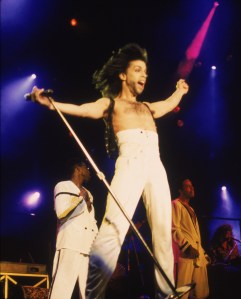 "I can't recall the first time I heard Prince," Touré, author of the new book I Would Die 4 U: Why Prince Became an Icon, said in a recent interview. "He seems to have always been part of my life." The product of about two years of work, the book is, first and foremost, a love letter, as heartfelt as it is exhaustively researched. It is less a biography than an explanation of Prince's power to speak to and for a generation. What is it, precisely, that makes "When Doves Cry" both danceable and poignant?
Touré's is hardly the first book on Prince, and it is unlikely to be the last. Bookended between Dave Hill's Prince: A Pop Life and Liz Jones's Purple Reign: The Artist Formerly Known as Prince, there is virtually an entire library devoted to the runic pop star and his output. "I thought there was still room for a very thoughtful book about him," Touré told The Observer, "and more so than the books about him, I was looking at the book that Greg Tate did about Jimi Hendrix and the book that Margo Jefferson did about Michael Jackson." Both are books that try to understand the swirling cultural dust that aided in their subjects' star formation. I Would Die 4 U came out of a series of lectures Touré gave at Harvard while he was working on his last book, 2011's Who's Afraid of Post-Blackness? which accounts for the Prince book's almost conversational approach. Through interviews with associates and with the man himself, musicology, psychoanalysis and sociological research, Touré presents, among other things, a provocative thesis: that Prince has been feeding his audience sex while Prince himself has been looking for God.
The book's exegesis—what makes Prince Prince?—is anchored by an in-depth discussion of Generation X. Touré, 41, doesn't just want to know why Prince was great. He also wants to understand why he was important to his generation. Prince is a baby boomer, but his music speaks to people who scoffed at the optimism of the 1960s; he may have become wildly popular because he made lots of very, very good music and delivered electrifying shows, but he also lucked into, as Touré puts it, "good historical timing." His most famous works, the film Purple Rain and its soundtrack, coincided with the early days of MTV; his hypersexual persona was on screen at a time when pornography was becoming more and more mainstream. Touré attributes this slow acceptance to Americans' new ability to view porn in their homes thanks to the VCR and even to the ability to discuss sexual desires on private phone lines.
Prince acted as a sort of "cool older brother," Touré writes, guiding an embattled generation through a spike in divorce rates, a bad economy, the threat of nuclear war and, especially, the terrifying aspects of sex in the time of AIDS. As for the other scary stuff that faced Gen Xers, Prince got it because he'd had similar experiences, albeit a little earlier. "He's there as this sort of outlet, so that if you're nervous about having sex, you can sort of have sex via his music and the intensity of sexual discussion," Touré said.
It's this intensity that fans responded to and that Touré loves. In a chapter called "The King of Porn Chic," he dissects, down to the last moan, some of Prince's raciest songs, like "Lady Cab Driver" and "International Lover." The bare buttocks in chaps, the lingerie—Prince set out to "embody pure sex," he shocked and titillated. But the former Seventh-Day Adventist also wanted to thrill his audiences with the body-shaking power of God.
Christianity is at the core of much of Prince's music, something fans may not be able to hear above the beats. "The amount of discussion of sex is this much," Touré said, holding his hands a foot apart, "and the amount of discussion of religion and spirituality and God and Jesus is this much"— doubling the space between his hands. In the book, Prince guitarist Dez Dickerson tells Touré, "There's maybe three Prince personas. One of them is a very calculated marketing mind. That's where the 'embodying pure sex' thing comes from. Another of them is 'I'm gonna be the baddest musician there ever was.' And then there's the guy who really is thoughtful and introspective and holds religious considerations close to his heart and ponders those questions sincerely and genuinely and deeply. And those are the three guys who, over the years, have vied for the microphone."
Touré mines one of Prince's most popular, danciest records, 1999, and finds religious messages hiding in plain sight. The narrator is calm in the face of impending nuclear war ("Mommy, why does everybody have a bomb?") and wants to party while waiting for the end. For those with unshakable faith, the end of the world isn't so bad because heaven is on the other side. In interviews, religious scholars tell Touré that Prince's attitude toward the end of days is in line with Seventh-Day Adventist beliefs.
More central to Prince's religious message is "Let's Go Crazy." It's Prince as preacher, telling us religion is fun and will keep us happy in the face of life's troubles. ("Dearly beloved / We are gathered here today / to get through this thing called life"; "Things are much harder here than in the afterworld.") Who needs doctors and experts? ("So when you call up that shrink in Beverly Hills / You know the one, Dr. Everything Will Be Alright.") The lyrics are his sermon, the music infused with gospel tropes. That famous guitar solo at the end is akin to speaking in tongues.
Then we get to what may be the central question with regard to Prince's music and faith: how does a man so enthusiastic about carnal desires balance that with religious belief? Sex and religion aren't warring with one another in Prince's music, Touré explains. It made perfect sense to Prince for "Erotic City" to be the B-side to "Let's Go Crazy." The bouncy "Let's Pretend We're Married" has him saying "I don't mean to be nasty / but I sincerely want to fuck the taste out of your mouth" but ends with the very traditionally Christian "I'm in love with God / He's the only way." Sex and lust aren't the antithesis to worshipping God; they're two sides of the same cassette. "This image of sexuality as something that was godly, that was part of the worship of God, is profound and it's not cockamamie," Touré said. "This is a pre-Christian idea that was taken very seriously at one time in history."
When Prince became a Jehovah's Witness in 2001, many saw it as a weird move by an aging rock star who'd finally lost it. But religion was always at the heart of his dynamic, raunchy, moving music. In I Would Die 4 U, Prince's former band members explain that he always wanted to guide people and be more than a musician. We can't count converts, but Touré thinks Prince achieved his mission. "This individual is pursuing a mission that's a bit more like what Jesus did, out among the lepers and the prostitutes, ministering to people who don't want the message, who don't expect it to come, who aren't looking for it at all. 'You promised me that there would be sex.' 'Well, there is and there was and there will be, but let me talk to you about Jesus Christ a little bit. And actually a lot.'"
As for the question of what makes "When Doves Cry" both danceable and poignant, Touré leaves that one to Questlove of the Roots, and the answer, it turns out, isn't all that mystical: the song doesn't have a bass line.
editorial@observer.com