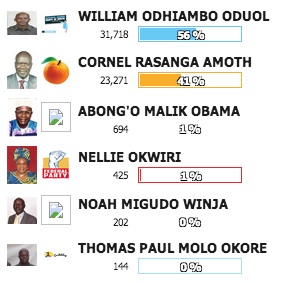 President Barack Obama's half-brother, Abong'o Malik Obama, won't be the second member of his family to launch a political career. Mr. Obama was defeated in his bid to be governor of Kenya's Siaya County this week by what seems to have been a very large margin.
Mr. Obama is the eldest child of President Obama's father. They have different mothers. Mr. Obama served as the best man at the president's wedding to Michelle Obama in 1992.
According to the Daily Nation newspaper in Nairobi, the Siaya gubernatorial race was won by Cornel Rasanga with William Oduol coming in second. The Daily Nation did not report Mr. Obama totals, however the Kenyan Independent Electoral and Boundaries Commission, which oversaw the elections and has been releasing sporadically updated results since Kenyans headed to the polls Monday, published a partial count that showed him in third place with just a little over one percent of the initial vote. Three other candidates trailed behind Mr. Obama. A call from Politicker to the IEBC Election Hotline this morning to inquire about the full count for the Siaya gubernatorial election went unanswered.
Siaya is one of 47 counties that were created in the the 2010 Constitution of Kenya, which was ratified after the 2007 presidential elections there ended with violence that left over 1,000 people dead and a disputed result. This year's race had few violent incidents, but it was not without controversy. There were technical glitches at polling stations throughout the country. Though all the votes have not been counted the two members of the ticket headed towards a likely victory in the presidential election, Uhuru Kenyatta and his running mate William Ruto, have both been charged by the International Criminal Court with "crimes against humanity" for allegedly orchestrating the violence that followed the last elections. The United States and other Western nations have vowed there will be unspecified "consequences" for Kenya if Mr. Kenyatta emerges victorious.
In an interview with Politicker on Tuesday, Mr. Obama said there was initially a "blackout" with no information released about the election results in Siaya. Because of delay, Mr. Obama said he believed there was "a high risk that the results may be manipulated."
Mr. Obama was running as an independent candidate. The winner of the race, Mr. Rasanga, is a member of one of Kenya's major political parties, the Orange Democratic Movement, or ODM. Mr. Oduol, who came in second, belongs to the National Agenda Party of Kenya.
As of this writing, Mr. Obama has not responded to requests to comment on the results of his race and whether he believes they are legitimate. Our last communication with him came via text message Tuesday afternoon as the official results were still coming in.
"Am number three so far," Mr. Obama wrote.