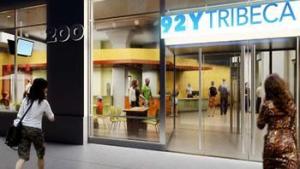 The 92nd Street Y is closing their Tribeca location sometime this summer, the Times reports. The downtown space, which aimed to attract a younger, art and culture loving demographic with concerts and events and wine, opened in 2008. The board decided to close the Hudson Street outpost and scale back to just the original spot on 92nd Street and Lexington Avenue on Wednesday night. A letter informing staff went out yesterday. 
"We believe 92Y can best serve the community now and in the future by investing our resources into our flagship location uptown on Lexington Avenue," executive director Sol Adler's letter said.
However, modern technology and partnerships knows no bounds. The Times reports that Mr. Adler's letter went on to say that the organization will continue "to invest in strategic partnerships and technologies that allow us to offer our programs and create communities far beyond the walls of any building — livecasts, online classes, partnerships, and the success of initiatives like the Social Good Summit and Giving Tuesday."
So does this mean that the hip downtown crowd is going to make the trek up to the Upper East Side for panels and events and concerts? Or is the Y giving up on the youth demographic?