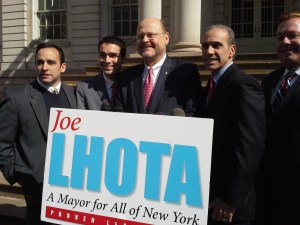 City Council Republicans and mayoral candidate Joe Lhota were mostly in sync with Mayor Michael Bloomberg today, denouncing a bill that would create an inspector general's office for the NYPD.
"There's no reason to have an inspector general office for the NYPD," Mr. Lhota said at City Hall this morning. "It already has oversight by the five district attorneys, by the two U.S. attorneys, by various other organizations. Its just another level of bureaucracy that is being put upon the City of New York and it's absolutely unnecessary."
The City Council's four Republicans–Staten Island Councilmen James Oddo and Vincent Ignizio and Queens Councilmen Dan Halloran and Eric Ulrich–were gathered to formally endorse Mr. Lhota, a former deputy mayor in the Giuliani Administration, for mayor. When asked about the Council Speaker Christine Quinn-backed bill that would create an inspector general to monitor the NYPD in the wake of complaints about their stop-and-frisk policy, the Republicans took turns bashing the bill, though one said that communication should be improved between the NYPD and minority communities.
"He's [Mr. Lhota] not gonna try to police the police department!" said Mr. Ulrich. "It's the most ridiculous thing I've ever heard of and why aren't any of the other candidates running for mayor stepping up and saying that? We cannot afford to go back to the days when crime was rampant, when people were afraid to ride the subways and when tourists were not saying that they wanted to come to New York City. It's a recipe for disaster."
Mr. Oddo, the Council Minority Leader, has worked closely in the past with Ms. Quinn in the past but agreed with his GOP colleagues that the bill would do more harm than good.
"If you look at the initial version of the bill, if you read it, our interpretation is that the City Council itself can say to the IG, they can recommend what investigations to undertake," Mr. Oddo said. "And I love my colleagues, I really do, but the notion that a political entity like the City Council is going to dictate policy about the New York Police Department scares me."
Deviating slightly from the other Republicans, Mr. Halloran–who stressed he came from a long line of police officers–said the events surrounding the shooting of 16-year-old Kimani Gray in Brooklyn were "particularly disturbing." The self-professed libertarian agreed with Mr. Oddo that "political considerations" should not factor into the monitoring of the NYPD, but argued that more dialogue is needed between the police department and civilians.
"The events over the last few days in Brooklyn have been particularly disturbing," Mr. Halloran said. "The reaction to what I believe seems by all accounts a justifiable shooting of a suspect armed with a weapon is now turned into a problem. This speaks to the issue that we need to have some communication going on at a deeper level. I certainly encourage our entire body to look at the final version of the bill, whatever it is, and put our input in before this body does something which I think could do a long term damage to the police department."
Update: (2:47 PM): Republican mayoral candidate John Catsimatidis released a lengthy statement also blasting the bill:
 "City Council Speaker Christine Quinn should immediately withdraw her ill-conceived proposal to create a watchdog to monitor the activities of the New York City Police Department. The plan to create an NYPD Inspector General is cynical and it's wrong. Speaker Quinn released the plan just prior to a mayoral debate focused on criminal justice and public safety issues in an attempt to advance her candidacy for mayor. It's wrong because it merely creates another level of bureaucracy in a police department that already has enough oversight in place and is a poor use of resources that could be used to put more cops on the street. It is a perfect example of a professional politician's desire to create a larger bureaucracy."

"It defies commonsense to think that yet another investigative body might be needed, especially when you consider that any inspector general will still need to bring any results of investigations to a DA or a US Attorney to prosecute," Mr. Catsimatidis continued.  "During his tenure as Police Commissioner, Ray Kelly has done a great job keeping our city safe while creating the oversight, transparency and internal safeguards that the nation's largest police force should have. As Mayor, I would ask Commissioner Kelly to consider staying on as Police Commissioner or in any other position he would desire in my administration."