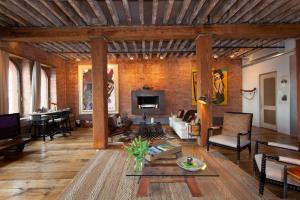 Rarely do you find a broker with as much knowledge about an apartment as Town Residential's Paddington Matz has on a full-floor spread she's marketing at 288 West Street, a loft building dating back to 1860. Not only has she sold the unit four times over (she's trying now for a fifth), but the first time she sold it, she actually owned it.
"It was the first loft I'd ever bought," she told The Observer of unit #2W at the Medium Lipstick Building, as it's known. "I bought it in 1996 for $155,000." It had been on the market for double that, but this was before Tribeca became the hot neighborhood that it is today. "Back then there wasn't even a promenade," said Ms. Matz. "There was a cheapo parking lot on the West Side Highway across the street. It had no services whatsoever—the only grocery store was a Food Emporium." (Today, said Food Emporium faces competition from a gleaming new Whole Foods just a few blocks to the south.)
It was a foreclosure property, and the bank wanted to unload it fast, so they tacked a measly five grand onto Ms. Matz's offer of $150,000, and the loft, with its six windows of guaranteed riverfront views, was hers.
Two years and one gut renovation later, she got a postcard in the mail from a broker—she herself had not yet gotten her license—telling her that the apartment was worth $800,000. So she called up her friend Parnell O'Connell at Town (whom she trusted because "he only ever told me the bad things [about an apartment]—he never told me how fabulous something was, and he never tried to sell me"), and they eventually sold the apartment—along with the only other unit on the second floor—to Peter Gabriel's daughters, Anna and Melanie. (She got $760,000 for her unit.)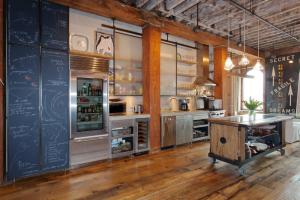 By the time the Gabriel sisters were ready to move out, Ms. Matz had gotten her real estate license at the urging of Mr. O'Connell. The post-9/11 lower Manhattan boom was in full effect, and Tribeca had by now established itself as a legitimate luxury contender, so she was able to sell the unit to Tom and Geraldine Nicholson from Virginia who paid $1.1 million for the co-op to use as a pied-à-terre.
Ms. Matz stayed friends with the couple, and they even hired Todd Zwigard, her ex-husband, the architect who had done the first gut reno, to rework the apartment yet again. "He gut renovated it very much the way he would have done if he had unlimited funds," said Ms. Matz.
When Mr. Nicholson passed away and Ms. Nicholson no longer needed the apartment, Ms. Matz sold it onward yet again in 2011, this time to Colleen Hess, from Texas, for nearly $2.5 million. From 1996 to 2011, the unit appreciated on average 20 percent per year.
And so we arrive at the present day. Ms. Hess is asking $3 million for the unit, or $3.2 million furnished. And as an added bonus, Ms. Matz got permission to list the other unit on the floor at the same time—$2.8 million on its own, or $5.8 million as a 4,000-square foot, four-bedroom keyed-elevator combo.
"Ideally I would like to sell both to one person," Ms. Matz said. "Selfishly, because I think it would make an amazing full floor loft."
Sounds like Ms. Matz wishes she could move back in herself.