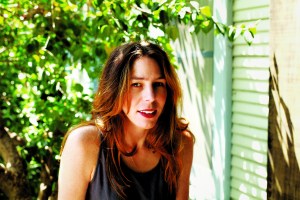 A few weeks back, when I called the author Rachel Kushner in Los Angeles with the number her publicist gave me, and the voice came on the other line saying "I'm sorry but the number you are trying to reach has been disconnected," the first thing I thought—after noting that it's an overly apologetic man who makes the announcement in L.A. instead of the stern-sounding woman you get in New York—was that it was all some kind of staged performance, a statement on the nature of interviews and profile writing and the futility of ever really connecting with someone. I was primed into this mode of thinking by Ms. Kushner's new novel, The Flamethrowers, which is about a lot of things, but most of all authenticity and its frequent absence.
The Flamethrowers is set in Soho in 1977 and follows a young artist known around town as Reno because that's where she's from. She falls in with a group of artists who show at the Helen Hellenberger Gallery, whose proprietor tends to sleep with her artists, comes from a Greek family, and resembles the real-life Mary Boone, who created a gallery empire in downtown Manhattan in the late '70s. Reno is introduced to the group by Giddle, a woman who works at a skuzzy diner on Lafayette as a kind of living performance piece, "no audience to what she was doing, since it was so much like life, and no real friends since they were merely an audience to her performance." Reno's attentions become triangulated by her boyfriend Sandro, an idealistic artist and, despite his disavowals, heir to the Italian Valera tire fortune, and Ronnie, a photographer embarking on a doomed mission to photograph every living person. It's a New York that's familiar, "a mecca of individual points," Ms. Kushner writes, "longings, all merging into one great light-pulsing mesh, and you simply found your pulse, your place." But the author's metropolis is slightly off, its own contained world of characters and hangers-on.
"I tried to metabolize everything I knew about the 1970s and then build something from that knowledge rather than a roman à clef, where people can recognize thinly veiled characters, or see bars and streets that they know about," Ms. Kushner told me when we spoke. It turns out she simply forgot to pay her phone bill, and I quickly reached her at a different number.
Ms. Kushner was born in Eugene, Oregon, the daughter of two scientists whom she described as hippie beatniks. (The family lived in a school bus.) Her mother grew up an American in Cuba, on land owned by the United Fruit Company, which partly served as the inspiration for her debut novel, Telex from Cuba, about American sugar farmers driven out of the country by Castro's revolution. Ms. Kushner's aunt was friends with Gordon Matta-Clark and worked for Richard Serra, so she grew up around artists. She had a "formative set of sense memories of Soho being the kind of place that's pitch dark at night and empty," she said. "It was a kind of abandoned place that seemed ruled by artists."
Some of the artists WHO rule Ms. Kushner's Soho, circling like satellites around Reno, Sandro and Ronnie, are John Dogg, who makes films of "white on white … white like bandages over nothing"; Stanley, more of a patron, a lonely drunk who spent the previous summer in the Hamptons but never made it to the beach because he was too busy making long recordings of his intoxicated ramblings; Stanley's wife, Gloria, who recently staged a performance in which she sat alone in a small booth with a "curtained, pelvis-level opening," wherein Ronnie accidentally gave her a genuine orgasm while giving a contrived lecture on the gendered etymology of the verb "to finger"; and Burdmoore Model, the former leader of an anarchist group called The Motherfuckers, a gang so bad, they beat up and pissed on Iggy Pop for "having a reputation for intensity though it was unearned."
All of these people feel that the revolution—artistic, sexual, psychological—will happen any day now, and that when it does, they'll be at the center of it. It's something like how paranoia functions in the work of Don DeLillo, whose 1997 novel Underworld is a clear influence on Ms. Kushner. There's a common belief in that book that the apocalypse will happen at any moment, a fear that seemed oddly prescient a few years later in the age of wiretapping and terrorist alerts. But in Underworld, nothing ever happens. The real apocalypse is the paranoia itself, being bogged down in it. No one wishes for the end of the world; they just want to be able to worry about it.
"I acquired Rachel's then-untitled second novel four-and-a-half years ago, and when I read it last spring, I thought, 'Rachel has written the great American novel,'" said Ms. Kushner's editor, Nan Graham, who also works with Mr. DeLillo and edited Underworld. The Flamethrowers, she said, seemed to predict the New York of Occupy Wall Street the same way Mr. DeLillo "'predicted' 9/11."
What sets Ms. Kushner's book apart is that the revolution, in fact, does finally arrive, albeit slyly. Reno and Sandro travel to Italy so she can make a film with the Valera racing team. The anarchist Red Brigades are protesting the regime of Prime Minister Aldo Moro in the streets of Rome, chanting slogans like "Jeans for the poor!," "We want nothing!," "Down with the people, up with the bosses!" It's all a joke, it seems, something performed, until they kidnap Sandro's brother, forcing him to issue a statement in support of the anarchists, itself a kind of performance ("It's not him," Sandro's mother says), before killing him and overthrowing Moro's government. After catching Sandro cheating—with his cousin, no less—Reno joins the anarchists' ranks, thinking half-heartedly that she'll film their actions, only to end up accidentally destroying her Bolex camera. In the face of this, she participates for real.
With Ms. Kushner's book in mind, I met with Ben Morea, a founding member of Up Against the Wall Motherfuckers, the anarchist group that lived semi-communally in crash pads on the Lower East Side between 1966 and 1969, and served as the basis for the Motherfuckers in The Flamethrowers. I found an email address for Mr. Morea and didn't expect to hear anything, but he called me on a Saturday night and said he was in New York, staying just a few blocks away from my office. We met the following Monday at a diner on Ninth Avenue. He looked the way I imagine Dennis Hopper would have looked if he hadn't gone straight and become a Republican. He wore a cowboy hat and a flannel shirt with a leather jacket, a belt with a big silver buckle holding up his jeans. He had long, scraggly hair and a handlebar mustache. The bottom row of his teeth was almost completely missing. The real thing, I thought. I wanted to ask him about beating up Iggy Pop for being inauthentic.
"It was the MC5," he said. "And it wasn't 'beat up,' but I can see why she'd say that. The MC5 were friends of ours, and they had a line in one of their songs that went, 'Up against the wall.' We tried to tell them, this is not a song, this is real. There was an altercation at the Fillmore East." The MC5, he said, showed up to the gig in a limousine. It turns out the Motherfuckers were the wrong crowd for that display of luxuriousness.
Mr. Morea had been underground for the better part of 30 years—he left New York for Colorado in 1969 because things had gotten "too hot." He'd only recently re-emerged, while Ms. Kushner was writing her book.
"Revolution to me was not ideology," he told me. "I lived it. I woke up that way and I went to sleep that way. There wasn't any other life. I didn't have a job. This might sound ludicrous, but we believed the revolution was imminent. There was a point we realized it was not imminent. So what does that mean? I don't know about everyone else, but I'm not going to be a martyr. In other words, I wanted to bring this down, but if I lose my life doing it, I'm willing to, but I'm not just going to be a martyr. So I made that choice. I said fuck it. You want me? Find me."