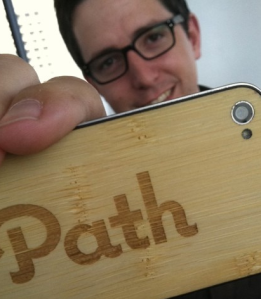 Morin needs a Mophie Path founder Dave Morin, he of popped collar fame, did a Q&A with Vanity Fair about his mobile habits. Among the gems revealed is the fact that Mr. Morin boasts a "custom-designed, one-of-a-kind bespoke app" that he built to communicate with his assistant. Guess gChat is too gauche?
But our favorite moment came when the Facebook mafioso revealed that he also has a newfound solution for the fact that his iPhone is always running out of battery. Instead of buying a battery pack or carrying around a charger like everyone else, Mr. Morin has opted to shlep around a second iPhone. "I have two iPhones, one for day and one for the night," he told VF. "When the day phone runs out, the night phone takes over. I never have to worry."
Cool. Cool cool.
NSFWCorp Big week for ex-TechCrunch writer and rabblerouser Paul Carr! He relaunched NSFWCorp and mailed 5,000 copies of a print edition of the site. He also scaled new heights in his commitment to transparency. Witness: Conflict NSFWCorp, a gallery of all of NSFWCorp's backers. Interested parties can buy a "room" in the House of Carr. Prices start at $3 and reach as steep as $1,400, with the top slot already filled by a generous $600,000 in funding from Vegas Tech Fund, Zappos founder Tony Hsieh's investment firm.
In a poetic twist on transparency in journalism, the first room at the top contains an illustration of the firm CrunchFund, including a rather svelte-looking Michael Arrington, a man famous for his conflicts of interest.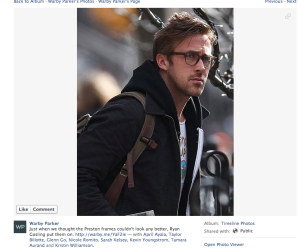 Gosling Parker Economically conscious walking Internet meme Ryan Gosling was recently spotted looking dashing in his Warby Parker frames. The company humble-bragged about the royal sighting on its Facebook page earlier this week noting that the frame is the "Preston." We share their exuberance. This is one piece of clothing we don't mind seeing him in.
Reboot that Ho? One hit wonder (#realtalk) Soulja Boy earned that coveted @Windows follow on Twitter. He tweeted "oh hey windows look at my be cool pic," along with a screenshot of the golden moment. What's next? A commercial with Soulja waxing poetically about his swaggy Windows-powered phone?
https://twitter.com/souljaboy/status/317682776788856833/
Living on the Edge On his Tumblr today, LivingSocial cofounder and CTO Aaron Batalion announced that he's leaving the company.
"After much soul searching, I have decided to leave LivingSocial to pursue some new ideas. No new adventure to announce yet, just a urge to go create… that there is more to do."
That's probably a hard pill to swallow for investors who ploughed $100 million into the company last month. Guess that makes tomorrow Schadenfreude Saturday for the roughly 400 staffers the company laid off last November.