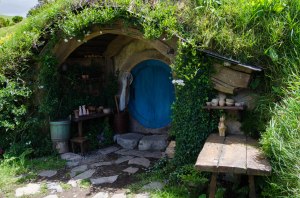 Facebook wants to expand its West Coast footprint, with a spacious new facility–designed by no less than starchitect Frank Gehry himself–just across the expressway from its current HQ. So earlier this week, the San Jose Mercury News reports, the company laid out its plans for the Palo Alto city council's approval.
Before they could get the thumbs up, Facebook had to reassure the city fathers that they didn't want to erect some shiny architectural marvel that'd loom futuristically over the Silicon Valley skyline. Mr. Gehry's creative partner, Craig Webb, told them that Zuck himself requested a "low-key" design:
Some of the earlier ideas, such as one that envisioned the building's ends flaring out like butterfly wings, were dropped, Webb said.

"They felt some of those things were too flashy and not in keeping with the kind of the culture of Facebook, so they asked us to make it more anonymous," Webb said.
Rather, the structure will be composed of white stucco, most of the building won't top 45 feet and it'll be largely obscured by landscaping and a rooftop park. (The park will include oak trees.) Mr. Webb explained: "Our intent is that it almost becomes like a hillside, with the landscape really taking the forefront."
Okay, Mark 'Frodo' Zuckerberg, enjoy your new headquarters in the Shire.