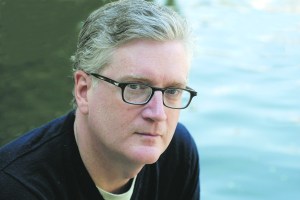 In Jonathan Dee's 2010 novel The Privileges, a secondary character named Marietta works in media relations, rehabilitating the public images of drunken heiresses and scandalous politicians.
"It's a lot like being a lawyer," she explains. "Or a lot like advertising. It's a lot like most things, actually." That might sound glib, but when Marietta gets drunk enough, she tends to start "talking in dead earnest about her job in terms of second chances and the desire to repent."
Mr. Dee's new novel, A Thousand Pardons (Random House, 224 pp., $26), takes this business—crisis management PR—as its subject, in much the same way that his previous books took advertising, or finance, or celebrity, or contemporary art as boldface shorthand for American life. But Pardons never achieves much more depth than Marietta's summary, and even at a slim couple hundred pages, it's less concise.
The book tells the story of Ben and Helen Armstead, who lead an affluent and unhappy life in the suburbs with their 12-year-old daughter, Sara. Ben practices law in Manhattan; Helen stays home and wonders where things went wrong. Every Tuesday, they tell Sara it's Date Night and slip off for an hour of couples' counseling.
Following a speedy, articulate meltdown at the marriage therapist's office ("Every day is unique and zero-sum and when it is over you will never get it back, and in spite of that, in spite of that, when every day begins I know for a fact I have lived it before, I have lived the day to come already"), Ben takes an associate to a hotel room, gets beat up by her banker boyfriend and drunk-drives his Audi off the road. Amid Ben's disgrace—which includes rehab, jail time and unemployment—Helen must find a way to support herself and Sara. She hasn't worked in 14 years, but she finds a job in Manhattan, at the shabby offices of Harvey Aaron Public Relations.
"We tell stories to the public, because stories are what people pay attention to, what they remember," Harvey tells Helen at her interview. "Why? Because when they were little, they had devoted, beautiful mothers like you, who told them stories, and stories are how they first learned to make sense out of the whole big confusing world."
Her role is mostly to abet Harvey's denial: if he hadn't replaced his departing "Junior Vice President," he would have had to admit his business was shrinking. Helen and her two fellow employees spend their days waiting for Google Alerts and reading gossip magazines. She gets her big break when Harvey brings her along on a meeting with the embattled owner of a Chinese restaurant. Mr. Chin's deliverymen are unionizing and picketing for back wages; he's being vilified in the press. Harvey wants to defend Chin as an American success story. Helen, however, finds herself suggesting a different strategy.
"You will not defend yourself," she advises. "You will not contest any particular charge, because contesting it is what allows people to keep talking about it. Without getting into specifics, you will apologize, and ask your customers and the people of New York for their forgiveness. And they will give it to you. They want to. People are quick to judge, Mr. Chin, they are quick to condemn, but that's mostly because their ultimate desire is to forgive."
This scheme turns out to be just crazy enough to work, and Helen's triumph unfolds in the prose equivalent of a makeover montage. Then Harvey dies, leaving Helen to save the firm.
Her subsequent clients include a philandering city councilman ("Basically, you will get up in front of the cameras and make an offering of yourself," Helen tells him. "That is the only play. To ask forgiveness"), a grocery store owner with hazardous bananas ("If you take it upon yourself, if you just agree to own it, then they're yours, then you're the one making the choices that drive the story") and Pepsi executives upset over a soda tax ("Here's what you do: you admit it …").
Along the way, PR power broker Teddy Malloy of Malloy Worldwide arrives to tell Helen she has "an extraordinary gift" and to buy up the remains of Harvey Aaron PR in order to bring her to his firm.
"What you're doing is the wave of the future," Malloy says later. "I think we're going to rewrite the textbooks for crisis management before we're done."
For the reader, though, Helen's single strategy is repetitive, and then exasperating—really, no one else has thought of this? "In her faith in the tactic of total submission she felt herself delivering a kind of common sense rebuke not just to her ex-husband and his lawyer but to legal minds everywhere," Mr. Dee writes. Yet even Helen is a little dubious: not about the rightness of her rebuke, but about the gifts it might imply.
"She got powerful men to apologize," Helen thinks. "The thing was, she seemed to be able to do it without even trying that hard. She got them to confess because they didn't seem to want to lie to her."
Her great test case is Hamilton Barth, a dissolute movie star who seeks her help after a ruinous bender. Helen and Hamilton are from the same tiny town upstate, and when they meet by chance at a movie premiere, she recounts—almost recites—her memories of their shared Catholic school days. He becomes convinced that only Helen can save him.
Meanwhile, the Catholic Church itself becomes a Malloy client. Mr. Dee has a weakness for heavily loaded names and loud allusions: Helen at one point represents a nightclub called Repentance. His characters speak with surprising insight, and in the rhythmic repetitions of a presidential speechwriter, about what they're doing and what it means. But in A Thousand Pardons, Mr. Dee's didactic tendencies aren't offset by enough of his strengths—like inventively structured plotting or sharply observed depictions of social status. Bringing in an archbishop reminds us that we're reading a book about confessions and absolution, but it doesn't mean that book has anything to say.
"There's lots of jobs out there that a smart, hardworking person can do," a secretary accepting a buyout tells Helen. "Jobs are for making money, so you can take care of your own, and maybe give them something nice once in a while that you didn't have. Isn't that what it's about?"
Unless it's about the power of repentance, the limits of forgiveness and the absence of honesty in American public life. Amid the underlined Important Issues of Mr. Dee's fictional working world, clocking in for a regular paycheck is practically subversive.

editorial@observer.com