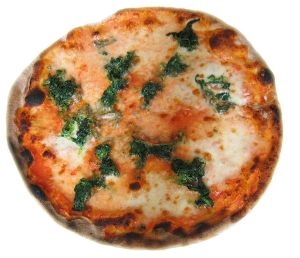 Things are heating up at SoHo's Famous Ben's Pizza, and no—it's not large pie with extra cheese.
It is, however, a large lawsuit, filed by Famous Ben's current co-owner, John Notaro, against the pizzeria's original owner (and widow of the real-life Famous Ben), Debbie Aliotta. According to Mr. Notaro, Ms. Aliotta violated the non-compete agreement she made when she sold her slice of the business to him in 2011.
According to the non-compete agreement, Ms. Aliotta originally promised that she would not involve herself with a business that "sells individual pizza slices, individual square pizza slices, or round or square pizza pies greater than 12 inches in diameter within a five-block radius of [Famous Ben's]" until November 2014.
But in August 2011, Ms. Aliotta opened Bella Donna Café and Pizzeria at 191 Prince Street—just two blocks away from Famous Ben's. And from what we can deduce from Bella Donna's online pizza menu, Ms. Aliotta is selling round and square slices and pies. We'll admit it: that might have been a cheesy move.
The lawsuit currently filed against Ms. Aliotta states, "As a result of [Ms. Aliotta's] wrongful conduct, [Famous Ben's] has lost substantial business and customers," DNAinfo reports.
But Ms. Aliotta, who founded Famous Ben's with her late husband in 1979, insists that Mr. Notaro and his fellow co-owners, John and Ronald Pasquale, are just being really crusty.
"They took something that was originally mine and my husband's and they forced me out," Ms. Aliotta told DNAinfo. "I'm 59 years old and I don't know what they want from me. They got everything." Ms. Aliotta also maintains that Famous Ben's current owners are still using her late husband's old recipes.
"They would have never done this to my husband," she said. "And if it had been him who died instead, we wouldn't have done this to his wife."
We're no professional mediators, but it seems to us like these feuding SoHo pizza vendors should just head on over to Rice to Riches and make up over a tub of Hazelnut Chocolate Bear Hug.