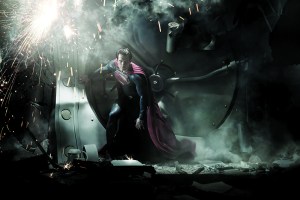 Don't Stop Believin': Everyman's Journey
Director: Ramona S. Diaz
March 16
"How do you take somebody from a Third World country and throw him into this circus?" asks Jonathan Cain, the keyboard player and guitarist for the rock band Journey. He's referring to Arnel Pineda, the 45-year-old Filipino singer-songwriter whom the band found on YouTube to replace former lead vocalist Steve Perry. Don't Stop Believin' isn't just the story of Pineda's chance at fame and glory (or at least, what's left of it after "Don't Stop Believing" became better known for being the anthem of Glee than an '80s mega-hit), but also a redemption tale for the band. It's director, Filipino-American Ramona S. Diaz, is wisely just as interested in Mr. Pineda's impact at home as abroad.
Spring Breakers
Director: Harmony Korine
March 22
It was a bold move for Disney tween princesses Selena Gomez and Vanessa Hudgens to gamble their reputations on Harmony Korine'sSpring Breakers, a film that truly gives meaning to the phrase "Girls Gone Wild." But it pays off: the freshest, strangest and (strangely) most feminist shoot-'em-up in decades, the story of four girls who rob a diner in order to fund their bikini-clad St. Petersburg dreams is a long way from High School Musical and Justin Bieber. Subversive, poetic and as hysterically funny as it is profoundly disturbing, Spring Breakers is Scarface for chicks—the first great drug-fueled, violent American Dream film of our generation. (For more on Spring Breakers, see the interview with Harmony Korine in this week's Observer Culture pages.)
The Place Beyond the Pines
Director: Derek Cianfrance
March 29
On the surface, this Ryan Gosling movie is just a mash-up of every other Ryan Gosling movie: Drive meets Blue Valentine meets Gangster Squad. Instead of a car driver, now Gosling is a motorcycle stuntman. And instead of a tortured relationship with Michelle Williams, Mr. Gosling's traveling carnie is in a tortured relationship with Eva Mendes, who has just given birth to their son while he's been on the road. After a gig at the mechanics leads to a string of high-wire bank heists, Mr. Gosling's Luke is forced to face off not with Sean Penn, but with a white-knight cop played by Bradley Cooper, an honest man with a wife and infant of his own. We'll put some money down on Pines making it into next year's Oscars lineup.
Trance 
Director: Danny Boyle
April 5
Before Slumdog Millionaire and 127 Hours, 28 Days Later and yes, even Trainspotting, British director Danny Boyle made a very dark comedy by the name of Shallow Grave. Starring a young Ewan McGregor, the 1994 cult comedy is a gruesomely funny story involving dismemberment, drugs and murder. With Trance, Mr. Boyle seems to be returning to his twisted roots: James McAvoy plays an art auctioneer who steals a famous painting with the creepy instructor from Black Swan (Vincent Cassel). Double-crossed, and with a brain injury that keeps him from remembering where he hid the treasure, he's led by the nose into the arms of a hypnotist (Rosario Dawson). What follows promises to be a Memento-esque mirage of the mirrored halls of human memory.
To the Wonder
Director: Terrence Malick
April 12
Can anyone really describe the plot of a Terrence Malick film? If this was Mr. Malick's last masterpiece, Tree of Life, we'd at least be able to tell you it had dinosaurs. But To the Wonder does not have such bold tricks up its sleeve. Instead, it relies on its cast: Javier Bardem as a priest, Ben Affleck as the lover who goes home to Oklahoma after a sojourn with his wife in Mont Saint-Michel, and Rachel McAdams as the one who got away. If that sounds frustratingly vague, perhaps this is not the movie for you.
jOBS
Director: Joshua Michael Stern
April 19
The movie that closed Sundance this year will undoubtedly be polarizing: in deciding to tackle a cow as sacred as Steve Jobs, you have to wonder who the hell signed off on giving the lead in the bio-doc to Ashton Kutcher, a man more famous for his off-screen dramas than his acting chops. Still, early reviews have deemed him passable, with the material and supporting cast more than capable of doing whatever heavy lifting Mr. Kutcher can't handle.
Iron Man 3
Director: Shane Black
May 3
Tony Stark (Robert Downey Jr.) is back, for the fourth time (counting last summer's The Avengers). We're to believe he's up against his greatest foe yet—the Bane to his Batman, if you like—in a giantly outfitted, Vader-voiced Sir Ben Kingsley, playing Mandarin. He's a supervillain born in Communist China who gets his powers from 10 alien rings that he wears on each finger. Also starring Guy Pearce, the voice of Paul Bettany and the body of Gwyneth Paltrow.
The Great Gatsby
Director: Baz Luhrmann
May 10
If anything, the fifth cinematic adaptation of the Great American Novel is a testament to our country's ever-changing value structure—its versions changing to reflect what it means to be American, great and/or novel. Not to mention those malleable differences between wealth and class, as exemplified (at least this time around) by the no-longer-so-young-and-scrappy Leonardo DiCaprio, and the waifish Carey Mulligan. With Moulin Rouge director Baz Luhrmann behind the camera, expect to see some razzle-dazzle in the Hamptons. Kanye West accompanies Ziegfeld dancers, souped-up candy-colored Rolls-Royces speed through the city and fireworks fly hot and fast. "You can't repeat the past?" an incredulous Gatsby repeats back to Nick Carraway (Tobey Maguire) in the trailer. "Why, of course you can."
Star Trek
Into Darkness
Director: J.J. Abrams
May 17
More than any other director alive today—possibly excepting Joss Whedon—J.J. Abrams knows what buttons to push to get a direct flow of dopamine into the pleasure centers of a fan-geek's brain. With his first Star Trek reboot, he added in all the appropriate self-referential winks and nods in both story (written by Lost's Damon Lindelof) and casting choices. (See: British Spaced star Simon Pegg as Scotty, Harold and Kumar's John Cho as Sulu and Heroes' villainous Zachary Quinto as the calm, collected Mr. Spock.) But Mr. Abrams may have outdone himself by casting the BBC's hottest new commodity, Sherlock's Benedict Cumberbatch, as a mysterious new character who may or may not be the eventual disposed dictator Khan.
Man of Steel
Director: Zack Snyder
June 14
It boggles the mind that Warner Brothers has given the green light to yet another stab at the most-boring-boy-on-Krypton story, when just six years ago, Bryan Singer was unable to revive the franchise with Superman Returns. Determined not to learn from their mistakes, Zack Snyder, the man who infamously ruined the graphic novel adaptation of Watchmen, has been given the reins to the new incarnation. This Superman will be played by an unknown quantity, Henry Cavill, another piece of Kryptonite to cripple the hulking production. If Man of Steel succeeds, you can thank producer Christopher Nolan, or the brilliant casting of Michael Shannon as General Zod.