(NYRB Classics, March 19)
The first novel by Renata Adler, a former staff writer at The New Yorker, has been criminally out of print and overlooked for years. The book follows a disillusioned journalist named Jen Fain as she hops between parties and lovers in New York. She is happy and sad and people walk in and out of her life. There's not exactly a plot to speak of, but the novel has a certain urgency merely on the strength of Ms. Adler's writing. Speedboat won the Ernest Hemingway Award for Best First Novel in 1976, then fell off the map, and is finally making a comeback.
The Tragedy of Mr. Morn by Vladimir Nabokov
(Knopf, March 19)
Nabokov was only 24 when he wrote The Tragedy of Mr. Morn, his first and only full-length play. Available now for the first time in English, the play is written in verse and follows a king who wears a mask while attempting to rule over his chaotic post-revolution kingdom. He's pining for Midia, who just so happens to be married to a banished revolutionary who is responsible for all that chaos to begin with. Written years before any of Nabokov's masterful novels, it is a portrait of a young and ambitious writer finding his way, and a fine prediction of all the greatness to come.
(Knopf, April 2)
James Salter has kept so busy with short stories, memoirs, screenplays and at least one very charming cookbook that it's hard to believe this is his first full novel since 1979's Solo Faces. Set just after World War II, All That Is follows one Philip Bowman, a former naval officer who fought in Okinawa and is trying to settle in at a job in publishing, as an editor. The war at home turns out to be as sordid as anything he saw in combat—with lavish apartment parties hardly filling the gap of a failed marriage and a messy love life. Mr. Salter is one of the great American writers, and his return to the novel is nothing short of a major event.
The Woman Upstairs by Claire Messud
(Knopf, April 30)
The follow up to her 2007 novel, The Emperor's Children, a satirical send up of the upper class in New York, Claire Messud's new novel is about Nora Eldridge, an elementary school teacher with a lot of regret and frustration over her failed career as an artist. Her life has taken on a kind of dull and mediocre bliss that is interrupted by the arrival of a new student, Reza Shahid, whose parents are the kind of exotic and creative people that Nora wishes she had become. The Shahids offer Nora salvation as they increasingly enthrall her.
My Struggle Book Two: A Man in Love by Karl Ove Knausgard
(Archipelago Books, May 7)
In his native Norway, the six books that make up Karl Ove Knausgard's My Struggle series of autobiographical novels are essentially that country's national literature. As they continue to be translated into English, they're the closest things we have to a contemporary Proust. Book One, which came out last year, followed Mr. Knausgard as he coped with the death of his father and recalled the minutiae of his childhood. In Book Two, he's just left his wife and is living in Stockholm, infatuated with a young writer named Linda. Nothing and everything happens in Mr. Knausgard's books, it's all about life as it is lived.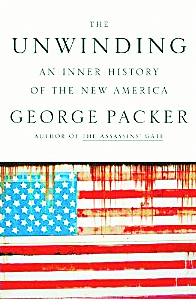 The Unwinding: An Inner History of the New America by George Packer
(Farrar, Straus and Giroux, May 21)
Journalist George Packer, author of The Assassins' Gate: America in Iraq, looks at the last three decades of American history through the lives of a group of very different American citizens: a descendent of tobacco farmers from the South, a factory worker living in a city that is rapidly becoming post-industrial, a Washington D.C. political idealist with a fondness for money, and a billionaire from Silicon Valley who's become disillusioned by the Internet. Mr. Packer not only examines the ways in which America is troubled, but more importantly, investigates the reasons why America is troubled.
TransAtlantic by Colum McCann
(Random House, June 4)
In his last novel, the National Book Award-winning Let the Great World Spin, Colum McCann took a single event, a high-wire walk between the two buildings of the World Trade Center, and unpacked it to such an extent that he did nothing short of evoking the lofty scale of his title. His new book alternates between Newfoundland in 1919, Dublin in the 1840s and New York in 1998, focusing on a duo of aviators, Frederick Douglass bearing witness to the Irish famine and a young father who finds himself in the middle of the Troubles conflict and its imminent resolution.
Big Brother by Lionel Shriver
(Harper, June 4)
The new book by Lionel Shriver, best known as the author of We Need to Talk About Kevin, is about Pandora, a woman with a happy family in Iowa, who goes to pick up her brother, visiting from New York, from the airport. Ms. Shriver's title is meant literally: Pandora discovers upon seeing her brother that he has gained hundreds of pounds since she last saw him a few years before. His diet and attitude disgust Pandora's husband, and Pandora forced to choose between her domestic life, and her brother, who is rapidly eating himself to death.
Taipei by Tao Lin
(Vintage, June 4)
Tao Lin, who may be known to some as a tireless self-promoter, is too often overlooked as an excellent writer of avant-garde fiction. His new novel is his most mature work, and follows a young New York writer to Taipei, where he must reconcile his family's roots with the haze of MDMA, texts and tweets that he's been living in. Mr. Lin has refined his deadpan prose style here into an icy, cynical, but ultimately thrilling and unique literary voice.
Seiobo There Below by Laszlo Krasznahorkai
(New Directions, June 13)
The author of the classic novel Satantango, which focused on a few ads in a bleak, poverty-stricken village, returns with a new book, a series of interlocking stories about a lecture on Baroque music, Andrei Rublev, the preparations of a Noh theatre actor, and an ancient Buddha, among others. Mr. Krasnahorkai's work is characteristically filled with loopy sentences and highly stylized prose. The titular Japanese goddess presides over all of the stories, coming down to earth searching for artistic perfection.