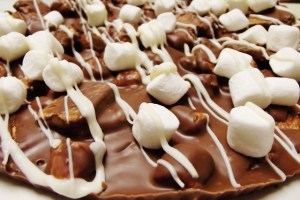 Long Island Congressman Steve Israel, last seen facing off with Rep. Jerry Nadler over whose Jewish deli was superior, has expanded his competitive food interests to pizza. And at a New York event this weekend for the Democratic Congressional Campaign Committee, Mr. Israel presented a chocolate-covered pizza to Minority Leader Nancy Pelosi to argue the Empire State's pizza is, in fact, better than her native California's.
"It was at the New York Issues Conference this weekend," an attendee told Politicker. "They had a running debate throughout the weekend between Nancy Pelosi and Chairman Israel whether New York wine or California wine was better. And at the end of the conference, at the final event, he said if he can't convince Pelosi that New York wine is better, at least he'll convince her that New York pizza is better."
Ms. Pelosi, it should be noted, is a big fan of chocolate and is known to enjoy "chocolate ice cream, chocolate bars, chocolate truffles, chocolate candy, chocolate cake, chocolate gelato and chocolate milkshakes." Nevertheless, New York-style pizza does not typically have chocolate.
Politico's Playbook, which first took notice of the chocolate pizza gift, reported the conference was attended by Vice President Biden and top DCCC officials as well.
Politicker's source at the event was unable to confirm if Ms. Pelosi actually ate the pizza.