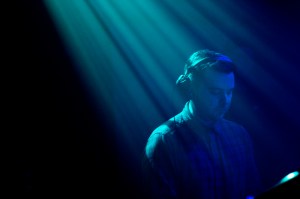 It's just past 4 a.m. on Ten Eyck Street in East Williamsburg, and the only traces of contemporary twee Brooklyn are a pair of vintage bikes and sticker shock. A young couple rides the bikes away from the one-story warehouse in which BLKMarket Membership—arguably New York's biggest promoter of nomadic after-hours techno and house parties—is throwing its latest midnight-to-well-past-dawn, four-to-the-floor beat marathon.
The muffled, repetitive thump of DJ Joey Anderson's set is the only noise besides one's own footsteps for blocks of squat warehouses, chain-link fences and inexplicable police barricades in this stubbornly industrial North Brooklyn corridor.
The steel door to the party closes and jams, requiring three men to pry it open. A disclaimer taped to the wall notes that Vice Media is filming this morning's proceedings. Down a narrow, unlit, smoky hallway rests a foldout table and a glum crew of three collecting cover charges.
"Five-zero?" asks one incredulous entrant as he takes out his wallet.
Exactly what the $50 door charge covers is not clear—it's certainly not the amenities. A cluster of port-a-potties impedes the path to a concrete dance floor strewn with Dixie cups, cigarettes and a discarded Sleep No More mask. Limp caution tape denotes a V.I.P. area. The scant illumination comes from a handful of neon-lighting strips scattered on the floor and a projection screen flashing psychedelia. Ocean Spray cranberry juice is the most exotic cocktail mixer at a makeshift bar where $10 gets you a Jack on the rocks and $7 covers a can of Tecate.
The grimy scene is a far cry from the craft cocktail bars, farm-to-table pizzerias and rooftop granges that over the past five years have made (a young, often white swath of Brownstone and North) Brooklyn a metonym for all things artisanal, locavore and "housemade." Here, the diet is defiantly chemical, consisting primarily of molly (ecstasy's supposedly pure cousin in the MDMA family) and bumps of ketamine (a dissociative anesthetic that pulls double duty as a club drug and horse tranquilizer).
New York has an illustrious history of underground or "outlaw" dance parties that predates the dawn of the modern-day disco. And minus the sexual licentiousness, today's Brooklyn warehouse parties may not look—or sound—all that different from Larry Levan's Paradise Garage and David Mancuso's The Loft affairs of the 1970s, although here people dress ultra-casually, in accordance with gender norms, and without rock star or club kid flamboyance.
Key players on the Brooklyn circuit agree that electronic music migrated to the borough around 2002, after Rudy Giuliani's quality of life campaign had shuttered all but a handful of Manhattan clubs and rising rents hastened the creative class' exodus from the Lower East Side to Williamsburg, then Greenpoint, then Bushwick.
"I got a little bit of the Dumbo scene in '99 or 2000, before it turned into grande Frappucino land," said Zev Eisenberg, who with Gadi Mizrahi forms the Williamsburg-based house label and deejay duo Wolf + Lamb. DJ Justin Carter started to throw and play parties in Bushwick in 2004, shortly before the onetime emblem of urban rot became the hotbed of a warehouse rave revival.
More recently, electronic music has escaped the esoteric Brooklyn and pomaded Jersey Shore ghettos and made unlikely strides toward mainstream American popularity. The Swedish deejay (and Ralph Lauren model) Avicii last fall became the first electronic artist to headline Radio City Music Hall. The show sold out in two minutes.
It's too early to say whether the abrupt commercial viability of club music will trickle down to the Brooklyn underground or kill it off altogether. For the first time in decades, the always-fragile underground dance music ecosystem is grappling not only with frequent police raids, but also with a threat to its obscurity, a central tenet of the scene and its disciples, also called "heads."
"I can't say that the boom is good for anyone, other than promoters who want to make a lot of money off of it," said Francis Harris (a k a Adultnapper), the Brooklyn-based producer and deejay behind last year's acclaimed, plangent LP Leland.
"It panders to the lowest common denominator. When I was growing up listening to electronic music, people in my life who weren't involved imagined that it was all about drugs, sex and late nights. Unfortunately a lot of these artists and giant clubs in Vegas cater to that. They're paying these guys $100,000 to fucking play the same goddamn tracks from a playlist, and they're all about girls in bikinis and cocaine."
The indie-minded Brooklyn subset's denunciations of electronic music's sellout success align the scene with the scrappy ethos that shapes the borough's bare-bones D.I.Y. rock venues and back-alley vegetable gardens. It's tough, though, to imagine the average BLKMarket regular exiting the warehouse come sunrise on his way to being the first customer in line for fiddlehead ferns at the farmer's market.
But there are those who straddle both scenes, and the most obvious intersection of Brooklyn's forward-thinking dance music and homegrown culinary communities is Tiki Disco. Andy Pry co-founded the seasonal outdoor event four years ago in a converted auto body garage adjacent to Roberta's, the Bushwick pizza sensation with a menu partially sourced from its backyard garden.
"The restaurant and the party both keep it a little funky, a little D.I.Y.," Mr. Pry said. And while the people who come "are less likely to eat McDonald's six times a week, I don't get a sense that people are showing up to these parties with yoga mats."
Mr. Carter, who previously worked at the early farm-to-table restaurant Five Points, sees correlations between the borough's heads and its foodies.
"There's a care to how things are presented in both scenes, and also a focus on true experience," he said. "We're trying to present quality music, but in a way that's not loaded with stereotypes—velvet ropes, surly doormen, glow sticks, excessive drug use—that have come along with dance music."
True enough, a velvet rope would stick out like a pair of Jimmy Choos at a BLKMarket event, and only one poor soul has festooned himself with phosphorescent arm, leg and neck accessories. But slumping, sweat-caked attendees wearing shades and turbans fashioned out of their T-shirts abound at 8 a.m., suggesting that druggy excess persists.
Tonight's session is headlined by Boddika and Joy Orbison, a pair of U.K. deejays who often spin in tandem. The audience thins as the sun rises, but still lets out a sporadic howl as the chorus to Celeda's "Music Is the Answer" echoes.
Not everyone is impressed. A partygoer who gives her name only as Bita moved to the East Village from the Ukraine a year ago. I asked if she dips into the Brooklyn underground scene often. "Yes, it's the best," she said. "Because Manhattan sucks so much. Too many tourists. Too many office people."
To her, however, this particular party is falling short. Bita cuts me off when I mention the word techno. "When you ask these questions, you should know what you're asking. This isn't really techno."
"What is it?"
"It's junkie music. I think all the people I know here are on drugs."
Bita, on the other hand, is not. "I'm an extremely healthy person. I'm a vegetarian. Actually, I have an appointment with my trainer at Equinox this morning."