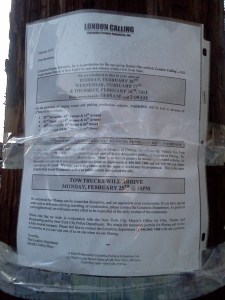 Here's a new twist to make the sequel to the lackluster reboot of Spider-Man more interesting: If you manage to get yourself down to Bensonhurst before 2 a.m. tomorrow morning, you might catch a glimpse of Andrew Garfield or Emma Stone as they shoot The Amazing Spider-Man 2: London Calling.

Well, according to the intrepid Redditors who went to the scene earlier this morning, the trucks have already departed, though they still have a permit to come back and shoot until well into the wee hours.
This fits with the stealth model of shooting that the sequel has kept up for the best month or so, showing up with permit signs in Queens and the UES before being quickly whisked away, with no one able to gather photographic evidence of any of the stars milling about.
The casting notices for extras list exterior shots running all the way through May 20 in New York, so it's inexplicable what kind of London is doing the calling here. It's pretty difficult to confuse Piccadilly Circus with Dyker Beach Park, but what do we know?