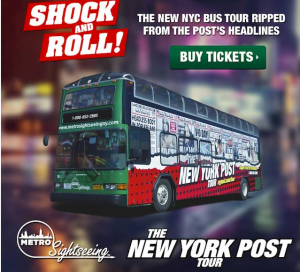 Intrepid Daily News reporter Barry Paddock took a ride on the new New York Post tour bus, and guess what? He was not impressed. Not only did he find the rival tabloid's tour of places "ripped from their headlines" sparsly attended and overpriced, but also "decidedly boring." 

"The bus is a bust," Mr. Paddock wrote in the lede of his completely objective article. "I was one of just seven suckers aboard the New York Post's overpriced new Headlines Bus Tour on a recent afternoon." Presumably, despite all his grumbling about the $49 price tag, Mr. Paddock was able to expense the ride. Well, it seems the News got it's money's worth!
"Overall, I want it to be fun for people," Post publisher Jesse Angelo said in an article (press release?) in the Post earlier this month. "That's the whole point. Every tour on earth tells you about The Plaza. None of them tells you about Charlie Sheen." Apparently, by "people" Mr. Angelo was referring to a reporter from a rival publication, who no doubt had fun thinking of ways to pan the tour, even if  he did not enjoy cruising around Manhattan learning boring facts about boring people and even more boring buildings.
"Later, on the West Side Highway, he pointed toward Weehawken, N.J., where Hamilton was shot (Ooooh!)," Mr. Paddock writes. "Jose, who had been an archaeology major in college, seemed able to name the architect behind every building in New York. (Pass the NoDoz)."
Was there anything  worthwhile? Well, the tour guide's wife had taken a yoga class with Hilaria Thomas, wife of recent Post cover boy Alec Baldwin, and found Ms. Thomas "very obnoxious." But to be fair, half the city has taken Ms. Thomas' yoga class. And no mention of Charlie Sheen, as Mr. Angelo promised? No wonder people lose trust in the news.