"I think the easiest way to lie is to replace as little of your life story as possible. That's what I've embraced. So the only thing I've replaced was the three years I was doing medical research has become three years investing in startups in Silicon Valley."
Logan's fabricated back story hinges on a seed accelerator known as Y Combinator, which has helped produce such companies as Reddit, Dropbox and Airbnb. "I tell them I had some bar mitzvah money that I decided to invest, and that's how it got started," Logan tells me. "So I invested $10,000, and it doubled, doubled again, doubled again. I don't give figures, but I say I was kind of able to retire from that life and start medical school."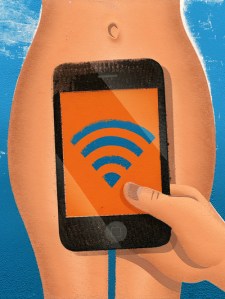 And in that way, he brings the story full circle. "It's just easier that way," he says. "I don't have to make up new stories, which would be too much stress. And they like that, also: 'He's a rich entrepreneur and he's a doctor.'"
Logan pauses for a moment to contort his voice into the stereotypical Jewish mother's: "So ambitious," he says.
Though the idea of lying over the Internet is as old as the dial-up modem, it's having a modern media moment, thanks in large part to star college football player Manti Te'o. Recently, Mr. Te'o found himself the victim of a nationally publicized hoax, after falling in love with a "woman" he met online and then telling the world that she had passed away, garnering sympathy in the lead-up to the Heisman Trophy presentation, for which he was a finalist.
Turned out she wasn't dead—or alive, for that matter. She simply wasn't.
This practice is known as catfishing, a term that can be traced back to the 2010 film Catfish, which follows NYC resident Nev Schulman as he builds an online relationship with a Midwestern woman. When Mr. Schulman begins to suspect his sweetie isn't who she says she is, the filmmakers follow him halfway across the country for an in-person confrontation.
When I spoke with Brandon Wade, founder and CEO of SeekingArrangement, he said he was all too aware of catfishing. "We've actually kicked off a lot of people over the years who pretend to be, say, rich when they're not in fact rich," he told me. To combat this, the dating site offers safety features, such as background checks, which members can use to secure verified profiles. But ultimately, Mr. Wade admitted, the responsibility to protect oneself resides with the user. "Short of verifying everybody's Social Security number, I mean, short of that, there's just no way of preventing such lies from happening."
As if to prove Mr. Wade's point, Logan got a chance to test his SeekingArrangement fibs in the real world last February, when he arranged to meet a sugar baby—whom we will call S.—at a beer-and-wine bar just off Smith Street in Brooklyn. Logan prepared for the date by doing the same thing he's been doing for years at medical school and at yeshiva: research. He memorized the names of various tech CEOs and all the companies they dealt with. He double-checked his time line, made sure the dates lined up correctly. "You don't want to walk into the bathroom in the middle of a date and have them Googling all this stuff and realizing I'm full of shit," he explains.
Still, Logan was nervous.
Logan and S. had exchanged emails but had yet to talk on the phone. What he knew about her: she was Irish, by way of Australia. She was a nutritionist and a belly dance teacher. She had a killer body. "I was a little nervous to be asked some difficult questions," he says. "But they want to believe it. The second I brought up money, she had both hands on my thigh."
Confidence rising, Logan suggested they go somewhere more private, and she agreed, thinking they'd be heading to his "expansive condo overlooking the Gowanus Canal." Alas, his place was being fumigated, so they walked to her rented room. On the way, the subject of a monthly allowance came up. While S. said she was accustomed to receiving $5,000 to $10,000 a month from her sugar daddies, Logan suggested they start off at $1,000, and she jumped on it. "I thought to myself, what would an actual sugar daddy do?" Logan says. "An actual sugar daddy would try to negotiate a little. I'm a money guy, you know. I try to embrace the persona."
With that settled, Logan and S. consummated their new arrangement. Twice. In between tumbles, they took a break and S. put on an impromptu belly dancing display, wearing a belly dance belt and nothing else. She began to move, slowly, sensually, making hungry eyes at Logan, licking her lips. Logan didn't know how to react.
"I'm like a very awkward, neurotic Jew, so I'm just sitting there smiling and clapping along. I didn't know what to do," he says. When she finished swaying, Logan gave her one last round of applause and said, "That's so wonderful."
"I feel like I've mastered approaching girls online," Logan tells me.
Part of it is a numbers game, of course—the more women you engage, the better your chances of scoring—but Logan has also made small tweaks to his game along the way. For instance, he has tried out a variety of introductory messages until settling on his current one—"cute and funny, nice combo :)"—which he says has been the most successful. ("Every girl thinks she's funny," he says.) And he will invoke a literal slow play, waiting an hour to respond to a message after they've been pinging back and forth.
I ask if this doesn't play to a woman's insecurities. "Oh, 100 percent," he says. "I live off insecurity. If any of these girls were secure at all, they'd never meet me."
Over the past year and a half, in between Jewish holidays and 80-hour work weeks, Logan says, he has been on nearly 100 dates under false pretenses—and has taken about half of those women to bed. At the start of each outing, he tries to gauge his date's interest. "Not their interest in me," he clarifies, "because I don't care about that, but their interest in having sex in, like, an hour."
There was the middle-aged mother he slept with under an oil painting of her 18-year-old Hasidic son. There was the woman who looked back at Logan, mid-coitus, and warned him not to mess with her orgasm. Then there was the dreadlocked beauty who turned out to be the full-time baby-sitter for a Jewish couple he happened to know. (That's one synagogue he can never go back to.)
There have been some close calls, too, like the time he turned a corner at work and saw a nurse who looked disturbingly familiar. Logan frowned, kept walking, but received a text message minutes later, asking if he didn't work at the hospital. Or the time he was sitting at a computer, iPhone resting on the desk nearby, visible, and a text displaying someone's vagina flashed on the screen.