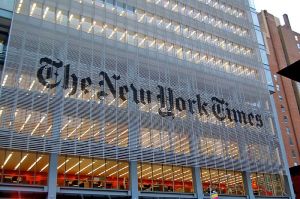 On Friday, The New York Times Green blog, devoted to energy and environmental issues, said goodbye to its readers. The blog's abrupt close came shortly after the Times shut down its environment desk in January.
Over at Columbia Journalism Review, Curtis Brainard harshly lamented the loss of the blog. The close, he wrote, "ensures the deterioration of the Times's environmental coverage at a time when debates about climate change, energy, natural resources, and sustainability have never been more important to public welfare, and they've done so while keeping their staff in the dark. Readers deserve an explanation, but I can't think of a single one that would justify this folly."
As Andrew C. Revkin pointed out, however, "the time and effort required to gather, sift, analyze and convey information with authority, particularly on globe-spanning or contentious issues, is expensive."
If you liked Green, you can still follow the blog's writers on Twitter, and energy and environment news will still appear on the paper's Caucus and Bits blogs.
This is what the Green blog's goodbye post says:
The Times is discontinuing the Green blog, which was created  to track environmental and energy news and to foster lively discussion of developments in both areas. This change will allow us to direct production resources to other online projects. But we will forge ahead with our aggressive reporting on environmental and energy topics, including climate change, land use, threatened ecosystems, government policy, the fossil fuel industries, the growing renewables sector and consumer choices.

Thanks to all of our readers.