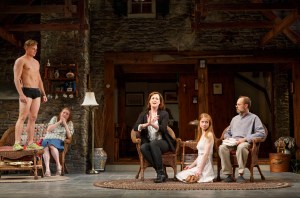 "My life is empty," moans a lonely, sad, aging Sonia. "And I forget something every day. I can't remember the Italian for window or ceiling."
"Window is finestra, ceiling is soffitto," replies her equally lonely, not quite as sad, very practical brother, Vanya.
"That doesn't sound familiar," Sonia says. She twists her face with a quick, crazed glint of awareness. "I don't think I know Italian."
There isn't a rim shot, but there ought to be.
Christopher Durang's Vanya and Sonia and Masha and Spike, which opened last week at the Golden Theatre, is one of the funniest plays on Broadway in recent memory, and it's also one of the cleverest. It's Chekhov relocated to Bucks County, Pa., and updated to the 21st century, allusive and intellectual but also zany and broadly comic. Mr. Durang explores the good doctor's usual themes—the past and the future, unfulfilled ambition and suffocating regret, the inevitability of change—in an American-Chekhovian universe of three siblings named by their professor parents for the famous dramatic characters. As in Sonia's lament—it's a line from Three Sisters: "Everything is confused in my head … I can't remember what is the word for window in Italian, or for ceiling"—this play mixes up the classical and vernacular, the profound and the quotidian, the serious and the silly. It's a great time.
The play transpires in the morning room and yard of a sprawling stone-and-shingle
farmhouse, where Vanya (David Hyde Pierce, mostly subdued and very droll) and his adopted sister Sonia (Kristine Nielsen, hilariously wide-eyed and manic), live in quiet if not quite contented isolation. It's the house in which they grew up and then cared for their increasingly decrepit parents—a provincial estate, you might say—and where they now pass their days, looking for the blue heron that visits their pond and contending with their soothsaying weekly cleaning lady (a funny Shalita Grant), conveniently named Cassandra. (The lush set is by David Korins.)
Their complacent monotony is upended when their movie star sister Masha (Signourney Weaver, Mr. Durang's old Yale Drama pal and a fine comedienne) arrives from New York with her beefcake boy toy, Spike (Billy Magnussen, appropriately dim and Aryan). She's in town for a party, but also to tell her siblings that she's planning to sell the house, the upkeep of which she has been funding. (Shades of Uncle Vanya!) Masha's presence draws the neighbors' aspiring-actor niece, Nina (an ethereal Genevieve Angelson), who ultimately inspires Vanya to stage a performance of his secret, experimental play. (Shades of The Seagull!)
Director Nicholas Martin, who also staged the virtually identical production that ran off-Broadway in the fall at Lincoln Center's Mitzi Newhouse Theater (and before that at the McCarter Theatre in Princeton, which commissioned it), deftly walks a fine line with Mr. Durang's play, eliciting performances that are alternatingly screwball and affecting. The young characters are both naïve and ludicrous; the older characters worry either that their lives are over or have passed them by.
An emotional high point comes in Vanya's unexpected tantrum about the indignities of the modern, multitasking, always-on society and the superiority of the bland 1950s. "The '50s were idiotic, but I miss parts of them," he shouts, after praising Ed Sullivan and postage stamps and Hayley Mills, who "grew up to be a sensible, nice woman." It's a bravura turn from Mr. Hyde Pierce, but it's also a cleverly constructed, perfectly pitched bit of business: it credits his anxiety, but it also makes him look more than a bit ridiculous for wallowing in it.
And that, ultimately, is what makes this Durangian and not Chekhovian, American and not Russian. Vanya and Sonia and Masha and Spike has a happy ending, with the house unsold and its characters acclimated, if warily, to change. This Vanya and Sonia remain at home, but happily. If they wanted to, they'd get to Moscow.
Lanford Wilson's The Mound Builders, a heady 1975 drama that opened in a muddled revival at the Signature Theatre Sunday night, is an anthropological look at anthropologists, and the best way to view it today is anthropologically, as a window onto 1970s mores about marriage, class and real-estate development. While Mr. Wilson's 1979 Talley's Folly, currently in lovely revival at the Roundabout, has aged gracefully, The Mound Builders, alas, has not.
Structured as a memory play and a mystery, The Mound Builders opens with Prof. August Howe (David Conrad) in his university office, reviewing slides from a summer dig and dictating dejected notes for his secretary. Over the course of the play, as the setting shifts back and forth in time between the office and the dig, we meet the rest of Howe's crew—the detoxing novelist sister; the adulterous wife; the ambitious protégé; the protégé's pregnant doctor wife, who seems not terribly in love with him—and we wait to find out what went so terribly wrong. Much pot is smoked and much white wine is drunk; the women, for the most part, pick up after the men, and several in the group presume that the doctor-wife won't return to practice after childbirth. None of the characters seem particularly real.
The one interloper is Chad Jasker (Will Rogers), the aspirational son of the local landowner; he befriends the crew and dreams of the riches he'll have once the Interstate arrives. (Jasker, for his part, sleeps with one of the wives, lusts for the other, and makes a drunken pass at the protégé, his fishing buddy.) It's when the archeologists make a major find—the first located tomb of a god-king in the lost Mound Builder culture—that trouble comes. Archeology will trump the Interstate, and a rerouted road will bypass Jasker.
The point, of course, is the inevitable march of time and civilization, how one bit of progress is always destroying what came before, how any society—be it the archeologists' own or the one they are studying—can disappear. The ghostly, glowing-from-below set in Jo Bonney's production nicely hints at the things always lurking underneath. (The scenic design is by Neil Patel and the lighting by Rui Rita.) But because we have so little emotional investment in the society on stage, we don't much care when it collapses.
There is real pleasure in watching the quirky comic actress Carol Kane live on stage in the Atlantic Theater Company's intimate Linda Gross Theater, where she is starring in The Lying Lesson. There is even more pleasure in seeing how good she is at nailing her character, the seemingly inimitable Bette Davis, how she moves, lingers on a gesture, holds an expression. The problem is that she's doing it in Craig Lucas's awkward, schematic, barely dramatic play, staged with uncharacteristically sloppy direction and a painfully slow pace by Pam MacKinnon.
It's 1981; Davis been through four husbands and the good parts of her career, and she has come to a small town in coastal Maine where she summered as a child to buy a house from a man she once loved. Things start off well: it is a literally dark and stormy night, and Ms. Kane enters as a mid-century Hollywood star—coiffed hair, hard-cased bags, sunglasses (darkness and storm notwithstanding). Soon the power cuts out, and moments later someone breaks in. Davis is armed with a kitchen knife and a biting wit; the burglar is clearly overmatched. In any case, it turns out to be a local girl, a caretaker, who is seemingly unaware of her interlocutor's fame. They become friends.
Thus is that early moment of drama swiftly ratcheted down. And so it continues, with every new revelation serving to make things less interesting, rather than more. Worse, the play's main revelation is about the caretaker, Minnie (Mickey Sumner, with a dreadful Down East accent), who is the character we don't care about. (Speaking of accents: Ms. Kane's is inexplicably Mittel-
European.) In that respect, The Lying Lesson is like Looped, the crackpot Tallulah Bankhead bio-play that asked us to care deeply about an unknown sound engineer's coming-out story. But Looped was at least chockablock with over-the-top campy fun. The Lying Lesson is just dull, and Ms. Kane's fine performance can't change that.
editorial@observer.com