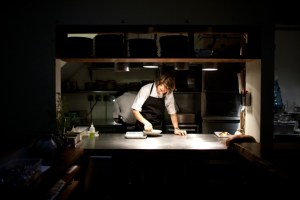 Sweden has not staged a land invasion since the poorly understood and more-puckish-than-belligerent Åland Crisis of 1918. But a few years ago, that land of white snow, blue eyes and extraordinary health care began establishing sleeper cells in New York. Its Omaha was Williamsburg's hipster beach.
First came the moustaches, establishing a front line on the upper lips of Gothenburg emigrés. Then came the music: Peter Bjorn and John's whistles shrieked through the streets like Wagner's Die Walküre. Jens Lekman lured our men to sleep while the infectious hooks of Love Is All seduced their girlfriends. Finally, the ground was made ready. In February, chef Fredrik Berselius opened Aska, a stunning Swedish restaurant on Wythe Avenue, and all the Swedes and semi-Swedes, the legions of Nordic fifth columnists and Scandinavian sympathizers, rose up and made reservations.
In Aska, which means "ashes," one can discern both the promise and the pitfalls of the Scandinavian soul. Fun is taken very seriously here. Whimsy is something to be discovered, like the form hiding in a block of marble, by constant careful chipping. Thus, bright murals of diurnal birds hang in relative darkness. Fantastical landscapes of moss and wood are contained in terraria, discretely placed on a shelf. The hostess is beautiful and she wears a sweatshirt.
This studied humbleness is a hallmark of what many Americans call New Scandinavian or New Nordic cuisine, and what many Scandinavians call Nordisk Mad. The latter term was coined by René Redzepi, the chef of Copenhagen's Noma, which has been ranked the best restaurant in the world for the last three years in San Pellegrino's World's 50 Best Restaurants list.
When I visited Aska recently, news had not yet broken that Eamon Rockey, an original partner, had departed, but he wasn't there. Neither was the chef, Mr. Berselius, who was off cooking in Iceland at something called the Food and Fun Fest. In his absence, a young bearded man named Gabriel Andersson—which is funny because only young bearded men seem to work there—was in charge. It's tempting to hector Mr. Berselius for not being in the kitchen of his own restaurant, but it's to his credit that his operation seemed as modular as Ikea's IVAR shelving system, and much more sturdy.
Aska offers two tasting menus—a seven-course menu for $65 and a 10-course menu for $115. The Value for Money (VfM) is high. In one seven-course menu, the surprises and delights were squared. Each course, when it was trotted out by a seemingly consumptive Swede, looked simple but contained multitudes.
Unsurprisingly, many of the amuse-bouche arrived on various types of flooring material, a staple of Nordisk Mad. Two tiny prawns, culled from the waters of Maine, were served on a small plinth of black walnut, for example. Each had the flesh of his or her belly removed, sprinkled with salt and placed raw on his or her respective head, which had been fried in shrimp butter. Surprisingly, the crisp fried carapace, brain juice and lychee-like flesh created a really good tasting Venn diagram of texture and flavor.
And those wooden slats were Zelig-like. No sooner had the shrimp corpses been disposed of than the slats returned, bearing pig's-blood crisps dotted with bright orange ploofs of sea-buckthorn berry gelée and garnished with fresh sea-buckthorn berry. The pig's-blood crisp, which had been dehydrated, tasted like a crispy bloodstain—in a good way—and the sea-buckthorn berry brought an astringency from which any hemocentric food could benefit. But I couldn't shake the suspicion that the dish, which came early on and unlisted in the procession, was a joke.
The Swedes have such a dry sense of humor.