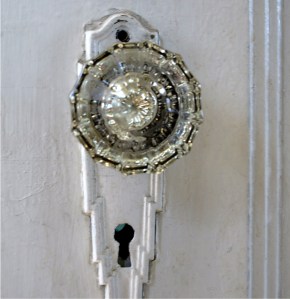 Thieves don't exactly have to break doors down to get into Chelsea apartments.
According to DNAinfo, there has been a recent increase in robberies in the area—burglars have been breaking into apartments by snapping those pretty, antique doorknobs in Chelsea apartment buildings right off residents' front doors.
The NYPD's 10th Precinct, which serves the upscale neighborhood, reported 11 total burglaries in the area over a 28-day period which ended on March 24, compared to just two incidences during the same period last year.
NYPD Deputy Inspector Elisa Cokkinos said Wednesday at a precinct community council meeting that at least four of the most recent break-ins involved defunct doorknobs.
"The doorknobs on the residences weren't really that secure to begin with. So, crime prevention-wise, we ask that your doors are secured properly, that they have the proper kind of lock on them." Inspector Cokkinos said at Wednesday's meeting, according to the DNAinfo report.
These robberies are part of an overall increase in crime in the area—last month the 10th Precinct reported that there have been 16 robberies in the area since the beginning of the year, as well as several incidences of domestic violence and felony assault.
Chelsea residents should hang on to SubZero refrigerators and espresso makers in their multi-million dollar brownstones—or at least use them to barricade their doors.