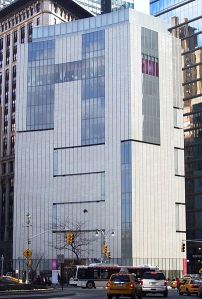 The Prince of UES/Hamptons prep, J. McLaughlin, purveyor of D-ring ribbon belts with ubiquitous skulls and martini glasses, is upgrading its vibe and debuting its modern take on the Ivy League look with a preview at the Museum of Arts & Design, that freaky-modern masterpiece or eyesore—you judge—originally called the Gallery of Modern Art, which the late squandered-millionaire Huntington Hartford built in 1964 to house his massive collection of 19th- and 20th-century art. That has nothing to do with embroidered coral-colored corduroy pants and Lilly Pulitzer-like patterned shirts, but we just had to mention it.
The Museum of Arts & Design, 2 Columbus Circle, seventh floor, (212) 956-3535, 8:30am-5:30pm, by invitation only.
Philip Roth turns 80 this month, and two documentaries have been made to honor his important position in American literature. One of them, Philip Roth: Unmasked, is debuting at Film Forum on Wednesday, March 13, and runs through Tuesday, March 19. Mr. Roth recently announced that he no longer wants to write novels, so the film makes for a good excuse to look back on his work with the knowledge that he won't be doing much more of it.
Film Forum, 209 West Houston Street, (212) 727-8110.