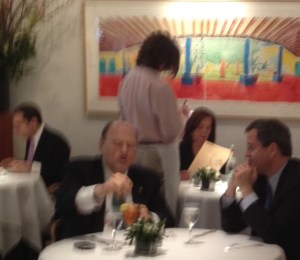 About two hours after announcing he was ending his campaign for mayor, local media mogul Tom Allon had lunch with a man he would have faced off against in September's Republican mayoral primary, former MTA chairman Joe Lhota. Both men insisted their meal at Michael's in Midtown was already on the schedule and wasn't a sign Mr. Allon will be endorsing Mr. Lhota following his departure from the race.
"We had an appointment to meet a couple weeks ago and it's just by happenstance," Mr. Lhota said when asked about the timing of the meal. "It's the honest to god truth."
"Anybody that reads anything into it is coming up with their own conclusions," added Mr. Allon. "I'm happy to meet with any candidate who has interest in hearing my views on education, but I happen to agree with Joe on many things and I like him a lot."
Mr. Allon and Mr. Lhota spent over an hour together at the legendary power lunch spot. Mr. Lhota ate cobb salad while Mr. Allon had chicken. They did not enjoy any alcoholic beverages and split the check leaving a combined tip that was ever-so-slightly under twenty percent. At the conclusion of their meal, the two politicos ended up getting grilled by Politicker and Daily News reporter Celeste Katz who got wind of the meeting and showed up to see what the pair was discussing.
Mr. Allon said there were three factors behind his decision to drop out. He cited a desire to spend more time with his young daughters and the reasoning he described in his statement announcing the decision–that he had an opportunity to acquire City and State, the political newspaper formerly owned by the company he was CEO of, Manhattan Media. Mr. Allon also admitted his campaign didn't seem to be catching on with voters and had nearly emptied its war chest, most of which came from his own pocket. He said he does not expect to "see that money again."
"I wasn't getting traction, there's no doubt," said Mr. Allon.
Mr. Allon was a longtime Democrat, but he joined the Republican Party and launched what he described as a "fusion candidacy" on both the Liberal and Republican party lines about five months ago. He said Mr. Lhota and billionaire John Catsimatidis both prevented him from attracting more voters when they kicked off their own GOP mayoral campaigns soon after.
"Listen, when Joe and John entered the race, there was little room for someone like me on the Republican side," said Mr. Allon. "Joe is a true Republican. John is very wealthy."
Mr. Lhota chuckled when his dining companion described his as a "true Republican."
"My social issues get me kicked out of the room," explained Mr. Lhota about where he differs with the GOP.
According to Mr. Allon, in addition to making it harder for him to win, Mr. Lhota's entry into the mayoral race made it easier for him to drop out.
"I have an affection for Joe and, actually, I have to say, one of the reasons I felt comfortable jumping out of the race is because I knew Joe jumped in," said Mr. Allon. "I feel that voters have a good choice now."
Despite his praise for Mr. Lhota, Mr. Allon said he won't be endorsing because of his new role with City and State. As part of his acquisition of the paper, he said he relinquished his role with Manhattan Media and started a new, separate company, City and State NY LLC, last week.
"I'm going to be owning a majority stake in City and State. … I'm going to be spending 100 percent of my time on it whereas I spent five percent of my time beforehand. And by the way, I was totally handcuffed editorially before, because I recused myself completely. Now I don't have to tiptoe around the editorial department," Mr. Allon said. "I'm not making any endorsements. … I would love to make an endorsement … City and State never makes [endorsements]. … I said to my reporters and editors this morning, I apologize for the last year-and-a-half because I know I made your lives difficult. I am going to not do that anymore, so now I'm a publisher and a private citizen."
In his new capacity as a "private citizen," Mr. Allon said he will happy to meet with the mayoral candidates and "advise" them. He wouldn't rule out a potential run for office down the road, but if Mr. Lhota is victorious, Mr. Allon said he would not launch another mayoral bid until Mr. Lhota finishes his two terms.
When Politicker informed Mr. Catsimatidis about Mr. Allon's departure from the race, the billionaire said he would want to have Mr. Allon "running" the public education system in a hypothetical Catsimatidis administration. We asked Mr. Allon if he would be willing to leave his new, expanded role at City and State if he got that offer.
"I'm going to be focusing on a private business for the next couple years," said Mr. Allon. "Maybe in a Lhota or Catsimatidis second term I could be chancellor."
Mr. Allon also said he would be willing to take a position in the administration of Democrat Bill Thompson if he secures himself a second term.
Since Mr. Allon seemed willing to work with Mr. Lhota in 2017, we asked Mr. Lhota if he would be willing to promise Mr. Allon a spot in his administration as Mr. Catsimatidis had. 
"It's illegal to do that," Mr. Lhota said.