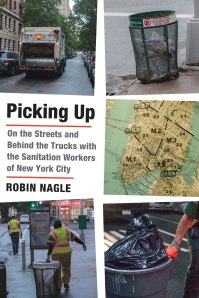 Once upon a time, in a world before the Department of Sanitation, New York City's streets flowed with raw sewage. Slaughterhouses and farms dumped animal waste in the drinking water, and the number of yellow fever-driven deaths and exiles stretched into the tens of thousands. By the 1850s, New Yorkers were up to their necks in an accumulation of rot and bodies that became known as "corporation pudding."
That's the cautionary tale behind a new book out this month, Picking Up: On the Streets and Behind the Trucks With the Sanitation Workers of New York City, in which author Robin Nagle reminds readers that we ought to be a little more appreciative of the men and women who clean up after us, lest we tempt such a fate—or, God forbid, have to deal with our own trash.
For the last 12 years, Ms. Nagle, a New York University anthropology professor, has been studying and advocating for the city's "garbage faeries," the vital yet largely invisible work force whose labor gets noticed only when it hasn't been done. Sanitation workers have a higher on-the-job mortality rate than any other uniformed department in the city, she writes—including police officers and firefighters—yet their duties aren't remotely as revered.
Thanks to traffic accidents and exposure to toxic waste, sanitation work is up there with deep-sea diving and logging as one of the 10 deadliest jobs in America. "I always get a little push-back when I say this, but it's the most important uniformed force on the streets. We could show a little love," said Ms. Nagle on a recent afternoon in her office at NYU, which is furnished, naturally, with a pair of captain's chairs that she plucked from the streets—or "mongoed," as insiders say—during her days embedded with the city's sanitation force.
Ms. Nagle, a small, energetic woman, spent nearly two years lobbying the DSNY for access to the agency to write an ethnography. At first, her calls and letters went unanswered. Meetings were postponed. It wasn't until Mayor Michael Bloomberg took office in 2002 that the city appointed a more amenable commissioner, John Doherty, who agreed to let Ms. Nagle go through archival budget reports and storm logs.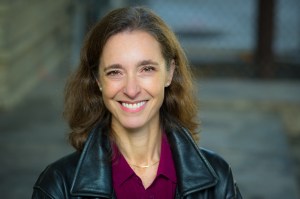 She kept pushing and eventually got permission to enter the field. "My intentions were noble and my passions were real. I looked forward to an enthusiastic welcome from any Sanitation garage in the city," she writes in the book. But, arriving at the M7 base on Manhattan's West Side on her first day, she was greeted with a very different response: "[M]y presence delighted no one. Neither the sanitation workers nor the officers were even slightly interested in my research." The only other women around were naked and in centerfolds taped to the walls.Despite discouragement from a few cynical colleagues, Ms. Nagle gradually picked up valuable lessons along the way. Sometimes these epiphanies were practical: "Clothes matter. Not wearing gloves or boots while picking up garbage is dumb." Other times they were ontological: "Garbage Is, always. We will die, civilization will crumble, life as we know it will cease to exist but garbage will endure …"
In time, Ms. Nagle proved that a middle-aged woman with a taste for knitting and turtlenecks could indeed hold her own as a "garbageman." She passed her CDL test, learned to drive snowplows and broom trucks, to operate forklifts and to properly heave trash cans into a hopper.
The san men came around. "She was just extremely likeable, and she indicated a keen interest in what we do, which is not something we come across too much in our world," said the city's chief of refuse and recycling collection operations, Peter McKeon, a 31-year veteran of the department. "We're usually ignored, and she asked a lot of questions."
In 2006, the agency named Ms. Nagle its first and only "anthropologist in residence," a title she plans to bear "as long as they'll have me." (As it happens, the DSNY also has an artist in residence, Mierle Laderman Ukeles, who has held that position since 1977.)
Picking Up is the culmination not just of Ms. Nagle's years researching the department, but of an even deeper-rooted preoccupation with trash that dates back to her childhood. In the book, she recalls a formative camping trip with her father when they set up their tent in the woods only to find a massive makeshift dump just 40 feet from the site.
"The memory is vivid because it was one of those awful childhood moments when a certainty is exposed as a lie," she writes. "I had assumed that adults cared about respecting wild forests, but the woodland trash heap was proof that some people, even those who presumably liked to go camping, didn't give a hoot. The realization left me angry and perplexed—and it became the catalyst for a lifelong fascination."
Ms. Nagle might have pursued a career in the natural sciences, but said she was drawn instead to anthropology because "I want to know about the people." In her mind, garbage itself represented "part of an infinite, orgiastic display of humanness at its most mundane, disquieting and mesmerizing."
She befriended many of her co-workers on the job and makes humanizing them the book's central mission. Still, her painstakingly ordered prose underscores the reality that her role is fundamentally that of a participant-observer, and she scrutinizes her subjects with a methodology that could just as easily apply to an indigenous tribe in the Amazon.
Like any community, she reveals that the DSNY has its own language ("san speak," where "getting banged" is undergoing disciplinary measures and "disco rice" means maggots), kinship protocols ("except in truly dire and unusual circumstances (and maybe not even then), you don't give up your partner"), normative gender roles (one "earns his membership in the Sanitation brotherhood with bawdy humor and coarse language") and dress codes (gloves, boots, hoodie).
But if Ms. Nagle's anthropological voice feels occasionally detached, it's certainly not because she lacks any investment in what she calls "the cause." Aside from writing the book, she has been collecting interviews with workers for an oral history project and is in the process of applying for nonprofit status to open a public sanitation museum. After all, such institutions already exist for the city's transit, police and fire departments. She's already thinking about her next book, an exploration of Staten Island's Fresh Kills landfill.
In the meantime, Ms. Nagle hopes Picking Up will convince readers to think twice about what they put in their own trash cans. At her home in Harlem, she and her 13-year-old son take care to properly dispose of common culprits like broken Christmas ornaments, wire coat hangers and tin-can lids. And Ms. Nagle tries to reuse glass whenever possible, since it is the least efficient material to recycle.
Ultimately, however, her goal is even simpler: "If people read the book and remember to say 'Thank you,' that's great. I'm happy."
editorial@observer.com