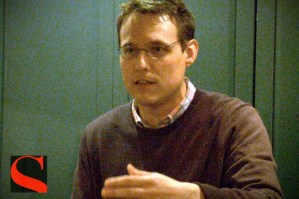 Last week, OTR found ourselves at a "salon" hosted by the pioneering webmag, Salon. The conceit of a "salon" harks back either to French wits gathering to amuse nobility (and one another) or to Viennese coffeehouses where intellectuals would debate philosophy and gossip. In modern-day New York, however, a "salon" is more often a euphemism for "panel discussion." And Salon's salon was no exception.
For this particular panel, the soft-spoken Iranian director Ramin Bahrani and Salon film critic Andrew O'Hehir sat on stools at the Soho House, the semi-exclusive clubhouse in the Meatpacking District, where a wall of bookshelves and artfully arranged hardbacks whispered rather than screamed "library room." Sans microphone, the panel members discussed all the recent films about politics. And sure, there have been a few: Lincoln, Argo, Django, Zero Dark Thirty. Steve Kornacki moderated.
Of course, the panel was set against Mr. Kornacki's recent job announcement. The day before, MSNBC announced that Mr. Kornacki, a co-host on The Cycle and a senior political writer at Salon (not to mention an alum of these salmon-colored pages), would succeed Chris Hayes on MSNBC's weekend morning show Up, formerly Up With Chris Hayes.
Mr. Kornacki, who looked nerdy rather than nerdy-chic in a sweater over a collared plaid shirt, jeans and sneakers, became particularly enthusiastic when the topic of House of Cards came up. Understandably, a political writer might see more inaccuracies than the rest of us in such a show. Not only are some of the delegate counts and the ways in which state politics actually work not accurately depicted, he explained, but perhaps most egregiously, the details of an education bill is not actually a major scoop.
"I will cover education on the show I have, I will write about education politics, but I guarantee you that you are not going to go from being a 22-year-old junior reporter in Washington to being the next Bob Woodward by getting the details of an education bill," Mr. Kornacki said.
"The way that movies portray journalism is always so hilarious," Mr. O'Hehir agreed. And nobody in the room was going to argue with that.
We caught up with Mr. Kornacki to ask him about his new gig. After apologizing profusely for telling us to go through MSNBC's PR machine, Mr. Kornacki decided to throw caution to the wind, taking pity on a reporter from his old alma mater.
"The idea of getting up that early and changing my weekend routine dramatically will be an adjustment," Mr. Kornacki said, adding that he had only found out that he had been tapped for hosting duties the week before the announcement. "It was funny. Generally, I'm the one speculating, so it was very interesting being one of the few people who knew. I just kept quiet and didn't say anything."
Mr. Kornacki said he had not yet had a tête-à-tête with Mr. Hayes—partly because of how quickly and unexpectedly the announcement came—but was planning to sit down with his predecessor in the coming days.
"They told me that it's the first time that MSNBC has kept the name and the franchise alive," he said. "It's a tribute to what Chris has done and how much MSNBC believes in it. So to me, it's take the template they created and use it."
When asked how the show will change, if at all, Mr. Kornacki was vague. "Obviously, Chris is Chris and I'm me. If I try to be exactly like him, it's going to fail, so inevitably there are going to be differences," he said.