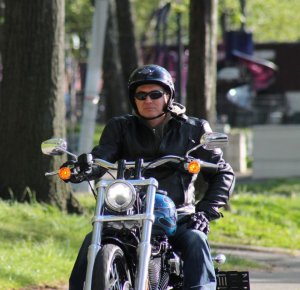 "Queens is discriminated against on an almost daily basis," Councilman Peter Vallone told Politicker last week at Dark Horse, a restaurant near his City Council office.
"Things happen to Queens that would never happen to another borough," he said, sipping a Stella Artois and taking bites of blackened salmon. "They'd never rename the Brooklyn Bridge. They'd never rename the Manhattan Bridge. Queensboro Bridge is renamed, nobody says a peep. Nobody makes a peep other than me."
Mr. Vallone, a candidate for borough president, complains that Queens "hasn't had a bully in the pulpit," and he would like to change that. If his brash campaign so far is any indication, he's taking his cues more from Brooklyn's megaphone-wielding Marty Markowitz than Queens's current officeholder, the comparatively tame Helen Marshall.
Mr. Vallone has railed against inaccessible animal shelters and cuts to local libraries. He waged a war to get ABC's Good Christian Bitches off the air, which included a TMZ Live appearance to argue for a boycott. And he's definitely not happy that a controversial statue was "stolen" by city government from its iconic location.
"The Triumph of Civic Virtue statue was stolen from Borough Hall; it's now a pit!" Mr. Vallone exclaimed. "Given to Brooklyn."
Mr. Vallone, the 51-year-old, guitar-playing, scuba-diving, Harley-Davidson-riding scion of former Council Speaker Peter Vallone Sr., lacks the polished reserve of many public officials, and he lets his humor emerge sans filter on Facebook as well. For example, he once lamented his inability to see then-Knicks star Jeremy Lin play at Madison Square Garden with a joke about Mr. Lin's racial background.
"so since i cant see jeremy lin on cable because MSG wants a 53% increase, i did the next best thing and took my daughters to applebees last night and had the 'sizzling asian' special," he wrote.
A Democrat who supports one of Mr. Vallone's rivals told Politicker that he saw these extemporaneous writings as a liability in one of the most demographically diverse counties in the country.
"Peter Vallone's Facebook page is the hottest mess in New York politics. You can always count on him for offensive and insensitive status updates and generally crazy rants," said the Democratic operative. "What's his argument to East and South Asians? What is he really going to do for them and for other nonwhite groups whose votes will impact this race? He is not seriously courting those communities, and that's a huge electoral problem for him."
But Mr. Vallone said his critics should simply relax. "I'd do it again tomorrow," Mr. Vallone told us of the Jeremy Lin post. "I thought it was funny, and it was meant as an homage to Jeremy Lin, whom I'm a huge fan of. If someone wants to have a sizzling meatball special in my honor, go do it. I have a story: Fox News came up to me that night and they said, 'What do you have to say about the people who are offended by this?' I said, 'I'm very sorry that they had no sense of humor.'"
While Mr. Vallone shares some of his famous father's conservative Democratic tendencies, his style is all his own. Peter Sr. was for several decades a powerful presence in city politics, representing Astoria on the City Council for almost 30 years, in addition to the 16 years he served in the powerful speaker's office. But Peter Jr. did not learn his craft at his father's feet.
"Even when he was speaker—I don't know how he did it—he'd be home practically every night for dinner," Mr. Vallone said. "Then he'd be right back out again. But he'd spend every dinner with us, with mom. Sitting around a table. Not talking politics, at all."
For his part, Mr. Vallone said, he only started getting involved in his father's political efforts during his unsuccessful mayoral and gubernatorial campaigns. "You would not even think these places exist in New York," Mr. Vallone said when he first hit the campaign trail in 1998.
"I remember driving at like 2 o'clock in the morning through tremendous snowstorms, through places upstate that no one would have ever heard of," he recalled. "I remember rooming in a room with Clyde Rabideau, who was the mayor of—what the hell was it—he was mayor of a small town upstate. He was running for lieutenant governor at the time. So we'd get these small, rinky-dink hotels and have to double up rooms because we're not made of money, obviously. He turned out to be a nice guy, luckily, but it was weird rooming with the mayor of some town I don't know of."
Nevertheless, Mr. Vallone said he learned some powerful practical lessons from his father that he carried with him when he easily won Peter Sr.'s Council seat in 2001.
"He says it all the time—he said it yesterday again. He often quotes the prophet Micah about doing the right thing; it's what he told us when we're young. It's what lets me sleep well at night despite the criticism I get," he said. "I know that if I just do the right thing, I can't be concerned about how other people react to it. I learned that from him."
As far as his conservatism goes—Mr. Vallone ran all three of his Council races with the Conservative Party's official support—he brushed off any criticism he might receive there as well.
"A lot of people have told me that," he said when asked if he could be a poor ideological fit for the Democratic primary. "If that's the case, then that's the case … I'm an old-school Democrat. There's still a few of us left—not many. My father was, although I think I'm a little more conservative than he was … I don't intend to change, you can see with my recent [Facebook] postings."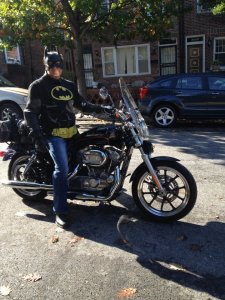 Many things can be seen in Mr. Vallone's recent Facebook postings, in fact, as he's one of the most prolific Facebook users in New York City politics—driving his staff "crazy" on a daily basis. With questionable grammar and punctuation, Mr. Vallone lets loose as he chronicles his various adventures, whether it's defending Notre Dame linebacker Manti Te'o in the face of his hoax girlfriend controversy, calling on schools to let kids sing "God Bless the USA," posing in a Batman costume for Halloween (on his Harley, naturally), or his vigilante efforts against neighborhood speeders, litterers, graffiti artists and the like.
"If you ask my Mom, since I was 5 I used to yell at people who littered," Mr. Vallone explained. "I chased down a guy on a motorbike not too long ago. I went after a guy who stuffed up a garbage can with a plastic bag so no one could use it … I tried to do it again this weekend. I was out on the Harley and I saw another illegal motorbike but he was too fast … I tried to catch up. They don't have a license plate, so you got to actually have keep them under surveillance until the cops come. It's not easy, but that's just me."
Mr. Vallone even championed his Facebook page as a tool of the democratic process of sorts, allowing him to personally gauge what's happening in the community.
"I have a pretty strong following on Facebook, 8,000 followers or so," he said, adding that he met some of his followers for the first time at his campaign kickoff the day before. "I personally—I think I pioneered this—I personally write every post. I personally respond to everybody who posts on my post. I personally respond to every message. It's getting harder and harder. I hope to keep it up, but I'm up late at night doing it. And I need sleep."
Should he be elected borough president, Mr. Vallone vowed to maintain his social media efforts, although he admitted that he might not be able to respond 100 percent of the time when his constituents number more than two million.
Whether or not Mr. Vallone will hold that office come January of next year remains to be seen, of course, as several contenders are vying to replace the term-limited Ms. Marshall. Competing against Mr. Vallone are a pair of State senators, José Peralta and Tony Avella, Councilman Leroy Comrie, former Councilwoman Melinda Katz and former Deputy Borough President Barry Grodenchik. Each has his or her own strength that could blunt Mr. Vallone's own electoral efforts; Ms. Katz, for example, has been a strong fund-raiser, while Messrs. Peralta and Comrie have bases of support in the Latino and African-American communities, respectively.
Mr. Vallone is currently the leading fund-raiser, and the one poll conducted so far showed him with an edge—likely due to recognition of the Vallone name and the fact that campaign season has only now started to kick off.
"People say, 'You have the Vallone name, it's an advantage, blah, blah, blah,'" Mr. Vallone said on the topic. "I say, 'You're damn right it is!' But it's not the same for every political family. The Vallone name is now one that's hopefully synonymous with integrity, and that's important nowadays. So yeah, I have the name, I'm proud of the name. I'm never going to run from the name. In fact, I'm teaching my daughters the value of a hyphen."
With a history of public service going back generations, there have been some twists and turns with the Vallone name as well.
"Ironically enough, my father was the one who took most of the power away from the borough presidents," Mr. Vallone noted in our conversation. However, he said he was looking forward to using some of the remaining powers, including influence over zoning policies and community boards.
"The biggest power it has," he added, "is the bully pulpit."