Strolling down Bedford Avenue, you're greeted by a solid wall of new six-story brick buildings.
The apartments are spacious and cheap by New York standards. For half a million dollars, you can buy a three-bedroom condo in a new elevator building. The tan brick buildings won't win any design awards, with their looming, protruding window cages and diagonally cascading balconies built solely for constructing booths during Sukkot. But the apartments are big enough to raise a kid or seven.
Cross Broadway north into the trendier section of Williamsburg, though, and half a million will barely buy you a studio. The new construction appears formidable, but it pales in comparison with the torrent of demand streaming into the neighborhood.
Sexy new towers have cropped up on the waterfront, but the trendy inland neighborhoods of northern Brooklyn—Bed-Stuy, Bushwick and inland Williamsburg and Greenpoint—are for the most part capped at three or four stories, and all but the smallest buildings must include parking. As a result of the disconnect between supply and demand, prices have risen dramatically, almost tripling in Williamsburg since 2004.
How the ultra-Orthodox have succeeded in building thousands of units and keeping the neighborhood affordable for families—on private land, and without public money—is a testament to their strongly pro-development attitudes and a bloc voting strategy reminiscent of the ethnic politics patterns of the Tammany Hall era. In a city slow to accommodate new development, they have managed to keep on building in a way that the city's storied real estate interests can only dream of.
Satmar, as the Hasidic dynasty founded by Joel Teitelbaum is known, have been pushing up against the bounds of their South Williamsburg heartland since the 1970s. Borough Park and suburban enclaves upstate helped relieve some the pressure on the Teitelbaums' notoriously fecund followers, but the community was spilling out of its tenements, with children sleeping in bathtubs in extreme cases.
So during the 1990s, private Hasidic developers, seeking to house their multiplying masses, began asking for—and receiving—variances to build apartment buildings, without subsidies, on land around the edges of South Williamsburg that was otherwise zoned exclusively for industrial and commercial use.
At the time, the city was freely granting these one-off exemptions, but was not willing to rezone entirely, said Sheldon Lobel, a land use attorney whose name shows up on many of the applications. "But about 10 years ago," Mr. Lobel told The Observer, "getting variances became more difficult."
So it was in the late 1990s that the current building boom kicked into high gear. Hasidic leaders lobbied for—and won—the right to build housing on industrial land around South Williamsburg, including a large swath in northern Bed-Stuy, around Bedford and Flushing Avenues, in 2001. No longer did the Hasids need to beg the Board of Standards and Appeals for permission on each individual project—new six- and seven-story residential buildings were now allowed as a matter of right.
A solid wall of buildings rose in northern Bed-Stuy, in an area some in the community now call "New Williamsburg." The development was not the piecemeal building that takes place in the rest of the borough, but an entirely new neighborhood, anchored by beige apartment blocks, embellished with faux classical touches and served by new synagogues, schools, grocery stores and shops.
And it didn't stop there. In the early 2000s, outgrowing their new territory in northern Bed-Stuy, the Hasidic community began to apply pressure to the Bloomberg administration to rezone the Broadway Triangle, an industrial enclave wedged between Bed-Stuy and South and East Williamsburg. It took the better part of the decade, but the Satmar eventually got their wish: the right to strike out to the east.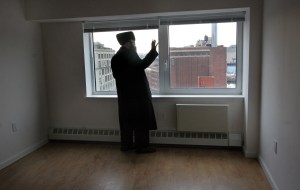 The rezoning had both a public and private component, and it's the public portion of the project—an affordable housing complex that was to be built in part by the United Jewish Organizations of Williamsburg, the secular wing of the largest Satmar faction—that attracted the most controversy. Black and Latino leaders claimed that the affordable housing complex—to be built on city-owned land, some of which would be seized by eminent domain—would give a disproportionate number of units to the ultra-Orthodox, as traditional public housing projects nearby had in the past.
A judge halted the mixed-income housing development in 2009, but resentments linger. While nothing has happened on the city-owned land, the stay on private development has been lifted, and Hasidic developers are closing in fast.
"This is why it's such a cruel irony what's happened now," said Councilman Stephen Levin, who represents a district snaking from Park Slope to Greenpoint. "The market-rate housing is getting built, but the affordable housing is not. It's the inverse of the public policy goal."
Rabbi David Niederman, leader of the United Jewish Organizations, begged to differ, saying that both the public and private aspect of the rezoning are needed. "We believe in supply and demand," he said. "Imagine if 200 people are fighting for one unit"—something that New Yorkers outside of Hasidic Williamsburg won't have to try very hard to do. "Prices are going to go up like crazy."
While Mr. Levin said that the rezoning of private land was an "afterthought," it's hard to miss his strong electoral incentive to allow the ultra-Orthodox to multiply within the bounds of his district.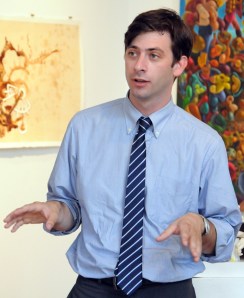 Nobody, after all, delivers votes in low-turnout local elections like the Satmar rebbes. In 2009, for example, two-thirds of Steve Levin's votes came from South Williamsburg, far out of proportion to its population.
And in 2013, he won't have to take any chances: the recent Council redistricting will give Mr. Levin a few dozen newly Hasidic blocks in northern Bed-Stuy and 5,000 new Hasidic voters—voters who wouldn't have existed without the variances and the Bedford-Flushing rezoning of 2001. Private development around the Broadway Triangle is sure to have a similar effect on Mr. Levin's electoral bottom line.
But political considerations aside, there are also reasons to believe that growth is, as the Hasidim claim, necessary to keep prices in check. In spite of the popular impression of New York as a builder-friendly city that's constantly exceeding the bounds of rational development, the city's growth over the past half-century has been anemic, and has not kept pace with the natural growth in population.
The number of housing units in New York City, for example, grew by only 170,000 from 2000 to 2010, or around 5.3 percent—nowhere near enough to keep pace with America's population growth of 9.7 percent over the same period. Never mind New York City's rising profile, which would lure a lot more people—if only they could afford it.
Mr. Levin said the Hasidic community's large families mean "they have a greater housing need than the hipster community," but tell that to buyers of newly built condos in goyish Williamsburg, where the median price per square foot is almost double the $400 upper limit of new Hasidic developments.
Some—but not all—of that is accounted for by the cheaper finishes the Hasidim use. And, as Rabbi Niederman emphasized, Hasidic developers are bound by community standards, and are not looking to just "make a buck." (Of course, community standards don't always apply to those outside of the community—accusations of landlords using aggressive tactics to drive out their black and Latino tenants in areas of Hasidic growth are common.)
It's hard not to look at those impossibly affordable three bedrooms and wonder what might happen elsewhere in Brooklyn if the valve were open a bit more. But despite the need, there's no stomach in the secular world for allowing upzoning past the first two L stops in Brooklyn. "You're ruining the neighborhood"—to quote the creator of the anti-Williamsburg gentrification film Gut Renovation—is still the prevailing sentiment among the nonbelievers. And as long as the trendier Williamsburg elements feel this way, the Satmar section of Williamsburg will likely remain a lonely redoubt of affordability in a seething sea of gentrification.