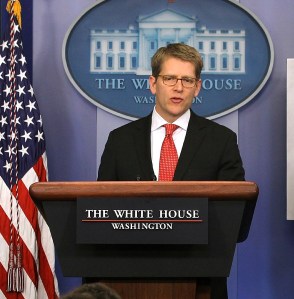 White House Press Secretary Jay Carney responded to a plea from a group of sixth graders who had their tour of the presidential residence canceled due to the so-called "sequester" cuts in a press briefing this afternoon. Mr. Carney described the situation as "extremely unfortunate," but unavoidable due to the $85 billion in automatic budget cuts that took effect March 1 after lawmwakers were unable to reach a deficit reduction deal.
"The President and the First Lady have throughout the time that they've been here made extraordinary efforts to make this the people's house, and it is extremely unfortunate that we have a situation like the sequester that compels the kinds of tradeoffs and decisions that this represents," Mr. Carney said. "The fact is the Secret Service, like other agencies of government, is affected by the sequester. And the Secret Service presented options that ranged from canceling tours to potential furloughs and cuts in overtime. And in order to allow the Secret Service to best fulfill its core mission, the White House made the decision that we would, unfortunately, have to temporarily suspend these tours."
The White House announced the decision to cancel tours due to the sequester cuts on Tuesday. According to the Secret Service, the tours cost the agency tasked with protecting the President and his family $74,000 a week. Because of the cancellations, a group of sixth grade students from St. Paul's Lutheran School in Iowa will miss out on their planned March 16 field trip to the White House. The sixth graders released a filmed plea to the White House to "please let us visit!" on the school's Facebook page yesterday.
In the briefing, Mr. Carney described the decision to cancel tours as a choice between letting guests visit the White House or cutting pay for Secret Service agents.
"The issue here is a choice between potential furloughs–and that's not just an issue that goes to the Secret Service mission, but also the individuals affected," said Mr. Carney. "We're talking about pay cuts and overtime cuts or a choice to suspend tours. And I'm not suggesting it's a happy choice, but it is one that we had to make."
Mr. Carney also urged Congress to make a deficit reduction deal and suggested that might allow the children's trip to be rescheduled.
"We are obviously disappointed about that kind of decision, but it would have been far better, in our view, if Congress had taken action to delay the sequester in the very same way they took action two months ago — two and a half months ago, to delay the sequester to avoid just this kind of outcome," Mr. Carney said.