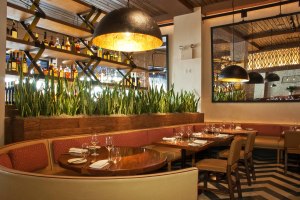 To those who wish to listen, New York City is a cacophony of echoes. On street corners, near subways, now-divorced couples repeat their first kisses in endless memory loops. Crime scenes leave unseen scars long after the blood's been scrubbed clean. Every threshold is a goodbye, every stairway a stumble. Everything to do has been done; everything new isn't new at all. Stick around long enough and all you'll hear are the echoes. 
So there's some amount of willful deafness that's necessary to cutting it in the city. The longer you stay, the deafer you get. This is why kids who grow up in the city are intractable and sad, hipsters flee to Hastings-on-Hudson (supposedly) and new arrivals are so welcome and vital. One such recent immigrant is Dani Garcia, the well-regarded Spanish chef who opened Manzanilla earlier this year.
Mr. Garcia, 37, is highly regarded in his native Andalucía, where he runs a chain of high-end tapas bars called Lamoraga and a two-star Michelin restaurant called Calima that specializes in technique-driven modernist cuisine. His entry into the Big Apple is a cavernous, high-stakes "Spanish brasserie" in the Flatiron District called, perhaps with a wink, Manzanilla, which is Spanish for "little apple."
Apparently Mr. Garcia has balls the size of his excellent squid-ink-and-cuttlefish croquettes with coriander and citrus aioli ($12) because, for an opening gambit, this one is a banger. It may be a small apple in the big scheme of things, but for a first-timer, this restaurant is huge. There are 150 seats spread out over two floors and 6,600 square feet. It should also be noted that Mr. Garcia has a sure hand in his partner, Yann de Rochefort of Boqueria and Suba.
Was it callowness or hubris, ignorance of precedent or arrogance of precedence that convinced Messrs. de Rochefort and Garcia that New York City would welcome an ambitious, high-end Spanish restaurant? If you're attuned to echoes, Manzanilla brings back unwelcome ones. The names of short-lived top-tier Spanish places bear heavy on the mind, like lines from the Mourner's Kaddish.
Graffit: אבר המש שדקתיו לדגתי
Romera: התוערכ ארב יד אמלעב
Ureña: התוכלמ ךילמיו
The reign of Spain falls mainly on the plain. If it can't be speared by a toothpick and isn't served in a cast-iron skillet, the prognosis is grim. So fancy Spanish food is a cuisine in need of a hero in a city hungry for saviors. As Cervantes wrote, "Hunger is the best sauce in the world," so maybe Mr. Garcia's quest isn't so quixotic after all. Some windmills actually are giants.
On a recent Friday night, many of Manzanilla's many seats were occupied by svelte sylphs, mignon MILFs, and men with hoary hair and hairy wrists. The space is divided in two. There's a bar in the front, which, in the best way possible, reminds me of the Gramercy Tavern. It's a classy place to belly up to and rarely reaches a fever pitch. Behind that, there's a rather sprawling and somewhat troublingly club-like dining room with communal tables, booths and, you know, other normal tables.
The bar, when I first visited, was full of after-work folk, horny for the new meat in town. Few of them delved deeply into the impeccably curated wine list or into the numinous mysteries of life. "How stupid do you have to be not to know how to make a pivot table?" griped the beautiful woman next to me as her fleece-clad boyfriend drank a Hendrick's martini, up and dirty.
How stupid do you have to be to order a Hendrick's martini, I thought, when the cocktail list includes gin-based creations like The Sun Also Rises (NY Distilling Co. Dorothy Parker gin, Atsby Amberthorn vermouth, Baines Pacharan, $14) and other, better things, like a refreshing Albarino Garanbazan Verde 2011 ($14)? Additionally, the menu boasts a deep stable of pre-, intra- and postprandial sherries, a rarity in New York. (Manzanilla is a type of sherry.) Also, what the fuck is a pivot table?
Mr. Garcia's menu seems like no great shakes. To anyone with even a passing knowledge of Spanish cuisine, the work of Simone Ortega or restaurants in general, it reads like a Now That's What I Call Music! compilation of greatest hits. Tapas include pan con tomate—here called tomato tartare—and tortillita gaditana, which is a traditional Andalucían shrimp crisp. Octopi occupy the appetizers, obviously. For entrées, there's suckling pig, black rice and bacalao. Cue the Gipsy Kings.
But—and I do love "Vamos a Bailar"—don't be fooled. While the menu at Manzanilla may resemble the menu at La Nacional, that relic of Little Spain on 14th Street, Dani Garcia has two Michelin stars. That's the same as David Chang's Momofuku Ko and Matthew Lightner's Atera. He ain't serving paella!
Every cliché is a surprise, every assumption a wash. The shrimp crisp contains a kimchi kick. Those squid-ink-and-cuttlefish croquettes may look like bodega cochifritos, but when bitten into, they melt, thaw and resolve themselves into goo. Not that I knew—or that one needs to know—but they are a riff on a traditional cuttlefish stew from southern Spain. The détournement, in this case, is as follows: the cuttlefish is mixed with a Neptunian bechamel sauce, made with half milk and half mussel jus to impart a deep-sea flavor. The balls are panéed still frozen for maximal crunch and minimal grease. These croquettes shame all other extant croquettes and may be the best fried thing in the city.
Mr. Garcia has had practice with this dish at Calima, as he has had with many of Manzanilla's standouts. Take the Pulpo à la Gallega ($13). Octopus is easy to scupper, but in Mr. Garcia's hands, it arrives in a custom wooden cloche that, when opened, releases a puff of cherrywood smoke to reveal little piles of octopi atop blowtorched potato gnocchi made with Aji, a Peruvian pepper and lemon juice. The result is as tender and smoky as Billie Holiday singing "Strange Fruit."
The bacalao ($27) is another one of his canon of great dishes. It's an adaptation of a gazpachuelo, a traditional Andalucían fisherman's soup made of leftover fish in a starchy broth. Mr. Garcia's coup is in the translation. Here, the salt cod is fresh cod, salted (New Yorkers are no fans of the rubberiness of true bacalao). Instead of a stew, Mr. Garcia marinates the fish in a broth of dashi, bonito flakes, katsuobushi, peppers, yuzu and lemon juice. It's then pan-seared and served atop a puree equal parts butter and cauliflower.
One needn't know anything about The Old Man, the sea or his stew to appreciate the result: tranches of tender fish, the exhilarating emulsion of citrus and spice. Butter, of course, transcends time, space and culture.
Yet even as I gas on about how wonderful the food is—and I do think it is wonderful—I hear the words of critics past who lauded Ureña, Graffit and, to a lesser extent, Romera and reflect on how impotently those words stood by as those restaurants failed. I recall that Jesus Nuñez closed Graffit to open a folksy rustic Spanish place called Barraca, that Alex Ureña is cooking at a hotel in the Bahamas and that Miguel Sanchez Romera has retreated to the Terwilliker Institute, or to wherever failed neuroscientist chefs retreat.
To these echoes and ghosts, Dani Garcia is insensate. His ears are happily turned to the future, where the past isn't prologue and where little apples do big things.
editorial@observer.com