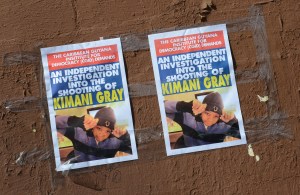 Last year, when the cops who were part of a street narcotics unit shot and killed unarmed teenager Ramarley Graham in the Bronx after kicking in the door to his grandmother's apartment, it was a clear-cut case of police failure. But it never became a citywide story, let alone a national cause.
By contrast, the recent shooting of 16-year-old Kimani Gray in East Flatbush led to days of scattered street violence, an Occupy influx, extended posturing on MSNBC and widespread press coverage.
The difference this time? An election, and post-Bloomberg anxiety.
For more than two decades, Gotham's mayoral politics have been framed by racial conflicts as expressed over policing methods.
In 1989, with an election approaching, the racially motivated killing of Yusef Hawkins in Bensonhurst triggered a surge in support for challenger David Dinkins. The candidate, who had been trailing, went on to defeat three-term incumbent Ed Koch in the mayoral primary.
Mr. Hawkins's murder has cast a long shadow over New York politics ever since.
When Rudy Giuliani, running as the law and order candidate and enjoying strong police backing, defeated David Dinkins in 1993, the outgoing mayor's supporters threatened the city with ongoing disorder. This seemed no idle threat at the time, given the deadly Crown Heights riots of 1991.
In a city suffering from 2,000 murders a year, Mr. Giuliani refused to cave in to Al Sharpton's "riot ideology," the threat that if Al and his pal Charlie Rangel weren't propitiated, the city might see a repeat of the violence that erupted during 1995's 125th Street massacre, when protests over the eviction of a beloved black record shop boiled over into a murderous rampage. Though not charged with a crime, Mr. Sharpton was implicated for whipping up the hate.
Mr. Giuliani cut off Messrs. Sharpton and Rangel, but then he had to pay the price politically when the reverend and the congressman exploited tragedies such as the 1999 Amadou Diallo case, in which the aggressive and usually effective NYPD Street Crimes Unit mowed down an unarmed African immigrant in a hail of gunfire.
But for all the tumult, when Ruth Messinger ran against Mr. Giuliani in 1997 and tried to make race and policing an issue, the tactic fell flat in a city enjoying an unprecedented reduction in crime. Mr. Giuliani and his first police commissioner Bill Bratton had, with great success, replaced the passive policing of the Koch and Dinkins years with the activist and innovative "broken windows" approach.
Mr. Bloomberg split the difference. His police commissioner, Ray Kelly, continued broken windows policing and intensified the use of stop and frisk to further drive down the crime rate. He also defused the threat of riots by making nice with Al Sharpton. Mr. Bloomberg used cutouts such as the Carnegie Corporation to pay off Mr. Sharpton and other ministers, thus buying the relative peace of this past decade. But none of the mayoral candidates other than Republican long-shot John Catsimatidis have even a fraction of Mr. Bloomberg's money. The upshot is that the city is entering a period of uncertainty when it comes to racial politics.
With the exception of the most radical of the mayoral candidates, Comptroller John Liu, whose one-time policy director honeymooned in North Korea, candidates have tried to take moderate positions on the Kimani Gray incident.