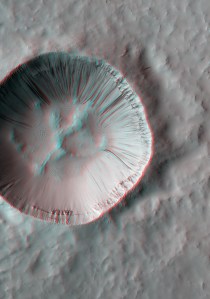 Could it be an art world trend occasioned by the special effects of films like Avatar and The Avengers? A few months ago, rising star Trisha Baga had visitors at Greene Naftali don 3D glasses to better experience her complex installations and slide projections. Last fall, Christie's made the somewhat tenuous claim that Warhol's 1962 "3D painting" of the Statue of Liberty was meant to be viewed through 3D glasses, and it dutifully doled them out to prospective buyers and looky-loos alike. Now, at David Zwirner, 3D glasses are provided for viewing superstar German photographer Thomas Ruff's recent "ma.r.s." series. Grab a pair from the box near the entrance and enjoy the aerial views of the red planet, originally captured by NASA. In 3D-ma.r.s. 10 (2013), the planet's carbuncular surface seems to pop right into the gallery. Move around it and the irregular bumps shift and stretch, appearing to follow you. Put the glasses on backward to reverse what recedes and what protrudes—the enormous crater dominating 3D-ma.r.s.09 (2013) will stick out like a Bundt cake.
Despite its recent popularity, 3D is not a particularly new gimmick. Google it and you'll encounter those classic 1950s photos of theaters full of enraptured, goggle-eyed moviegoers. That at this point 3D is, by the breakneck standards of technological change, an old technology may be the subtle point Mr. Ruff is making by showing the "ma.r.s." series alongside his new so-called "photograms," though these large works were not made the old-fashioned way like those of Man Ray, Moholy-Nagy and other intrepid Modernists. Instead of placing objects on photosensitive paper and exposing the arrangement to light, Mr. Ruff used a "virtual darkroom," custom software that allowed him to create and move shapes, and add and adjust color. "When I first had the wish … to try photograms," he said during a recent press walk through the exhibition, "I very soon realized that it's very complicated." The darkroom allows for chance; a computer program facilitates control.
Mr. Ruff's use of an anachronistic title for a technologically innovative series—these "photograms" could never have been made in a physical darkroom—contrasts with previous bodies of work that embrace their new media origins, like his "jpegs": dramatically enlarged and printed Internet thumbnails, or his "Night" series, the very technology of which (infrared night vision) contained his commentary on the Gulf War. The title, however, does not detract from their visual pleasure. These dynamic abstract images would be well suited to a futuristic concert hall, as their forms glint and gleam like parts plucked from brass instruments: what could be the keys of a saxophone and the bell of a horn appear to collide with cymbals spinning off into space. The strongest works, such as phg.01 and r.phg.s02 (both 2012), are like music itself—the clangs and clashes of a crescendo take the form of sharp-edged shapes, and slow, mournful solos manifest in the velvety shadows.